Posted on
Sat, Feb 11, 2012 : 5:59 a.m.
College basketball player to serve one year of probation for possessing taser
By Kyle Feldscher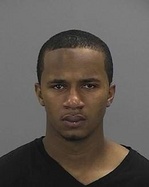 A University of Detroit Mercy basketball player will serve one year of probation for possessing a taser and vodka outside an Ann Arbor bar in October.
Alvin "P.J." Boutte, a freshman point guard on the Titans' basketball team, pleaded guilty in December to the charge of possessing a taser and being a minor in possession of alcohol at about 1:25 a.m. Oct. 9 outside of BTB Cantina, 1140 South University Ave.
Boutte was sentenced under the Holmes Youthful Trainee Act, which means that if he completes his probation successfully he will have the conviction expunged from his criminal record.
"I recognize my actions and I'm willing to do whatever the court says I have to do," Boutte said at sentencing this week.
Boutte was arrested after an Ann Arbor police officer heard Boutte and a BTB Cantina employee arguing outside the bar. Police said Boutte was walking down some stairs outside the bar, smelled of alcohol and his speech was slurred.
Police said an employee had asked Boutte to leave the bar after he attempted to get in with fake identification. Boutte showed police a student identification card, which stated he was 19 years old, according to police. He did not have a fake identification on him, but police said they found the taser in his left front pants pocket.
As of Wednesday, Boutte was still listed on the current roster for the Titans on the university's website.
Kyle Feldscher covers cops and courts for AnnArbor.com. He can be reached at kylefeldscher@annarbor.com or you can follow him on Twitter.