Posted on
Sat, Jan 28, 2012 : 5:59 a.m.
Superior Township woman accused of attacking neighbors with knife released from jail
By Kyle Feldscher
The woman accused of attacking two neighbors with a knife during an argument Thursday afternoon in Superior Township will not have to pay any money to leave jail, according to a magistrate's ruling.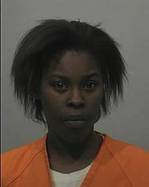 Courtesy of Washtenaw County Sheriff's Office
Fayva Billups, 24, is charged with two counts of assault with a dangerous weapon. If convicted, she faces a maximum of four years in prison and a $4,000 fine on both counts.
Washtenaw County Sheriff's Office spokesman Derrick Jackson released more information on the incident Friday afternoon. Jackson said Billups and one of the residents of a home in the 9000 block of MacArthur Boulevard have had an ongoing dispute that "erupted into a physical fight."
During the fight, the victim and the victim's mother were both slashed with a kitchen knife, including injuries to the face of one of the victims, Jackson said.
The fight began on the front porch of the home and spilled into the yard, Jackson said. Neighbors broke up the fight and both victims only suffered minor lacerations, Jackson said.
Billups is a single mother of two children, according to statements made during her arraignment in front of Magistrate Colleen Currie. She was given a $10,000 personal recognizance bond, with the conditions that she not have contact with the two victims or return to their home.
Billups will not have to pay any money to leave the Washtenaw County Jail, but if she misses a court hearing or violates the conditions of her bond — which include not drinking alcohol or using illegal drugs, in addition to Currie's other restrictions — she will have to pay $10,000.
Currie entered a plea of not guilty on Billups' behalf and appointed the Washtenaw County Public Defender's Office to represent her. Billups said during her arraignment that she has no criminal record.
A preliminary exam has been scheduled for Billups at 8:30 a.m. Feb. 7.
Kyle Feldscher covers cops and courts for AnnArbor.com. He can be reached at kylefeldscher@annarbor.com or you can follow him on Twitter.