Posted on
Sun, Nov 6, 2011 : 5:59 a.m.
Police chief: Ann Arbor's new pedestrian safety ordinance has 'caused a lot of dysfunction'
By Ryan J. Stanton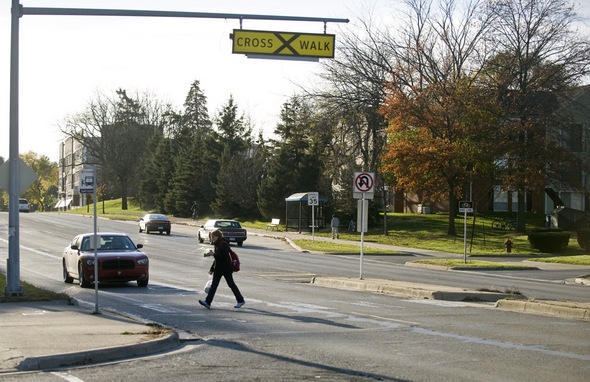 Joseph Tobianski I AnnArbor.com
Complaints about
rear-end collisions at crosswalks in Ann Arbor
are piling up, and
Plymouth Road
has risen to the top of the list of concerns.
AnnArbor.com has confirmed from police reports and witness accounts at least eight rear-end automobile accidents that were caused by motorists stopping for pedestrians since the city started enforcing a controversial pedestrian safety ordinance on Sept. 18.
Five happened at crosswalks on Plymouth Road. The other three occurred on Packard near Stadium, State Street near Huron Street, and Huron Parkway near Geddes.
AnnArbor.com is awaiting other records from the city for accidents that have happened since Oct. 15, so there could be even more than are currently known. It's also clear from anecdotal accounts there have been several near misses at crosswalks recently.
At least three of the accidents on Plymouth occurred at the crosswalk near Bishop Avenue where some suspect the problem is exacerbated by the curvature of the five-lane road, and the perception that many cars are traveling faster than the 35 mph speed limit.
Reports obtained by AnnArbor.com show motorists are having trouble stopping in time after other vehicles in front of them hit the brakes for pedestrians at the crosswalks.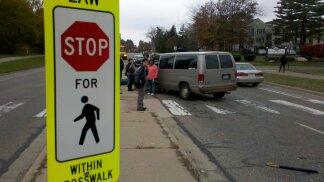 Courtesy photo
The Ann Arbor City Council approved the local law requiring motorists to stop for pedestrians approaching crosswalks. But it's always been state law in Michigan that motorists must stop for pedestrians already within crosswalks.
"This is a situation where pedestrians in this state have always had the right of way," said Police Chief Barnett Jones. "City Council has tweaked the ordinance a little, but it's caused a lot of dysfunction, and I know that the City Council is now taking a look at it."
Ann Arbor Mayor John Hieftje and the City Council recently directed the city's staff to examine new engineering solutions for crosswalks throughout the city, including along Plymouth Road. The city's staff is expected to report back in December about possible solutions, including installation of new pedestrian-activated crossing signals.
In the meantime, city officials are considering measures such as temporary lighting for some of the more troublesome crosswalks, including the one at Plymouth and Bishop.
Ann Arbor resident George Garcia is one of the many motorists who've experienced vehicle damage because of a rear-end accident at a crosswalk recently.
Garcia was driving his Ford Escape westbound on Plymouth at 7:15 p.m. Oct. 11 when he stopped behind another vehicle that yielded to a pedestrian at the crosswalk near Bishop. He said the pedestrian was standing on the island in the middle of the road.
Shortly after he stopped, Garcia's vehicle was rear-ended by another vehicle. Garcia said it caused about $1,000 in damage to his vehicle's rear end, and even more damage to the other car, which had its hood "smashed like an accordion." No injuries were reported.
He said he's now convinced the city needs a better solution for the crosswalk, whether that involves a new pedestrian bridge over Plymouth Road or combining the crosswalks into one that is regulated by a new traffic light. At the very least, he said, the city could install a flashing light to warn drivers of the approaching crosswalk before it's too late.
"The road is not a straight road where you can see a long distance ahead, so a car coming around this curve at 35 or 40 mph may be forced to stop dramatically," he said, offering his opinion that following the pedestrian safety ordinance there "doesn't make sense."
AnnArbor.com has received copies of several complaints that residents have e-mailed to the mayor and City Council members recently.
The e-mails show there were concerns about the pedestrian safety ordinance even before police started enforcing it in September. The ordinance was approved in July 2010.
Tamar Springer, who lives on Ann Arbor's northeast side, wrote Hieftje and Council Member Stephen Rapundalo on Oct. 17 to tell about an accident that happened over the summer.
"In June, I was at a complete stop behind two or three cars at a crosswalk on Plymouth Road near Bishop," she said. "I was rear-ended at a high rate of speed. The back of my minivan was smashed in, requiring extensive repairs. The minivan of the woman who hit me had to be towed from the scene and appeared to be totaled."
Springer said her son, who was in the front passenger seat, had to be taken to the emergency room due to shortness of breath. Fortunately, she said, there were no serious injuries, but she shudders to think what could have happened.
"Now, whenever I approach a crosswalk, my heart is in my throat," she said. "Although I travel at a low rate of speed, if another car is visible behind me, I never stop."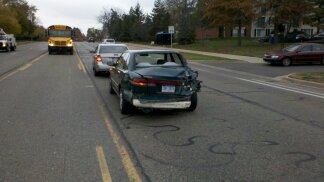 Courtesy photo
Springer said she hopes city officials will consider changes because the current approach seems unsafe to both pedestrians and motorists.
"Perhaps HAWK signals would be preferable or, better yet, more traffic lights or even pedestrian bridges," she wrote to Hieftje and Rapundalo.
Hieftje responded to Springer's e-mail on Oct. 18, apologizing for what happened. He told her the city is having a robust discussion about crosswalks, but he said HAWK signals and stop lights are expensive and there are other problems with overhead walkways.
"They are also expensive but engineers tell us they are seldom used, people still cross the road under them and they cannot be used by those who are less able," Hieftje said.
Jones noted police have written only nine tickets under the new ordinance. And most, if not all, were written during a two-week targeted enforcement campaign.
According to 15th District Court officials, the fine is $100 plus $30 in court costs. The court is not reporting the violations to the Secretary of State for point assessments because it's been determined the ordinance doesn't substantially correspond with the state motor vehicle code.
Jones said his department is taking a close look at the issues surrounding rear-end accidents that have been reported at crosswalks recently.
"At this point in time, I can say most of the accidents that have occurred have been because the second car or the third car or the fourth car did not stop within a safe, clear distance," Jones said. "So that is an indication that we have people not paying attention."
Erica Briggs, a city planning commissioner and board member for the Washtenaw Bicycling and Walking Coalition, has been one of the leading proponents of the crosswalk law.
Briggs agreed with Jones that the larger problem is distracted driving. She said it'd be a mistake to repeal the ordinance just because of the accidents that are happening.
"Saying that people shouldn't stop to allow pedestrians to go across the street doesn't make our city a more livable city," she sad. "We need to aggressively move toward better engineering in these locations and continue education so these folks know they need to stop."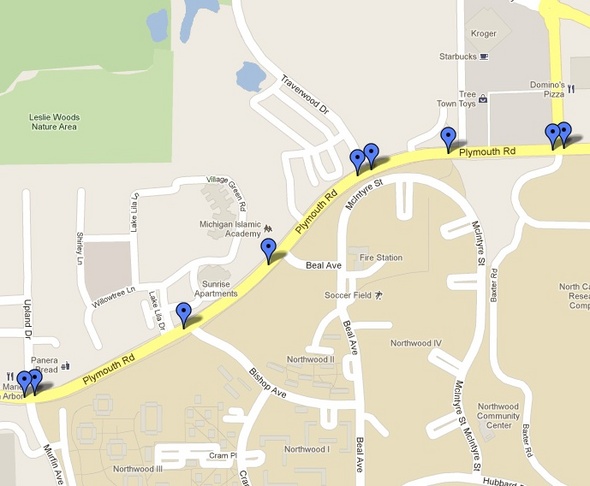 Google Maps
Ryan J. Stanton covers government and politics for AnnArbor.com. Reach him at ryanstanton@annarbor.com or 734-623-2529. You also can follow him on Twitter or subscribe to AnnArbor.com's e-mail newsletters.