Posted on
Wed, May 9, 2012 : 5:30 p.m.
Derezinski vs. Petersen: 2nd Ward race for Ann Arbor City Council shaping up
By Ryan J. Stanton
The 2nd Ward race for the Ann Arbor City Council is shaping up with incumbent Tony Derezinski and his primary challenger both making their campaigns official.
Derezinski announced earlier this week he filed with the city clerk's office to seek re-election to a third term on council. Democratic challenger Sally Hart Petersen, a self-described marketing and business development expert, followed his lead and filed on Wednesday.
The two will face off in the Aug. 7 primary.
Derezinski, a former state senator and attorney, was first elected to City Council in 2008 and was re-elected in 2010.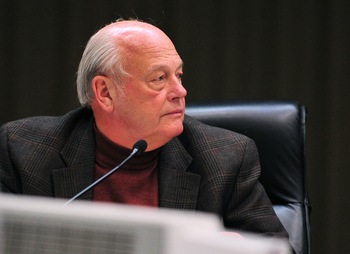 Ryan J. Stanton | AnnArbor.com
In a statement announcing his re-election campaign, Derezinski said he's proud of his record on City Council. He's been one of Mayor
John Hieftje's
closest political allies.
"Ann Arbor has made incredible progress the last four years," he said. "Ann Arbor is emerging in relatively good shape from an economic crisis rivaled only by the Great Depression, and we are ready to address the new challenges that will face our community."
One of the members of Petersen's campaign team is former City Council candidate Stewart Nelson, who lost by a landslide against Derezinski in the 2008 primary.
Petersen is hoping for a different outcome and has launched a campaign website at www.a2sally.com where she lays out her reasons for running. Derezinski recently launched www.tonyd4annarbor.com.
Among the issues Petersen said are important in her campaign are improving pedestrian safety and ensuring that Huron Hills remains a golf course. In 2010, the city rejected a proposal to privatize the city-owned golf course.
She also said she recognizes 2nd Ward residents are concerned about "overdevelopment" downtown. She said a vibrant downtown should have a balance of moderate-sized commercial space coupled with park space that fosters community gathering.
She said she's concerned the city continues to pursue building a transit center along Fuller Road, a project Derezinski supports. A more fiscally sustainable solution, she said, would be to upgrade the existing railway and Amtrak station on Depot Street.
"I don't feel like I'm running against any one person," she said. "I'm running for a seat at the table. I've spent a lot of time in the community. I feel like I know the community well. I would now like to turn my attention toward the dynamics of the city and politics of Ann Arbor."
Petersen said she plans to use her experience in business development and customer satisfaction to improve the way City Council does business.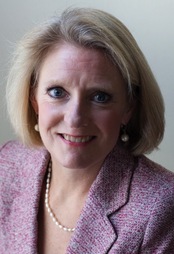 She said she'd like to establish a "resident satisfaction survey" to scientifically measure and manage feedback from residents.
"I consider the citizens of Ann Arbor to be customers of Ann Arbor," she said. "If you want to manage satisfaction, you have to measure it. I am uniquely qualified to listen and tap into the voice of the customer, the voice of the residents of Ann Arbor."
Petersen moved with her family to Ann Arbor in 1996. She has been married for 18 years to her husband, Timothy Petersen, a partner in Ann Arbor-based Arboretum Ventures.
They have two children, Jack, a sophomore at Huron High School and Jane, an eighth-grader at Tappan Middle School.
Derezinski, also a long-time Ann Arbor resident, lives with his wife, Katy, in the Ann Arbor Hills neighborhood. He earned a law degree from the University of Michigan and a master of laws degree from Harvard University.
His record of public service prior to serving on City Council includes a stint as a state senator from 1974 to 1978 and an Eastern Michigan University regent from 1983 to 1996. He also served in the U.S. Navy in Vietnam and on the boards of local nonprofits, including the Michigan Theater Foundation, Arbor Hospice and Honey Creek School.
As a council member, Derezinski has served on a variety of committees, including the Planning Commission, Washtenaw Area Transportation Study, Liquor License Review Committee, Insurance Review Committee, Administration Committee and Housing Commission.
One of the biggest champions of public art on council, Derezinski also serves on the city's Public Art Commission.
Petersen said her position on public art is an evolving one. She believes the city's Percent for Art Program is well intended, but she's concerned about the process by which art projects are chosen and what she perceives to be a lack of public involvement.
She also said she wished the city would consider hiring more local artists and expand the definition of public art to include events like the FestiFools parade of puppets downtown. She said public art also could include music, dance and other types of demonstrations.
Derezinski, who wants to run for mayor eventually, said difficult decisions must be made in the next two years regarding the city budget, planning, transportation and public safety.
"This process requires an open dialogue and cooperative spirit," he said. "I believe I have the training, experience and energy to continue making our great community even better."
Derezinski cites among his accomplishments on City Council his work with the "Re-Imagining Washtenaw Avenue" project, which brought together four local governments to coordinate transportation and planning improvements along the Washtenaw Avenue corridor.
He called it a good example of regional collaboration and said collectively those involved helped secure a $3 million federal grant that will improve the region.
Regional collaboration and strong partnerships with state and federal officials will continue to be important as the city seeks to improve other key gateways in Ann Arbor, including Plymouth Road, State Street and North Main Street, Derezinski said.
Petersen, who has an MBA from Harvard Business School, has been a stay-at-home mom since 2007.
She previously founded the Customer Information Group at ABN AMRO, which linked the mortgage broker satisfaction score to increases in revenue. She said she specialized in understanding the voice of the customer and business development in her positions at CFI Group, ABN AMRO Mortgage Group, and Health Media Inc.
Petersen believes she has a keen knowledge of the community's needs, honed by her volunteer work for numerous community efforts.
That includes serving as both an active member and eventually president of the Junior League of Ann Arbor, serving as co-president for the Angell Elementary PTO and her present role serving as president of Tappan Middle School's PTSO.
In her position with the Junior League, she led the effort to raise funds for the Alpha House playground and led collaborations with Perry Nursery School.
She graduated from Leadership Ann Arbor in 2002, and also served on the governing board of the Racquet Club of Ann Arbor.
"Because I love this city, I've been very involved in the community," she said. "Being involved politically is new to me, but serving the community is not."
Ryan J. Stanton covers government and politics for AnnArbor.com. Reach him at ryanstanton@annarbor.com or 734-623-2529. You also can follow him on Twitter or subscribe to AnnArbor.com's email newsletters.