Posted on
Fri, Mar 16, 2012 : 7:59 a.m.
Tornado aftermath: Cleanup begins in Dexter
By Paula Gardner
This story is being updated.
Dexter is awaking to the aftermath of a tornado that damaged more than 100 homes Thursday, starting the cleanup process and assessing the damage.
At Huron Farms subdivision, fog covered the neighborhood as people slowly started to converge on the area and the sounds of chainsaws could be heard.
Crews from the Dexter Area Fire Department, cleanup companies like Statewide Disaster Restoration and multiple media outlets were stationed on the edge of the streets were an estimated 68 homes were damaged.
"It's like a war zone in here this morning," said Erin Kennedy.
She and her husband, Patrick, were waiting for their home insurance representatives to arrive. Their roof was partially blown off, and they had buckets throughout the home, catching water.
"Insurance can rebuild," Patrick said. "We're just glad, as far as we know, no one was seriously hurt."
An estimated 4,000 homes were without power this morning in Washtenaw County, most of them in the Dexter area. By 10:30, the number had dropped to fewer than 3,000.
Paul Ganz, regional manager for DTE Energy, said it was an "all-out call-out.''
"Dexter is a priority today,'' he said.
He cautioned people to stay away from downed power lines. "If there are wires down, treat them like they are hot," said he said.
No deaths or serious injuries were reported Thursday night, officials said. "Typically, we are doing body counts in this kind of situation, but we don't even have any injury counts," said Dexter Area Fire Chief Loren Yates.
Washtenaw County Sheriff's Deputy Ray Yee was the first officer on the scene in Dexter.
Yee approached one destroyed home Thursday, and saw a hand sticking out of the rubble. He pulled out an elderly man, who was shaken but walked away.
"That's the best part," Yee said. "Every place I went to, I would have thought I would have found somebody laying there — deceased or whatever. But, knock on wood, everybody was OK."
However, estimates from the American Red Cross early Friday said 13 homes were destroyed.
Many of them were concentrated in Huron Farms, but other properties - from Dexter-Ann Arbor Road through the village - sustained damaged. Among them: the laundromat and car wash at Mast Road.
Sheriff Department officials are asking homeowners who have called in independent repair companies to make sure they have a work order and an address to gain access at the checkpoints outside restricted areas.
A temporary shelter was set up at Mill Creek Middle School, but volunteers there on Friday morning said no one stayed there overnight.
However, the outpouring of food donations kept it well-stocked for residents and emergency workers.
Officials thanked people who have offered volunteer help, but it is not needed at this point. "This is a manageable situation, but we are happy to take donations," said Undersheriff Mark Ptaszek.
At the Dexter Area Fire Department on Main Street in the village, Huron Valley Ambulance set up a mobile command center.
Businesses in the village were open Friday morning. Normal traffic is 18,000-20,000 cars per day traveling through the village, but that count was dramatically lower this morning.
Hackney Hardware opened at 7 a.m. Ben Howell, an employee there, said people were coming in to buy tarps, and the store had to order more electrical generators from Ohio.
One reason for the quiet village streets: Downed trees were still affecting traffic, even as Washtenaw County Road Commission crews converged on the scene.
Officials said Dexter-Pinckney Road will remain closed from Island Lake Road to North Territorial at least through the end of Friday as crews from the county Road Commission, private contractors hired by the county and crews from DTE clear the massive amount of trees that are blocking this major thoroughfare, which typically sees 18,000 to 20,000 cars per day.
Rick Monier of Dexter Township tried to find a positive spin to the devastation.
"This will put a bunch of people back to work to rebuild the neighborhood, and we need to remember that no one got hurt,'' he said. "All the first-responders did an excellent job.''
Michigan Gov. Rick Snyder is expressing thanks for the local and state authorities that responded swiftly to storms that spawned tornados in the state.
Snyder spokesman Ken Silfven said in an email Friday morning that Snyder is "thankful that there was no loss of life" reported following Thursday's storms. He says the governor is concerned for those who might have been injured and those whose homes or property were damaged.
Silfven says there haven't yet been any requests for state emergency aid.
Eight fire departments responded to assist Dexter with the Dexter tornado aftermath: Manchester, Chelsea, and the townships of Putnam, Hamburg, Scio, Saline, Northfield, and Ann Arbor. Washtenaw County Tactical Rescue, Michigan State Police, Livingston EMS and Huron Valley Ambulance also were on the scene.
If you would like to help, please donate to the American Red Cross Disaster Relief Fund. Donations of food, clothing and other items can not be accepted. If you would like to make a donation, call 734-971-5300 or visit wc-redcross.org to make a secure online donation. Donations are also welcome in person at the American Red Cross, Washtenaw-Lenawee Chapter, 4624 Packard Road, Ann Arbor, Michigan, 48108.
Contributors to this story include: Lizzy Alfs, Danielle Arndt, Lisa Allmendinger, and the Associated Press.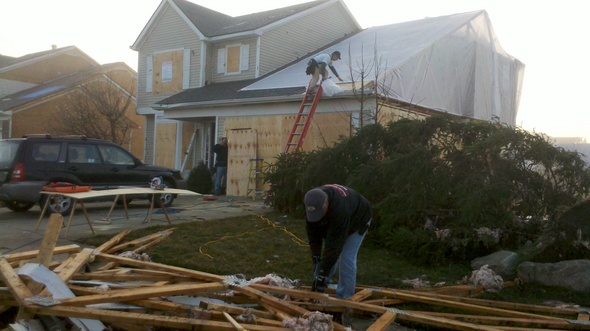 Danielle Arndt | AnnArbor.com
Angela Cesere | AnnArbor.com