Posted on
Tue, Mar 13, 2012 : 2:40 p.m.
Business owners shocked at Sunday's string of commercial break-ins in Dexter
By Kyle Feldscher
Two more businesses in Dexter and one in Dexter Township were broken into sometime between Sunday night and Monday morning, continuing a two-week string of commercial burglaries in the area.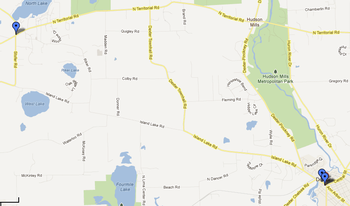 The Washtenaw County Sheriff's Office responded to Aubree's Pizzeria and Grill, 8031 Main St., and Modern Vintage, 8118 Main St., after they reported break-ins on Monday. Deputies believe both incidents happened after closing on Sunday. Jon Dyer, president and owner of the Ugly Dog Distillery, reported the business was broken into on the same night.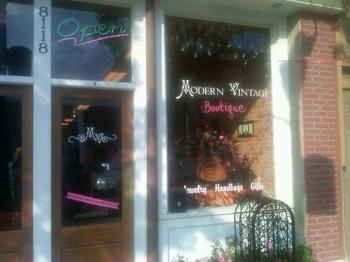 From Facebook
Amber Sears
, owner of Modern Vintage, said she was horrified when she found the back door to the shop open when she came in Monday morning. Even though only a small amount of cash was stolen from her store, Sears said the burglary was an expensive lesson in safety.
"It was a lesson to be a little more vigilant and not to relax too much, even in sweet Dexter," she said.
The businesses were at least the fourth, fifth and sixth businesses in or near Dexter to report burglaries since the end of February. The Coffee House Creamery and Main Dish Kitchen in Scio Township were reported to have been hit by intruders on Feb. 27 and Industrial Tectonics Inc. was reportedly broken into on March 3, according to police.
Aubree's did not have anything stolen, but had to replace the back door of the restaurant and an interior office door, said Al Bulszewicz, the restaurant's co-owner. Bulszewicz said security cameras showed at least one masked man wearing gloves in the store for a total of two minutes.
Dyer said the glass in the front door to the distillery was broken and a small amount of cash was stolen from the cash register. The damage to the business, located at 14495 North Territorial Road in Dexter Township, already has been repaired, Dyer said.
According to police, no arrests have been made in the cases and the investigation continues. Sears said police are aware of a wider problem and they "seem confident they'll figure out who did it."
It is unclear if the burglaries are related. Police said last week that the break-in at Industrial Tectonics was not related to the Scio Township break-ins the previous week.
Sears said she hadn't ever felt worried about her safety in Dexter before, even when working late in the handbags, jewelry and accessories store. However, more safety precautions are on the way, she said.
"I'm going to get more locks, a deadbolt and definitely no more money left in the store," she said. "I usually have it hidden, but Sunday night it was only a small amount and I had a passing thought and I left it in the till. I guess it wasn't a good night to do that."
Bulszewicz echoed Sears' thoughts about Dexter, saying that Aubree's has a great relationship with the village and receives lots of support from locals.
"It's really surprising because we've had such great support here in Dexter," she said. "The employees here are pretty much all that opened with us in the end of July and we're a big happy family here."
Dyer was the lone victim who said he wasn't surprised by the burglary.
He said he plans to install video cameras in the business now, but figured the Ugly Dog Distillery would encounter a break-in before too long.
"I've actually considered us to be somewhat of a target," he said. "I knew that sooner or later that was going to happen."
However, Sears said the break-in she experienced was a definite wake-up call.
Now that she's become a victim, Sears said her idea of crime in her store has changed for good.
"I definitely feel more creeped out," Sears said. "My worry has always been a housewife smuggling jewelry out in her purse, but that's not dangerous. A person busting in the door and stealing cash is much creepier."
Kyle Feldscher covers cops and courts for AnnArbor.com. He can be reached at kylefeldscher@annarbor.com or you can follow him on Twitter.