Posted on
Thu, Jun 7, 2012 : 1:47 p.m.
Convicted murderer Gregory Noack sentenced to up to 70 years in prison for Dawn Fital's death
By Kyle Feldscher
Just six days before the one-year anniversary of Dawn Fital's death, Gregory Noack was sentenced to between 40 and 70 years in prison for killing her, according to court officials.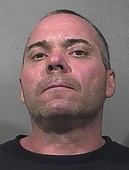 The sentence handed down by Washtenaw County Trial Court Judge David Swartz Thursday was consistent with the plea agreement reached with prosecutors in May. Noack pleaded guilty to second-degree murder, kidnapping with intent to commit criminal sexual conduct, unlawful imprisonment, tampering with evidence, unlawful driving away of a motor vehicle and larceny in a building. Open murder and felony murder charges were dropped.
Noack, 45, will be 84 by the first time he's eligible for parole, thanks to the credit he's earned by being lodged at the Washtenaw County Jail since June 2011.
Noack killed his girlfriend Fital, a 45-year-old championship pool player and mother of four, after she refused sexual contact with him on June 13, 2011. It was a brutal act, with Noack wrapping duct tape around her face and mouth as a gag and then choking her until she died.
Noack stuffed Fital's body into a large suitcase he found in her apartment, loaded it into her Chevrolet Blazer and began making his way toward California, his eventual goal.
He only got to Merilville, Ind. He intended to bury Fital's body there, but instead stashed it in a retention pond, where it was eventually recovered. He was arrested and questioned in Merilville, eventually admitting to the crime during a police interview shown on video at an October preliminary exam.
Kyle Feldscher covers cops and courts for AnnArbor.com. He can be reached at kylefeldscher@annarbor.com or you can follow him on Twitter.