Posted on
Sun, Feb 5, 2012 : 5:59 a.m.
Distracted driving leads to death, serious injuries in Washtenaw County
By Kyle Feldscher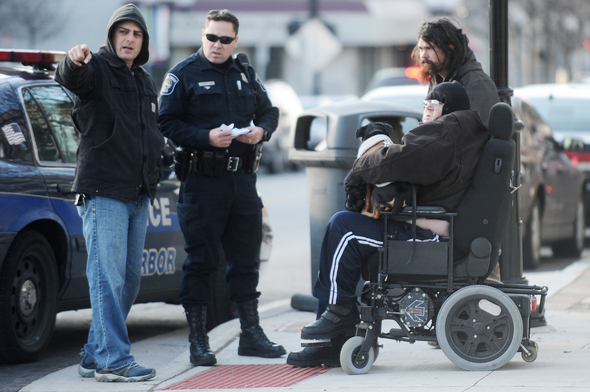 Melanie Maxwell I AnnArbor.com
(This story from AnnArbor.com offers local impact on the statewide issue explored in a series of stories from MLive.com.)
A teenage driver is distracted by a passenger in the back seat of his car and begins to drift over the center line.
A man driving on a dark road in Scio Township reaches for his cell phone after he dropped it on the floor.
A man in a wheelchair starts to cross a street in downtown Ann Arbor and sees a woman driving toward him, appearing to be talking on a cell phone.
These are just three cases of distracted driving that led to crashes in Washtenaw County from 2008 to 2010. According to data from Michigan Traffic Crash Facts, there were 701 people involved in distracted driving crashes in the county during that period, and 115 people involved in cell phone-related crashes.
In that period, two people died in crashes in Washtenaw County because of distracted driving, and one person suffered injuries in a crash caused by cell phone usage in 2010, according to MTCF.
Cell phone usage and other distractions are well-known dangers to many area police officials. Washtenaw County Sheriff's Office Detective Robert Losey can recite off the top of his head the statistics on how dangerous not focusing on the road can be.
"Removing eyes from the road for two seconds at 55 miles per hour causes you to travel 160 feet unaware of what is in front of you and creating a total emergency," Losey said. "Stopping distance is about 300 feet, or a football field in distance.
Gary Lillie's death does not fall within the time frame defined by the Michigan Traffic Crash Facts, but the car crash that claimed his life — allegedly was linked to distracted driving — remains fresh in the memory of Washtenaw County residents.
According to testimony from a preliminary examination, Kevin Warren was driving on Baker Road near Marshall Road late on Aug. 4 of last year when he dropped his cell phone. Warren later told police that as he reached to pick it up, he felt a bump on the side of his car. Warren told police that he initially thought he'd hit a deer; it wasn't until later that he called 911 to report that he'd struck a person, police said.
Warren now faces criminal charges for the incident: operating while intoxicated causing death and leaving the scene of an accident resulting in death. Blood tests showed Warren had a blood alcohol level of .12 after the crash. The legal limit in Michigan is .08.
It's surprising how few crashes are directly attributed to distracted driving given the amount of cell phone use and other distractions police observe on the roadways, officers said.
Saline Patrol Officer Theo Helms said about half of the people he pulls over are on their cell phones and about 70 percent of the people he observes speeding are using their phones.
"It distracts them enough that they're not thinking about what they're doing," he said. "They're not watching speed limit signs, the speedometer or checking for police officers. I can clock them multiple times and they keep going 10 miles per hour over the limit and they never see you. That's how distracted they are."
Helms said most accidents caused by drivers talking on their cell phones in Saline are simple fender-benders that don't result in serious injuries.
Helms and other police officers said not many crashes are directly labeled as caused by distracted driving or cell phones because a driver can hang up before an officer arrives and not admit to cell phone usage. Instead, the causes could be officially filed as following too closely, speeding or another violation, according to Lt. Renee Bush of the Ann Arbor police.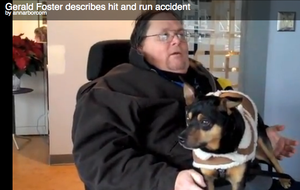 Ann Arbor was the scene of a
hit-and-run incident
in early December when
Gerald Foster
was crossing East Liberty Street at South Fifth Avenue in his motorized wheelchair, heading toward the Afternoon Delight Cafe when a woman, who appeared to be talking on her phone, turned the corner in her car and struck him.
"I just kind of froze," Foster told AnnArbor.com in December. "I knew it was inevitable. I thought this is my last minute on earth and I looked her right in the eye, just prior to her hitting me and she had her hand up to her ear, talking, and she just slammed into me."
Foster's wheelchair and right leg were struck by the sport utility vehicle and he fell to the street, he said. The driver immediately began driving away, he said.
Foster was walking his dog — a 2-year-old rat terrier named Sarge, who was not hurt — when he was struck by the SUV. He said he walks his dog daily, and there have been too many close calls with distracted drivers for his liking.
"I've had many close calls," he said, "And 90 percent of the time, it's people on cell phones that aren't paying attention."
However, it's not always cell phones that are at fault. Drivers can be distracted by many other factors as well, according to police.
In one fatal accident in September 2010, a 17-year-old boy from Northville was driving his 1995 Jeep with a 16-year-old Howell boy and a 15-year-old Northville girl eastbound on Six Mile Road in Salem Township.
According to police, the driver was distracted by one of the passengers in the back seat. Police said the Jeep began to drift over the center line as it headed east when the driver realized what was happening and over-corrected. The movement caused the driver to lose control and go off the roadway to the right side of the road, striking a tree, police said.
Both of the passengers in the rear seat were not wearing seatbelts and were ejected from the car, according to police. The 16-year-old boy from Howell was killed at the scene of the crash and Survival Flight took the 15-year-old Northville girl to University of Michigan Hospital, according to police. She had suffered critical injuries, police said.
It was another tragic example of what can happen when a driver's focus is taken away. Any number of things could be cause for worry, Helms said.
"Anything that takes your mind off what you're doing on the road is dangerous as far as I'm concerned," he said.
Kyle Feldscher covers cops and courts for AnnArbor.com. He can be reached at kylefeldscher@annarbor.com or you can follow him on Twitter.