Posted on
Fri, Jan 6, 2012 : 5:57 a.m.
Domestic partner benefits: Ann Arbor couples at forefront of lawsuit challenging ban
By Cindy Heflin
Two Ann Arbor couples are at the forefront of an American Civil Liberties Union lawsuit filed Thursday asking a federal court to strike down a state law that bans domestic partner benefits for some public employees.
"This is not about politics or ideology for us," Ann Arbor teacher Peter Ways said in a news release issued by the ACLU. Ways' partner will lose his Ann Arbor schools' benefits under the law. "This is about real families who are facing the real consequences of discriminatory laws. Just like our colleagues whose families will continue to receive health insurance, we want to care for our families."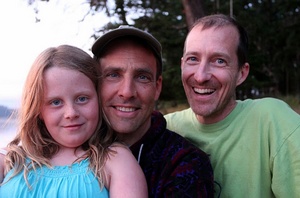 The ban,
signed into law last month
by Gov. Rick Snyder, mostly affects local governments and public schools and applies to health insurance and other benefits for unmarried partners of the employees, same sex or not.
It's not clear whether ban applies to employees of public universities. The governor's office, and officials from the University of Michigan and Eastern Michigan University say it does not. However, some Michigan lawmakers say it does.
Supporters of the ban, including Rep. Dave Agema, R-Grandville, say providing such benefits is too costly. "It is not the responsibility of taxpayers to support the roommates and unmarried partners of public employees," Agema said in a statement before the measure was signed into law. "… We are doing all we can to respect the will of the people and not place an unnecessary economic burden on our residents while so many are struggling to make ends meet."
The ACLU said the four couples named in the lawsuit are in long-term, committed relationships. Besides Ways and his partner Joe Breakey, the couples include Theresa Bassett and Carol Kennedy of Ann Arbor, JoLinda Jach and Barbara Ramber of Kalamazoo and Doak Bloss and Gerardo Ascheri of East Lansing
Ways and Breakey have a 9-year-old daughter. Breakey is self-employed as a licensed therapist. Being self-employed gives Joe the flexibility to be home for their daughter after school. The couple is considering a move to Washington so that that Ways could take a job that provides family benefits.
Bassett and Kennedy have six children ranging in age from 6 to 20 years old. Bassett teaches sixth and eighth grade math in Ann Arbor schools, which provides health insurance coverage to Kennedy, who is self-employed as a daycare provider. Because of Carol's family history of breast cancer, individual comprehensive insurance coverage will be extremely expensive, the ACLU said.