Posted on
Mon, Nov 19, 2012 : 5:58 a.m.
Ex-superintendent's lawsuit prompts arbitrator to call 2-year dispute in Willow Run 'a sad indictment'
By Danielle Arndt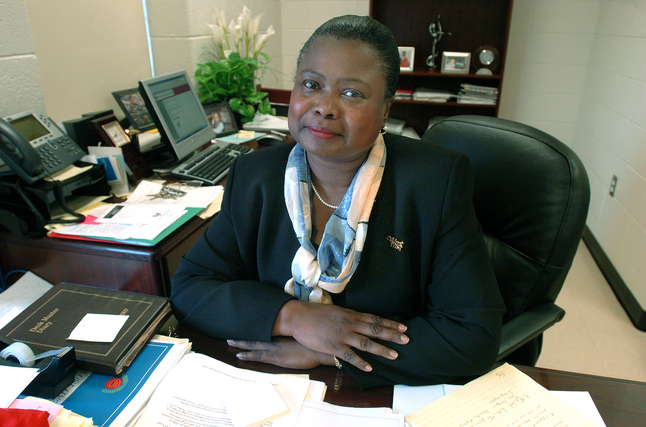 AnnArbor.com file photo
Legal action
contesting the firing
of former
Willow Run
Superintendent
Doris Hope-Jackson
may finally be nearing closure, despite a new lawsuit that was filed Oct. 22 in Washtenaw County Circuit Court.
The legal battle between Hope-Jackson, the Willow Run school board and former board President Sheri Washington has dragged on for two and half years.
It has involved allegations of verbal assault, retaliation, misconduct, the misappropriation of funds, a spurned lesbian advance, harassment, defamation of character and more.
Timothy Connors
.
The first lawsuit was dismissed in March 2011 when Hope-Jackson decided to pursue her claims that she was unjustly fired in arbitration.
Court documents show that she filed a demand for arbitration against Washington and the school district with the American Arbitration Association in December 2010.
Connors told Hope-Jackson she could not have the dispute addressed by multiple systems and would need to choose whether to address all of the matters in court or all in arbitration, sources said.
Arbitration is a private dispute resolution mechanism in which an arbitrator hears the evidence of the claims and makes a binding decision. Attorneys told AnnArbor.com that arbitration awards are rarely overturned and the courts have limited grounds in which to do that.
A court may vacate an arbitration award if the award is the product of fraud, corruption or serious misconduct by the arbitrator.
The parties will appear in Circuit Court at 9 a.m. on Nov. 29 for a hearing. If Connors rejects Hope-Jackson's motion to vacate the arbitration and reopen the suit, the suit will be over. If Connors agrees to vacate the arbitration award, the dispute could continue.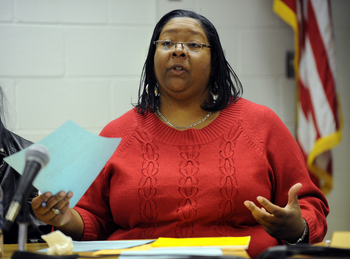 AnnArbor.com file photo
In his written award, arbitrator
Fred M. Mester
chastised the parties of the lawsuit for their pettiness and poor behavior, calling the dispute "a sad indictment of the current state of our school systems."
"In a relationship that should be entirely founded on educating young minds and building our nation's future, the individuals and organizations involved with the Willow Run Community Schools have distorted their purpose and focused solely on power, personal gain and retribution for meaningless disputes like who has what furniture in their offices," he wrote.
"This arbitrator firmly believes that if the parties in this matter had put aside their petty differences, they could have reached an amicable resolution to this problem."
Hope-Jackson originally filed her lawsuit against Washington and the school board in June 2010, after she had been demoted in December 2009 from her position as superintendent to the director of information and assessment, a newly created position.
At the time that Hope-Jackson filed the lawsuit, a due process hearing had been going on for about a month as the school board attempted to fire her. The board eventually did fire her in September 2010, at which point Hope-Jackson amended her lawsuit to add several additional counts to her original claims.
Court documents show the arbitrator dismissed counts of violation of due process, retaliation, defamation, violation of the People with Disabilities Civil Rights Act and quid pro quo sexual harassment on the part of the Board of Education.
On the remaining counts of breach of employee contract, violation of the Michigan Whistleblower Protection Act, violation of the Bullard-Plawecki Employee Right to Know Act and quid pro quo sexual harassment on the part of Washington, the arbitrator awarded in favor of the Willow Run Community Schools.
However, the arbitrator did not agree with the majority of the school board's reasons for firing Hope-Jackson, court documents show. Mester said Hope-Jackson "appears to be a competent, strong and intelligent leader," but that her personality clash with Washington led the board to mistrust her and affected her ability to effectively carry out her responsibilities.
Mester had harsh words for Washington, calling her testimony throughout the arbitration process "self-serving, evasive when convenient, and clear and decisive when it served her purposes."
He wrote this preamble to his award statement:
"Before the arbitrator can issue his findings of fact, the credibility of some key witnesses must be addressed, as their versions of some material events were so inconsistent that trying to find a common thread was like trying to find a needle in a haystack…
"It was apparent (Washington) backfilled her understanding and intentions regarding the pertinent issues to protect her reputation and defend her conduct."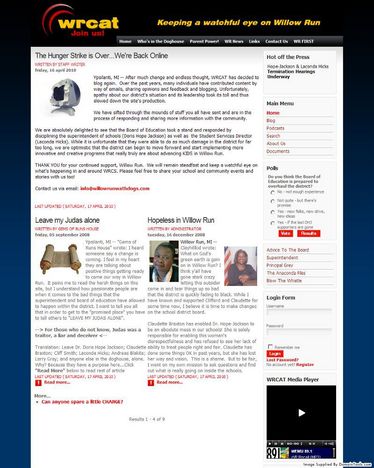 From screenshots.com
Washington was held in contempt of court on April 20, 2012, for lying under oath about her status as the administrator of the website
WillowRunWatchdogs.org
. The site frequently posted articles bashing Hope-Jackson under the anonymous pen names of "Administrator" and "Staff Writer."
For lying under oath, Mester ordered Washington to pay Hope-Jackson's reasonable attorney fees and arbitration fees.
Contrarily, in his prelude, Mester said Hope-Jackson was "generally forthright, consistent and authentic." And although he did not entirely agree with her interpretation of some events, he found her testimony to be credible, he said.
The Willow Run school board accused Hope-Jackson of colluding with former Student Services Administrator Laconda Hicks to get Hicks more than $36,100 in extra pay by modifying her contract without notifying the school board and paying her an extra $100 per hour for attending events outside of school hours, despite Hicks being a salaried employee, among other methods.
The school board sent documents to both Hicks and Hope-Jackson repeatedly alleging the duo had "defrauded" the district.
Mester later concluded there appeared to be some "severe" and "accidental" oversight on the part of Hope-Jackson in awarding Hicks a step-raise and other additional pay. However, Mester said some of what Hope-Jackson did was the result of former practice in the district.
Mester also said there was no evidence Hope-Jackson did anything to "intentionally defraud the district or improperly benefit Hicks."
He wrote: "Although this arbitrator disagrees with many of the charges … set forth against Jackson, … the board had several legitimate reasons (for firing her)."
Mester also said he has no reason to believe that Washington's bias clouded the board's judgment as a whole and therefore, the decision to terminate Hope-Jackson was not retaliatory in nature and was not "arbitrary and capricious," according to court documents.
Darryl Segars, Hope-Jackson's attorney, was flabbergasted by Mester's ruling.
"What it was that he said is that he did not agree with the decision to terminate Dr. Jackson, but then he found in favor of Willow Run... We were just scratching our heads," Segars said.
"This is the primary reason why we are seeking redress with the Washtenaw County Circuit Court," Segars said.
Willow Run's attorney, Scott Mandel, declined to comment on the record Thursday. In court documents responding to the Oct. 22 lawsuit, Mandel said Hope-Jackson has "had her day in court."
"It is time to end this bitter dispute," he wrote. "Dr. Jackson has been afforded the opportunity to more than fully litigate her claims over the last two and a half years."
Mandel said Hope-Jackson received an 18-day due process hearing before the school board, consisting of a 2,661-page transcript, that ended on Sept. 7, 2010. The arbitration Hope-Jackson now is challenging lasted 11 days and resulted in a 2,231-page transcript.
Hope-Jackson also deposed nine witnesses and produced more than 5,600 pages of documents in presenting her case in arbitration, which she still lost, he said.
Danielle Arndt covers K-12 education for AnnArbor.com. Follow her on Twitter @DanielleArndt or email her at daniellearndt@annarbor.com.