Posted on
Thu, Apr 5, 2012 : 5:59 a.m.
Driskell vs. Ouimet: A race to watch as Dems battle to regain control of Michigan House in 2012
By Ryan J. Stanton
It's still early in the 2012 election season, but politicos in Michigan already are looking forward to a good showdown in western Washtenaw County later this year.
The likely matchup of Saline Mayor Gretchen Driskell, a Democrat, challenging Rep. Mark Ouimet, R-Scio Township, for his House seat has the attention of party leaders on both sides.
Rep. Kate Segal, Democratic floor leader in the state House, joined Driskell at her campaign kickoff event last week at the Mangiamo Italian Grill in Saline.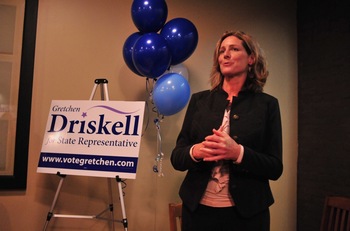 Ryan J. Stanton | AnnArbor.com
Right now, 63 of the 110 members in the Michigan House are Republicans. The Democrats need to pick up nine seats this year to regain the majority, and they're hoping Driskell can help.
"Right now we are nine votes shy of being able to stop the awful policies that are killing the middle class in Michigan — nine," Segal said, rallying a crowd of several dozen supporters. "And the path to getting back to 56 and taking back control of the House goes right through Washtenaw County. We have got to take this seat back."
But some are predicting a Ouimet win already.
County Clerk Larry Kestenbaum, a Democrat, said it's possible for Driskell to win in the new 52nd District, but he'll be placing his bets on Ouimet.
"I think Mark Ouimet is likely to continue to hold the seat for as long as he's allowed to have it under term limits, but the next Republican will have a harder time," he said. "Over time, that district will become more liberal, just like the old 52nd did."
Matt Frendewey, communications director for the Michigan Republican Party, said the 52nd District race is going to be an important one for the GOP this year. He declined to discuss strategy but predicted Ouimet will come out on top again.
"He's a great member of the caucus," Frendewey said. "He's well-liked in his district and we anticipate he'll have a successful re-election. Voters will find he's a small business owner and lifelong resident in the community and he doesn't forget where he comes from."
A newly drawn district
It's already been stated that Driskell faces an uphill battle challenging Ouimet, who had more than $111,600 built up in his campaign war chest as of January.
A close ally of Republican Gov. Rick Snyder, Ouimet won a previously Democratic district in 2010 and the district has been redrawn since to include more Republican territory.
"Mark Ouimet is a fantastic candidate. He won this district when it had a Democratic edge and the numbers have improved," Frendewey said. "Mark Ouimet won that seat because he represents the values of the constituents in that district."
Driskell, who left behind a career in accounting in Washington, D.C., to come to Saline in 1988, said she's crunched the numbers and she believes she can beat Ouimet.
"That's my background, numbers and trends," she said. "So I looked at the numbers going back a few election cycles and I think it's winnable. I think it's going to be close. It's certainly not an easy win at all, but I definitely think it's winnable and I intend to work hard."
The 52nd District seat — albeit with slightly different boundaries — was previously held by Pam Byrnes, D-Lyndon Township, who was term-limited in 2010.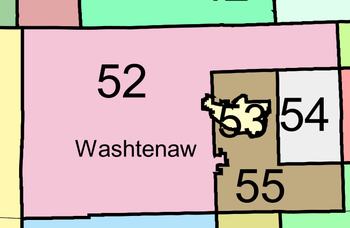 While
riding a political wave in 2010
that saw the GOP gain control of the state House and increase its majority in the state Senate, Ouimet barely edged past Democrat
Christine Green
with 51.7 percent of the vote. Driskell admits she thought about running in 2010 but decided against it.
A quick look at how voters within the new 52nd District boundaries cast their ballots in the 2008 presidential election shows it's possible for a Democrat to win in western Washtenaw County.
Democrat Barack Obama won with 54 percent of the vote compared to John McCain's 44 percent in what would be the new 52nd District, according to an analysis of county election records.
In fact, McCain only won in Sharon, Lima, Freedom, Bridgewater, Lodi, Saline and Salem townships, and by mostly slim margins, while Obama won by large margins in the cities of Chelsea and Saline, as well as by a 7,709-3,772 landslide in Scio Township.
In all, Obama came out nearly 5,500 votes ahead of McCain, including wins in Lyndon, Sylvan, Manchester, Dexter, Webster and Northfield townships.
Of course, it was a different story in 2010 when western Washtenaw County voters came out in strong support of a Republican for governor. Snyder, who lives in Washtenaw County, won in every part of what would be the new 52nd District except for one precinct in Scio Township.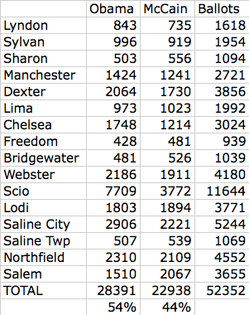 Driskell acknowledges she'll be counting on riding the Obama coattails in 2012. The more Obama's campaign can get out the vote, the better Driskell is likely to do at the polls.
Kestenbaum, who worked with Ouimet when he was a county commissioner, said he'll likely be supporting Driskell, but he thinks both candidates will appeal to voters in their own way.
"There are a lot of moderate and liberal Republicans out there. For long-time Ann Arbor townies who are used to voting Republican, Mark is their kind of guy," he said.
"But meeting Gretchen a few times and talking with her, she has that spark — you can't help but like her," he said. "That's a strength that she has that goes beyond partisanship. Ouimet has some of that, but in a different way. He's not as charismatic."
Lining up support
When Ouimet announced his re-election bid in early March, he touted himself as an effective leader for Washtenaw County with a willingness to reach across party lines. He said creating jobs and strengthening Michigan's economy must remain a top priority in Lansing.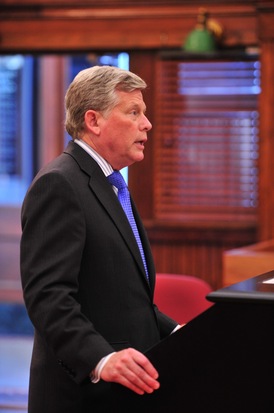 Ryan J. Stanton | AnnArbor.com
"The simple truth is that Michigan can't go back to the days of the past, when people's hard-earned tax dollars were spent without regard for actual results," said Ouimet, who
mostly toed the party line
to help push forward the governor's agenda in 2011.
Retired Saline Police Chief Paul Bunten, who served in law enforcement for more than 47 years, is supporting Ouimet's candidacy, as is Saline Area Fire Chief Craig Hoeft.
Bunten said Ouimet is a strong voice for reform and he has always been responsive to the needs of local residents, individual communities and the region as a whole. Hoeft said he supports Ouimet because he's working to change the status quo in Lansing.
"He's always been available to the city of Saline, answering our questions and concerns, attending meetings," Hoeft said.
Driskell still thinks she'll do well in Saline, where she's in her 14th year as mayor after being on City Council for six years before that. She has been a commercial real estate agent for nearly a decade.
"Saline people know who I am and they know I'm a rational thinker and that I support the community," she said. "I think they'll be supporting me."
Among those who attended Driskell's campaign kickoff event were Pittsfield Township Supervisor Mandy Grewal; state Rep. Jeff Irwin, D-Ann Arbor; John Austin, president of the Michigan State Board of Education; former Ypsilanti Mayor Cheryl Farmer; Kent Brown, husband of former state Rep. Pam Byrnes; former Saline mayors Mark Hopper and Don Shelton, who is now a judge; several current and former Saline council members; Ann Arbor City Council Member Margie Teall; and County Commissioner Yousef Rabhi.
"Gretchen as mayor of Saline and myself as supervisor of Pittsfield have worked very well together as partners for the general community of Washtenaw County," Grewal said. "I've known Gretchen for many years and I believe she comes to the table after a very well-thought-out process and she has a very strong belief system."
Education is at the center of Driskell's campaign platform. In a speech to her supporters last week, she said the reason Saline has been so successful is because of its schools.
"Everybody who comes to our community to move here and the businesses that move here move here because our school system is a great system," she said.
Driskell points out Ouimet voted in favor of deep cuts to public schools and universities while giving corporations large tax breaks and shifting the state's tax burden to individuals. She's also concerned the state is taking away the rights of local governments to offer domestic partner benefits to their employees, another measure Ouimet supported.
Rabhi, an Ann Arbor Democrat who is seeking re-election to the county board, said the state's decision to ban domestic partner benefits doesn't solve anything.
"You're not balancing the state's budget by having the county not extend domestic partner benefits to nine of our employees," he said. "You're only going to discriminate against people based on their sexual orientation, which is absolutely wrong. I think Gretchen will be there to stand up against that kind of attack on basic human rights."
Ouimet argues the structural reforms the Legislature approved last year are beginning to have a positive impact on the state and its financial outlook. He said the state's unemployment rate continues to decline, jobs are being created and the state budget has a small surplus.
He maintains the controversial decisions the Republicans made over the last year are starting to bear fruit in several significant ways.
"The latest example is with the governor's recent budget proposal," he said. "Who would have thought that in 2012 we'd be talking about what to do with a budget surplus, when only a year earlier we were forced to contemplate massive cuts due to a $1.5 billion deficit?"
Ouimet said he supports the governor's latest budget proposal to restore some of the previously cut funding for schools, public safety and local governments.
Frendewey said it seems that Driskell and other Democrats want to move Michigan back to the days of 14 percent unemployment and budget gridlock in Lansing.
Republicans in Lansing are touting Michigan's 8.8 percent unemployment rate, the lowest rate in nearly four years. The state's work force grew by 14,000 in February.
"Mark Ouimet made the tough decisions that other people refused to make and Michigan is starting to turn the corner because of that," Frendewey said. "We're starting to move ahead and make progress and candidates like Gretchen Driskell want to raise gas prices."
Ryan J. Stanton | AnnArbor.com
In her 20 years in office, Driskell said she's learned a lot about the importance of building a community, and she believes that's missing in Lansing.
"I'm planning on working really hard to bring our state forward," Driskell said. "We're in the 21st century and we're not making 21st century decisions in the Legislature in Lansing. We're disinvesting in the things that will bring businesses to this state."
Irwin, who worked alongside Ouimet on the county board for six years, said he's been disappointed in his former colleague's voting record in Lansing.
"When I watch Mark Ouimet's votes, I don't think they line up with what our community wants," Irwin said. "I've worked with Rep. Ouimet for many years and I think he is a pleasant man and he works very hard at his job, but I've been very disappointed with his voting record — particularly with his voting record around education."
Irwin believes Ouimet and other GOP lawmakers who voted for the education cuts know that's not what voters want and that's why they're moving to restore some of the cut funding.
"The Republicans have said they're increasing funding for K-12 and increasing funding for higher ed," Irwin said. "To the extent that's even true, it pales in comparison to what they did last year when they cut over $1 billion out of school aid and when they cut our universities by 15 percent. We heard a lot about shared sacrifice, and the result of our budget process last year was that all of the sacrifice was shared by our schools and universities."
Frendewey argued Republicans have made education a priority.
"Fifty-three percent of all state resources in the budget last year went toward education," he said. "That's the highest it's ever been. Cuts had to be made all across the state."
Ryan J. Stanton covers government and politics for AnnArbor.com. Reach him at ryanstanton@annarbor.com or 734-623-2529. You also can follow him on Twitter or subscribe to AnnArbor.com's email newsletters.