Posted on
Tue, Jan 24, 2012 : 5:55 a.m.
ACLU asks Ann Arbor community to share suspension, expulsion experiences
By Danielle Arndt
Editor's note: The story has been updated to correct the day of the meeting.
The American Civil Liberties Union of Michigan, the Student Advocacy Center and the Dispute Resolution Center joined forces Monday to persuade schools to consider alternatives to discipline and to provide students with the resources they need to remain in school.
The ACLU also is preparing to launch its next research endeavor looking at local discipline policies and asked members of the community to email their suspension or expulsion stories to education@aclumich.org.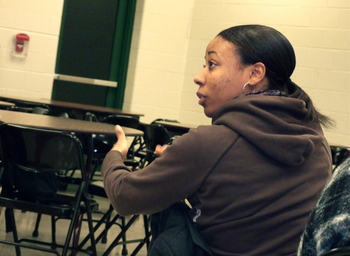 Danielle Arndt I AnnArbor.com
The push will begin in about 10 days, said ACLU field director
Rodd Monts
, and will include the organization's social media sites as well.
Amir Alexander, a student at the University of Michigan, originally attended Monday's Student Rights and Responsibilities Forum to support her mom, so she was surprised when she found the topic intriguing and was compelled to ask questions and participate in the discussion, she said.
Alexander recalled being suspended more than once during her K-12 education. She could not remember the root cause, she said, but she eventually received the out-of-school suspensions after a series of small offenses that led to larger consequences each time.
Monts described this model of discipline as "progressive discipline." He said its use contributes to the gap between the number of black, special education and economically disadvantaged students that are expelled or suspended each year and the number of white students expelled or suspended.
Progressive discipline also has set the stage for the school-to-prison pipeline phenomenon that exists, he said.
Monts said 3.5 million students are suspended annually across the country. To help prevent unjust suspensions or expulsions that take children away from school, he said students must know their rights and responsibilities, hence the purpose behind the forum.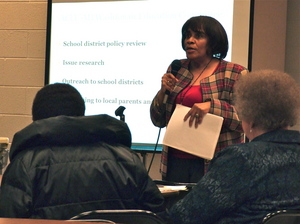 Danielle Arndt I AnnArbor.com
Monts gave attendees a stack of cards outlining these student rights — the right to know the offense one is being accused of, the right to explain oneself and the right to see the alleged evidence against oneself. He encouraged the audience to pass them out to as many students as possible.
Margaret Rohr of the Dispute Resolution Center described some of the conflict mediation services her organization provides, such as for conflicts regarding students' special education plans or attendance problems.
"Our trained volunteers will come in and act as a neutral third party to keep the conversation on track and make sure all of the voices are heard," she said, adding sometimes a parent can feel overwhelmed by school officials and a mediator's presence can help "level the playing field in terms of communication."
Rohr said the Dispute Resolution Center also has seen a direct link between school attendance mediation and fewer school dropouts.
Colleague Claudia Young said conflict resolution is especially important in instances of suspension or expulsion because otherwise, when a disciplined child comes back to school and has not had mediation, the conflict still exists and the behavioral problems are more likely to continue.
Monts said implementing peer mediation programs is a great alternative to discipline at schools, however it can be costly.
"Most districts have it at some schools but not consistently," he said. "Those districts that don't have these options district-wide often still see a lot of behavioral problems and disparities."
Ann Arbor Public Schools Superintendent Patricia Green also spoke during the forum about her plan for improving Ann Arbor's discipline policies. Click here to read the story.
Staff reporter Danielle Arndt covers K-12 education for AnnArbor.com. Follow her on Twitter @DanielleArndt or email her at daniellearndt@annarbor.com.