Posted on
Thu, Jan 26, 2012 : 5:30 a.m.
Ann Arbor Public Schools considering more cuts to bus service for next fall
By Danielle Arndt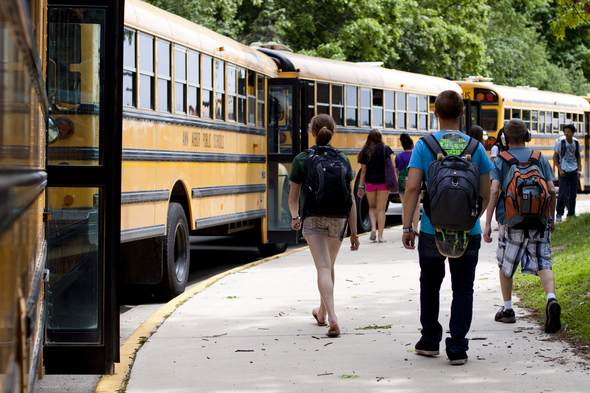 Jeffrey Smith | For AnnArbor.com
The
Ann Arbor
school board once again placed transportation on the chopping block, or at least on the potter's wheel Wednesday.
Board members were left jaded after learning that earlier this week, Willow Run Community Schools and Ypsilanti Public Schools decided to leave Ann Arbor out of a request for proposals that would combine and privatize the busing for those two districts.
Currently, Ann Arbor, Ypsilanti and Willow Run are part of a consolidated busing system operated by the Washtenaw Intermediate School District.
The consolidated system originally was intended to include at least eight of the county's 10 districts, said board President Deb Mexicotte. She said Ann Arbor could have backed out when the others did in 2010, but stayed because it knew it was "the linchpin" central to making the system work for the other two districts.
"So it does distress me that Willow Run and Ypsilanti did not make a phone call to let us know they were going to go out for this," she said.
Several administrators, including Superintendent Patricia Green, also were surprised by the move.
Deputy Superintendent of Operations Robert Allen said if the two districts do merge and privatize, it would cost Ann Arbor Public Schools more money to contract with the WISD.
He said right now Ann Arbor, Ypsilanti and Willow Run each pay a percentage of the shared management costs to the WISD for organizing and operating the busing system. If two of the three entities were to leave, the remaining entity would get stuck with all of the management fees.
Mexicotte said the district currently pays about $6 million total to the WISD for transportation services. But the intermediate school district fell under fire from several board members Wednesday for its "customer service."
Trustee Simone Lightfoot cited several reports Ann Arbor has requested from the WISD since 2010.
"I'd lean toward supporting a relationship with the AATA (Ann Arbor Transportation Authority) before I would the ISD," she said.
Ann Arbor would need to renew its contract with the WISD in May, which Lightfoot described as "entering into a third-year marriage without knowing how the first two years went."
Reaching out to the AATA was just one of the suggestions tossed around by Ann Arbor's Board of Education Wednesday. Others included:
Speaking with the WISD to negotiate a better deal for the services it provides and subsequently trying to persuade Ypsilanti and Willow Run not to privatize.
Talking to Ypsilanti and Willow Run about becoming part of their request for proposals and effort to consolidate.
Breaking ties with the WISD for busing and requesting proposals of its own to privatize transportation in the Ann Arbor district.
Breaking ties with the WISD for busing and return to operating its own transportation system again, with cuts to routes and public sector employees.
Eliminating busing entirely, or eliminating busing to the district's high schools.
The Ann Arbor district made significant cuts to bus service for this school year, a move that brought heavy criticism from parents when it was implemented in the fall.
Vice President Christine Stead said transportation "hits her radar" as one area that likely will experience more changes or cuts in the next school year as the district attempts to eliminate its $14 million-plus budget shortfall headed into 2012-2013.
She asked administrators to present a list of highly recommended areas to cut as soon as possible.
"So we can spend the next four or five months talking to our community … and give families time to think," she said.
Staff reporter Danielle Arndt covers K-12 education for AnnArbor.com. Follow her on Twitter @DanielleArndt or email her at daniellearndt@annarbor.com.