Posted on
Wed, Mar 17, 2010 : 5:18 p.m.
Election 2010: Mayor John Hieftje faces another challenger, others planning to run for City Council
By Ryan J. Stanton
A second challenger has entered the picture in the city of Ann Arbor's mayoral race.
Steve Bean, chairman of the city's Environmental Commission, began circulating nominating petitions this week to run for mayor as an independent candidate.
Bean would face off against the winner of the August primary, which pits incumbent John Hieftje against Democratic challenger Patricia Lesko.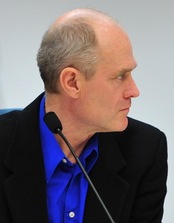 Bean, who previously served nine years on the city's Energy Commission, works for Berg & Associates Inc. of Ann Arbor as a consultant designing database management systems.
"I think what I can bring is a little more of a vision for helping to make our community a sustainable one and that will be really the framework of my platform," he said. "That's the work that I've been doing on the Environmental Commission - to expand beyond our environmental goals to economic vitality and social equity goals as well. In order to be a sustainable community, you can't just focus on any one of those three goals."
Bean said he doesn't have an interest in attacking Hieftje or anyone else in office. He said there's too much of that already.
"We're struggling now with divisions within the community that are not helpful in us moving forward," he said. "And one of the things I'll be trying to do is rebuild the trust in government and the process local government goes through in hearing from its citizens and communicating."
Bean is the fifth challenger to pull nominating petitions to run for city office this year. In addition to the two challengers planning to run for mayor, three residents have pulled petitions to seek seats on the Ann Arbor City Council.
One of them is Lou Glorie, a Democrat who plans to run against 5th Ward Democratic incumbent Carsten Hohnke in the August primary. Hohnke's seat already is being eyed by another challenger, Allen Licari.
Licari pulled both Democratic and independent nominating petitions. He can only file one set of petitions, so he'll have to decide before he officially files to run.
In the 1st Ward, Democrat Sumangala Kailasapathy, a native of Sri Lanka, recently decided to challenge Democratic incumbent Sandi Smith. Kailasapathy could not be reached for comment.
No challengers have pulled petitions yet to run against the other three council members up for re-election this year: Tony Derezinski, D-2nd Ward; Christopher Taylor, D-3rd Ward; and Margie Teall, D-4th Ward.
The primary election is Aug. 3, followed by the general election Nov. 2.
Glorie, a native of Inkster who has lived in Ann Arbor since 1978, spoke about her campaign with AnnArbor.com on Wednesday. She is part of a group of candidates hoping to oust the current council majority this year.
"I feel that Carsten, being part of what I would call the majority coalition on council, is part of a system that is not sustainable for our city," said Glorie, who fears new developments are starting to threaten neighborhoods and are taking the city in the wrong direction.
"Ann Arbor is blessed with the fact that we do have a central downtown that is still alive and we have neighborhoods - especially the central neighborhoods - that would be very acceptable of experiments in mixed use," she said. "If we weren't always concentrated on getting more and more development downtown, I think this stuff will happen organically."
Glorie also said her background as a real estate agent with Keller Williams provides her with a perspective "on what speculation does to a community, how it jacks up prices and it lowers affordability. It lowers opportunity for new local businesses."
"I'm looking at more sustainable ways to help the local economy thrive and flourish," she said. "We have a lot of talent in Ann Arbor and I think that we need to try to nurture that talent. And when I say talent, I'm not just talking about artists and musicians. I'm talking about people who are inventing things."
Click here to read a full list of nominating petitions pulled and filed.
Ryan J. Stanton covers government for AnnArbor.com. Reach him at ryanstanton@annarbor.com or 734-623-2529.