Posted on
Mon, Oct 31, 2011 : 1:38 p.m.
Eric Cantor greeted with Halloween-style protest upon visit to University of Michigan
By Ryan J. Stanton
A group of about 70 local workers and students rallied today in Ann Arbor to protest a speech by U.S. House Majority Leader Eric Cantor, R-Virginia.
In honor of Cantor's Halloween visit to the University of Michigan, numerous groups joined together to hold a "Funeral for the Middle Class," an event outside of the Michigan League filled with mockery of Cantor and his stances on economic and social issues.
Protestors, including some dressed as zombies, carried tombstone-shaped signs with statements like "R.I.P. 99%," "R.I.P. Public Education," "R.I.P. Health Care," "R.I.P. Living Wage," and "R.I.P. Workers' Rights."
U-M graduate student Joel Batterman impersonated Cantor during a faux funeral procession and eulogy. Batterman's long-winded speech about the death of the middle class drew laughs and applause from the pseudo-rich crowd, culminating with a ceremonial hammering of the final nail into a wooden coffin labeled "American Dream."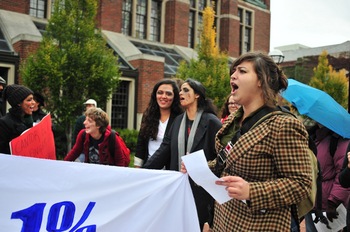 Ryan J. Stanton | AnnArbor.com
"You, my friends, are the top 1 percent, and we're gathered here this Halloween for a truly momentous occasion — the burial of the American middle class!" Batterman shouted during his speech. "It is altogether fitting and proper that we should celebrate the demise of the middle class here in Michigan, the state which did so much to give it birth."
The real Cantor was invited to speak as part of a lecture series organized by the Gerald R. Ford School of Public Policy. Facing protest, Cantor canceled another speech on income inequality planned earlier this month at the University of Pennsylvania.
At several points, the crowd chanted in unison: "Eric Cantor, you can't hide! Eric Cantor, we're outside!" Another repeated chant was: "One, two, three, four — if you're hungry, eat the poor! Five, six, seven, eight — you'll be next to fill our plate!"
"Basically, we don't want to let Eric Cantor come to our campus unopposed — we don't want to let him get the impression that people approve of his policies, especially not the University of Michigan," said protestor and U-M student Ian Matchett, a member of the Washtenaw Community Action Team and Student Socialist Union.
"The university is trying to frame it like he's a respected public figure and we should just be happy to have him at our campus," he said. "And we want to make it clear that, though he may be a large voice in the national discourse, he's not a great or respectable voice."
Local workers and students urged Cantor to protect all working families, not just "the people at the top."
Organizers cite a new report released by the Congressional Budget Office that shows the nation's richest citizens almost tripled their incomes between 1979 and 2007 as the inequality of the distribution of wealth expanded.
The report showed the top 1 percent saw their inflation-adjusted earnings increase by 275 percent, while the bottom 20 percent had earnings grow by 18 percent.
"We're concerned that Eric Cantor represents the 1 percent and there's no one really speaking for the 99 percent, so we're out here because his voting record is anti-middle class," said Janella James, organizer for the Lecturers' Employee Organization at U-M.
"He's voted against equal rights and women's rights," she said. "And his voting when it comes to housing, he's not helping the middle class."
Stuart Dowty, former vice chairman of the Washtenaw County Democratic Party, said the protestors came to get an important message out about Cantor.
"He's one of the leaders in Congress for proposing a budget that helps the 1 percent," he said. "Those policies from Bush through the Republicans in the House today are what caused the recession and they're preventing a recovery from it. Trickle-down has never worked, and any economist who knows how to put a sentence together will tell you that."
Ryan J. Stanton covers government and politics for AnnArbor.com. Reach him at ryanstanton@annarbor.com or 734-623-2529. You also can follow him on Twitter or subscribe to AnnArbor.com's e-mail newsletters.