Posted on
Thu, Jun 16, 2011 : 7:38 p.m.
Family and friends share memories of Dawn Fital after missing woman is found slain in Indiana
By Heidi Fenton
As news emerged Thursday that Indiana police had found Dawn Fital dead in an Indiana swamp, hundreds of family and friends turned to online Facebook pages to share thoughts and prayers in her memory.
Fital, a longtime Milan resident who'd been living in Pittsfield Township, was an amateur pool player who played in tournaments across the country. Teammates remembered her edgy ability, while others remembered her as a role model with a contagious laugh.
Ronald Arnold, deputy commander of the Lake County Sheriff's office, said Fitalwas found by a member of the sheriff's office aquatics team after a Michigan State Police interview with her boyfriend, Greg Noack, tipped police off to a possible location for the search.
Noack remains jailed in Lake County awaiting arraignment on a charge of open murder.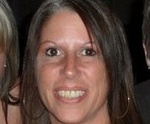 Lake County Chief Deputy Coroner P.J. Adams said Fital was bound with duct tape, placed in a suitcase and thrown into the water. An autopsy is scheduled for Saturday.
Police believe she was killed in Michigan, possibly in her Pittsfield Township apartment.
Family members gathered at a Milan apartment on Thursday declined to comment.
However, Fital's daughter, Stephanie Boggs, posted a news story Thursday afternoon on Facebook, and shared her heartbreak over the discovery:
"I'm sure everyone has already seen the articles, but so we're clear, she has been found," Boggs wrote. "RIP mom. I miss you so much!!!! I can't even find the words to express the severity of our heartbreak. I feel lifeless without you."
Comments from friends continued to come in through Thursday afternoon. Many involved with competitive billiards around the country recognized Dawn Fital's talent and said her death would leave a mark.
Nick Leider, managing editor of Billiards Digest magazine, said results of a pool tournament in Las Vegas earlier this month showed Fital walked away with $600 in prize money from two events she competed in.
"From what I could gather, I think she was really right below the crust of top professionals in the country," he said. "She had a couple finishes in national tournaments that were of note."
Kirstie Miller, who said she competed with Fital in pool tournaments, wrote on Fital's Facebook wall today, saying she was a source of encouragement:
"Dawn was a true inspiration … She is a true champion… Dawn was a class act… I can tell you when she was beating up on me and Amy, she was doing everything she could to teach us things. And we'd laugh when she told us to keep it form the boys… because they didn't need to know her tricks. When she swept Valley this year, it wasn't a surprise to anyone… It's not a secret that she's one of the best pool players this state has seen. I know the whole Michigan pool family is mourning your loss Dawn… Rest in Peace!!
Nicole Woy remembered Fital as a second mother and a role model:
"May you rest in peace Dawn; you weren't just my friend's mom, but a role model, a friend and second mom. I looked forward to seeing your face and hearing you laugh every time I walked in the door. You always had a story to tell or a smile to share. You loved your family and I could truly see the joy your grandchildren brought to your eyes. May you rest in peace."
On Thursday morning, neighbors on the street where Dawn Fital and her ex-husband, Patrick Fital, lived for several years, said they were in shock with the news of her death.
Jerry Weaver said the Fitals lived across the street from his home on Braman Avenue in Milan for almost 10 years, including after their divorce. Greg Noack moved in and Weaver recalled talking with him outside earlier this year.
An eviction notice is now posted on the door and Weaver said Patrick Fital told him in early March that they had to be out by the middle of the month.
Patrick Fital told Weaver he had plans to move into an apartment complex off of Michigan Avenue—in the Arbor Knoll complex. Police said Dawn Fital was living there earlier this week with Patrick and Noack.
Heidi Fenton covers police and courts for AnnArbor.com. Reach her at heidifenton@annarbor.com or 734-623-4673. You also can follow her on Twitter or subscribe to AnnArbor.com's e-mail newsletters.