Posted on
Thu, Sep 23, 2010 : 6:05 a.m.
First phase of Fuller Road transit station project moves to Ann Arbor City Council for approval
By Ryan J. Stanton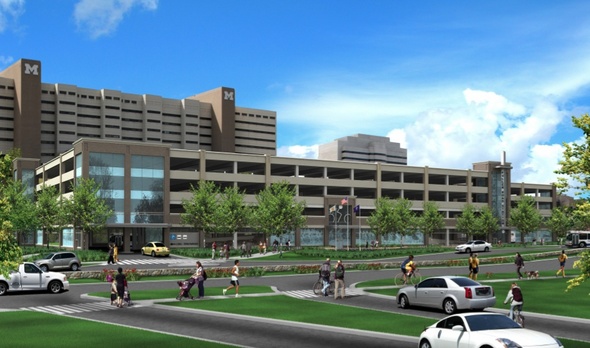 The first phase of a controversial transit station project on Fuller Road is headed to the Ann Arbor City Council for approval, following a 7-2 vote by the Planning Commission.
After much deliberation, planning commissioners decided late Tuesday night that the project — a partnership between the city and the University of Michigan — is in the city's long-term best interests. That decision came despite concerns from numerous residents who argued the project represents a nearly permanent repurposing of city parkland for what appears to be, at least for now, little more than a new parking structure for the university.
A philosophical debate over the protection of city parkland carried late into the night as an organized coalition of residents took to the podium to voice concerns.
"If the city establishes a parking structure at Fuller Park, then the city can do anything in any one of the parks that the people of the city of Ann Arbor love and have repeatedly supported with our tax dollars," argued Ann Arbor resident Rita Mitchell.
"Please don't violate the people's trust."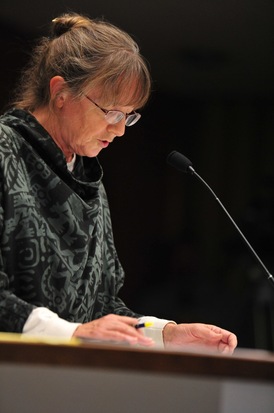 Ryan J. Stanton | AnnArbor.com
The city's charter requires any sale of public parkland to be approved by voters. Residents argued the city is circumventing the law by entering into a long-term agreement with U-M for a five-level, 977-space parking structure expected to stand for several decades.
The property is located on the south side of Fuller Road, east of East Medical Center Drive, and in front of the U-M Hospital — technically a part of Fuller Park.
"There's no park in Ann Arbor that requires parking for 1,000 cars," Mitchell said. "The plan is not part of a sustainable alternate transportation plan because it encourages people to continue to use their cars. There's talk of a train, but the likelihood of a train station ... seems limited."
In their defense, city officials point out the portion of Fuller Park in question was turned into a 250-space parking lot for U-M back in 1994.
"Quite frankly, it's been our assessment as staff that this is land that, for close to 20 years, has been used for parking," said Eli Cooper, the city's transportation program manager.
"As staff, we've been wrestling with this for a year and a half," he added. "It's a question of best interests of the community at large. And investing in this would be a paradigm shift where, instead of just building a parking structure, we're building a train and multimodal center."
Despite an admittedly modest Phase I plan, city officials envision the site being a major gateway to Ann Arbor in the future, complete with a new Amtrak station and bus and bike facilities.
Cooper estimated in April that the first phase of the project would cost $43 million. The university is paying for 78 percent of the total project costs.
Within Phase I, a 44-space surface parking lot is proposed adjacent to the parking structure. An additional 17 motorcycle spaces would be provided on the ground level of the structure. A total of 103 bicycle parking spaces also would be provided.
The parking structure has been designed to provide bus loading facilities on the ground level. The Phase I plan predicts 516 buses per day (56 AATA buses and 460 U-M buses).
Future phases could include additional bus platforms and more floors on top of the parking structure, as well as a pedestrian bridge over the railroad tracks connected to the hospital.
Residents who spoke at Tuesday's meeting urged city officials to consider alternate sites before taking away parkland. Ellen Ramsburgh, chairwoman of the Ann Arbor Historic District Commission, reminded city officials they should be careful stewards of the city's parks.
"Building on parkland is like eating the goose that lays the golden egg," she said, quoting a former member of the New York City Planning Commission. "We don't want to consume the goose. We want to feed it."
John Satarino, a former Parks Advisory Commission chairman, said it appears there may be deed restrictions on the property — intended to keep it forever preserved as open space — that the city isn't honoring.
"It's a land grab by the university," Satarino said. "I think that sets a bad precedent. And opposite of what people think, there's almost no protection for parkland. The city can do anything they want to, even violate their own rules."
Cooper said he believes all the proper legal work had been done, and the city attorney's office found no restrictions that would prevent the project from moving forward.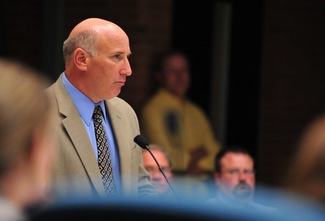 Ryan J. Stanton | AnnArbor.com
Planning Commissioner Evan Pratt directly responded to concerns that the city's parks are under attack or at risk.
"The behavior that we see of investment in the city's parks system doesn't give me suspicion that we have a council that is looking to gut the parks system or, in fact, really take any invasive steps," he said. "I think if I saw council doing that, I would be in line with anybody else to find some other folks to represent my interests as a voter."
The two commissioners who voted against the project were Kirk Westphal and Erica Briggs. Briggs said she had a lot of concerns with the project, including lack of public process.
"It's not a particularly inspiring design," she added, arguing it doesn't incorporate any progressive design elements and doesn't adequately welcome visitors to Ann Arbor. "It's not one that makes me feel like, 'Wow, look at this project we can get ourselves behind.'"
The idea for an intermodal transit center spawned from the Mayor's Model for Mobility, which was introduced four years ago and was worked into the city's adopted transportation plan update last year. In August 2009, the City Council gave its approval to move forward with the conceptual design of the proposed facility on Fuller Road.
Cooper noted Southeast Michigan Council of Governments predictions show Ann Arbor growing as an employment center for the region and adding tens of thousands of new jobs by 2035. He said an intermodal transit center conveniently located along Fuller Road would help prevent traffic gridlock.
Fuller Road Station
The addition of a transit station there also would help with the proposed Ann Arbor-to-Detroit and Ann Arbor-to-Howell rail service projects, Cooper said.
"Many of you have heard of the Ann Arbor-to-Detroit project," he told commissioners. "It's my understanding that, as of Thanksgiving, there will in fact be an excursion train pulling out of Ann Arbor, heading to Detroit for the Thanksgiving Day Parade. So (there is) progress, although not as quick as we'd like to have seen."
Ryan J. Stanton covers government and politics for AnnArbor.com. Reach him at ryanstanton@annarbor.com or 734-623-2529.