Posted on
Tue, Apr 27, 2010 : 10:56 a.m.
SEMCOG officials say $40 million to $50 million still needed for Ann Arbor-to-Detroit rail project
By Ryan J. Stanton
A long-anticipated commuter rail project linking Ann Arbor and Detroit — with three stops in between — is $40 million to $50 million short of happening, SEMCOG officials said this morning.
SEMCOG hosted a meeting of its Ann Arbor-to-Detroit Steering Committee inside its offices in downtown Detroit, offering an update on the east-west commuter rail project.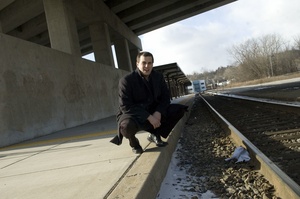 Tom Perkins | For AnnArbor.com
Addressing a crowd of government officials from throughout the region, Carmine Palombo, director of transportation planning for SEMCOG, said the primary goal has been and continues to be getting an increase in the state's gas tax.
He said a modest increase in the gas tax — along with increases in vehicle registrations and other fees — could raise $1 billion annually for road and transit projects in Michigan, and $100 million of that could go to projects like the Ann Arbor-to-Detroit rail line.
"It needs to be approved," he said. "We need to continue to keep banging that drum because I will tell you that without additional funding, base funding, none of these projects has any sustainability to them. The gas tax is yielding fewer and fewer dollars every year."
Palombo said SEMCOG has determined it needs about $80 million for the project. He said about $33 million already has been spent using funds from MDOT and other sources.
In addition to an increase in the state's gas tax, SEMCOG still is holding out hope for federal funding. Palombo said SEMCOG plans to go after part of a new $2.5 billion pot of money coming from the Federal Railroad Administration in the near future. There also is an estimated $600 million available in a second round of federal TIGER grant money that SEMCOG has its eyes on.
SEMCOG officials recently missed out on securing high-speed rail stimulus money in a round of federal grants. That has caused some officials — including in Washtenaw County — to question SEMCOG's management of the project and whether it will ever happen.
"The project is far from dead," Palombo said. "The project is moving forward. In fact, in many ways, many of the boring pieces of the project actually have been completed, and we're getting to the point where some of the fun is about to begin."
A $100 million federal transportation funding earmark for the project was made in 2005, but the route's estimated cost-per-rider of more than $70 remains too high to qualify for the money. Palombo said communities that have been successful in securing transit capital funds have costs between $20 and $25 because they are adding onto existing systems.
"It has nothing to do with the fact that we don't have a good project," Palombo said, adding that "new starts" have a disadvantage because their costs naturally are higher.
Palombo said the goal remains to establish a demonstration service to allow SEMCOG to obtain the data it needs to go back and make a case to the federal government. SEMCOG wants to establish at least four daily roundtrips between Ann Arbor and Detroit and three on the weekends. Trains would stop in Ypsilanti, at the Detroit Metro Airport and in Dearborn.
Palombo said the fact that such service won't happen by SEMCOG's previously stated Oct. 25 target date is only a temporary setback.
Tim Hoeffner, administrator of MDOT's Office of High-Speed Rail and Innovative Project Advancement, said efforts are under way to lease up to eight locomotives that would pull the trains. The hope is to have contracts for that under way in the next four to six weeks.
Palombo said work also is being done to refurbish a set of double-decker rail cars. He said there are eight cab cars and 16 coaches in all. They're being outfitted with new seats, floors, improved windows, and widened doors for handicapped accessibility.
Hoeffner said a lot of thought has gone into modernizing the passenger cars, from the color scheme to the type of fabric used on seats. He said MDOT and SEMCOG want to put their best foot forward for the demonstration project. He said the cars are being wired for Wi-Fi capability, though that service likely won't be available immediately.
Palombo said a lot of time has been spent talking to partners from the railroad industry — Norfolk Southern, Canadian National and Conrail, which own the tracks, and Amtrak, which would be contracted to operate the service. He said deals are in place but planning continues to identify the safest way to operate freight and passenger cars on the same tracks.
"We have to do an analysis to make sure that our passenger trains and their freight trains don't want to be in the same place at the same time — that's a problem," he said. "We have to build, in some instances, additional track off to the side so we can get one train off to let another train go on."
Palombo said the project is now being planned in three phases. The first includes having trains run during special events starting this fall, the second phase includes the four roundtrips per day, and the third phase — if the expected demand is there — includes running as many as 8 to 15 roundtrips per day. Palombo said SEMCOG has been talking to the railroad companies to plan the improvements needed in each of those cases.
Palombo said there are talks of having trains run from Ann Arbor to Detroit for the Thanksgiving Day parade in Detroit in November, a University of Michigan hockey game in December, and possibly one or more U-M football games. He also mentioned possible trips for events at the Henry Ford Museum, Detroit Lions games, the Pizza Bowl, the Auto Show in January and the Ann Arbor Art Fairs in summer of 2011.
Palombo said MDOT, which has stepped up "big time," is not going to run the system forever. In the long term, he said, a regional transit authority is needed as the system grows and possibly links with Jackson to the west, Pontiac to the north, Monroe and Toledo to the south and Mount Clemens to the east.
"This is the first piece of a system," he said of the proposed Ann Arbor-to-Detroit link. "That's how this needs to be looked at."
Ryan J. Stanton covers government for AnnArbor.com. Reach him at ryanstanton@annarbor.com or 734-623-2529.