Posted on
Tue, Apr 27, 2010 : 5:49 a.m.
Five Washtenaw County school districts eye busing consolidation
By David Jesse
Five of Washtenaw County's 10 traditional school districts are poised to join forces in a countywide busing system, Dexter's transportation director told his school board Monday night.
Transportation director Sean Burton cautioned that the five districts - Ann Arbor, Lincoln, Whitmore Lake, Willow Run and Ypsilanti - haven't formally made the decision. But he said they've indicated strong interest in joining together to save millions of dollars on busing.
The remaining five districts - Chelsea, Dexter, Manchester, Milan and Saline - aren't to that point yet, Burton said.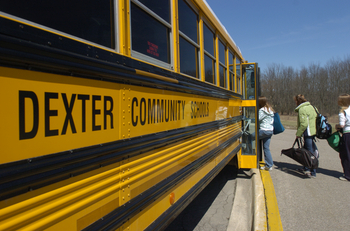 If only the first five districts band together, about $4.5 million in savings could be generated. That would be split among the participating districts.
If all 10 county school districts join together, officials say current transportation budgets would fall from a combined $23.64 million to $17.72 million.
Under each of the scenarios, busing would be controlled by the Washtenaw Intermediate School District, and current bus drivers and other transportation department staff would become WISD employees.
Under the plans being developed by a task force working with outside consultants, the number of transportation department employees in the county would fall from 573 to 536.
All Washtenaw County districts are currently experiencing budget problems due to projected cuts in the per-pupil funding from the state in time for next year's budget.
The plan would be to implement the new busing system in the fall.
Along with lowering costs by reducing the number of employees, savings would also be realized by ordering large quantities of gas and other parts, sharing facilities, less overhead and rerouting buses.
Many local districts are currently exploring ways to reduce their transportation costs.
Dexter has put together a plan to keep the transportation department in the district, but change routes and increase the number of kids on a bus.
Several parents spoke Monday night in opposition to that plan.
In Ann Arbor, district administrators have taken bids on privatizing the system, which would bring an outside firm to do the work.
Burton said he doesn't think privatizing is the way to go and believes districts would get initial savings, but then would see costs creep back up.
"We really don't feel privatization is an answer," he said. "It's just not a way to do business, in my opinion."
One big cost savings under the consolidation plan could come from eliminating the number of miles a bus runs without students in it, thanks to staging options and sharing facilities. Estimates are for $1.3 million in savings across the county in that area alone, Burton said.
The task force looking into consolidation has begun to draw up routes and the systems needed to run the new operation.
No date has been set for the local districts to opt in or out, but Burton said time is running short.
"It's to the point now that if we want to go, we need to go."
David Jesse covers K-12 education for AnnArbor.com. He can be reached at davidjesse@annarbor.com or at 734-623-2534.