Posted on
Fri, Jan 20, 2012 : 6:45 p.m.
Influential Huron teacher, coach and theatre producer Desmond Ryan remembered by loved ones
By Danielle Arndt
An athlete, coach, teacher, actor, writer, runner, storyteller and even a mime — Desmond Ryan had a way of making a lasting impression on everyone he came in contact with.
And everyone he stayed in contact with, said stepdaughter Kristen Wargelin.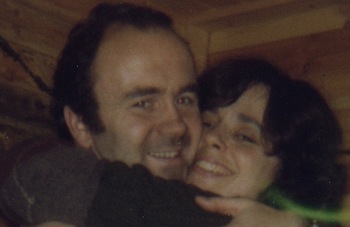 A man of great depth and many interests, Ryan's life reflected his vigor for it. Ryan, 69, died Jan. 8 at
Arbor Hospice
after suffering 10 strokes in succession in 2009 that left him unable to speak, eat, swallow or write.
During his 32-plus years as a teacher at Huron High School, Ryan taught social studies, speech and the school's radio and TV courses. He also coached cross-country and founded the Huron Players Drama Club.
"It didn't matter what age people were, what their background was or where they came from, he loved hearing everyone's life story — and he remembered it," Wargelin said. "He never forgot a name."
Ryan's name, for some of his former students, also will never be forgotten and is forever immortalized in Hollywood.
Ann Arbor native Javier Grillo-Marxuach, who went on to become a writer/producer for ABC's "Lost," crafted "Lost" character "Desmond Hume" after his inspirational Huron teacher, Wargelin said.
Hume was an insightful Scotsman from in Glasgow, Scotland; while the real-life Desmond was born in Mullingar, Ireland.
Fellow Huron graduates Eric and Andrea Klooster's oldest son, Ryan, also was named after the local theatre legend.
Ryan was the common link between the two, who graduated from Ann Arbor Public Schools several years apart.
"He was a very special person in our lives and was instrumental in us knowing each other," Andrea Klooster said.
The educator gave a scripture reading in the Klooster's wedding and he and his wife, Sally, welcomed them to the home the Ryans built in Inishbofin, Ireland.
The love Ryan's students had for him was not isolated. BJ Wallingford, who took over the Huron Players shortly before Ryan retired in 1997, said his students were "enthralled" with their gregarious mentor.
"He had this way of becoming your father figure," Wallingford said. "I know it happened to me very quickly. I think because he taught you on such a personal level."
Wallingford was in his late 20s when he met Ryan about 20 years ago. He was asked to step in last minute to direct a play about Greek gods at the Performance Network Theatre. Ryan was cast as "Zeus."
"He was able to turn on his Irish accent for the role, too. It was a gag," Wallingford said. "He was the driving force of the play."
The play was the defining moment in their friendship and shortly thereafter, Wallingford began directing plays for Ryan's Huron drama club. He said it surprised him that Ryan never directed but stuck to producing.
"He was very creative," Wallingford said. "Normally, as a director, I don't want other people's ideas, I already have my mind set and am ready to move forward. But Ryan had this wonderful way of saying his ideas in a manner that really added to the production."
Wallingford's favorite thing about Ryan was his natural storytelling abilities.
"I loved watching his audience, with their mesmerized eyes, leaning forward in their seats," Wallingford said.
Wargelin added her stepfather could capture the attention of any room. Sister Kathy Allen recalled how when she and her three siblings were growing up, Ryan had a unique tactic of ending family feuds that often included miming.
"He loved setting us up and making us laugh. He always had some creative way to stop us in our tracks and make our jaws drop," Allen said. "He did this brick wall thing that was just fantastic."
Ryan's first passion, before he discovered theatre, was running. Allen said he ran throughout his life. He came to Ann Arbor from Ireland in 1962 to attend the University of Michigan on track scholarship.
He won the Big Ten Championship in the mile in 1964.
"He was a magnificent athlete," said John Nordlinger, a former Huron wrestling coach and high school athletic director. "I also had the privilege of knowing him when he was still competing at Michigan. Seeing him run — it was a beautiful sight."
A wake for Ryan will take place from 2 to 4 p.m. Saturday at Connor O'Neill's in downtown Ann Arbor. Grillo-Marxuach and other family, friends and former students are expected to speak about Ryan's life.
Sally Ryan, married to Ryan for 39 years, said the past few years of her husband's life were a struggle. He had been diagnosed with prostate cancer previously and beat that, so the couple thought the worst was over, Allen said.
"For a man who was always the life of the party, this was the cruelest irony possible," Sally Ryan said.
But it will be Desmond's vigor for life she will remember most.
"I had an absolute blast being married to Desmond, always an adventure," she said. "He taught me that it didn't take much money to enjoy ourselves. We could be silly and stupid together anytime."
To read the complete obituary for Desmond Ryan, click here.
Staff reporter Danielle Arndt covers K-12 education for AnnArbor.com. Follow her on Twitter @DanielleArndt or email her at daniellearndt@annarbor.com.