Posted on
Tue, Feb 28, 2012 : 4:40 p.m.
Freezing rain forecast: Winter weather advisory issued for Ann Arbor area
By Cindy Heflin
It's looking more likely that freezing rain could turn the Wednesday morning commute into a challenge for Ann Arbor-area motorists.
The National Weather Service has issued a winter weather advisory in effect from 3 a.m. to 9 a.m. Wednesday for freezing rain. Light snow is expected to develop late tonight with one half inch or less of accumulation expected, the weather service said. The snow may mix with sleet at times.
The snow and sleet will transition to freezing rain during the pre-dawn hours, and could glaze roads and sidewalks. Ice accumulation of one tenth of an inch or less is expected through Wednesday morning.
But even that could wreak havoc on the roads. Even a trace of freezing drizzle is enough to cause problems, National Weather Service meteorologist Matt Mosteiko said Monday.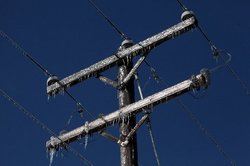 Jim Harmon, director of operations for the Washtenaw County Road Commission, was closely monitoring the forecast Tuesday afternoon and said that monitoring will continue through the night. He expects drivers will be called in early to deal with whatever Mother Nature dishes out.
National Weather Service meteorologist Amos Dodson said the freezing rain will eventually change over to all rain as temperatures rise Wednesday. That changeover is expected to happen around 8 a.m.
Whatever ice does accumulate won't stay around long. Temperatures are expected to rise to a high near 50 Wednesday afternoon. Rain is expected to dwindle to a drizzle by about 3 p.m.
For updated weather conditions and forecasts anytime, check out AnnArbor.com's weather page.