Posted on
Mon, Jan 16, 2012 : 1:28 p.m.
Geddes Road to be closed down for march to Snyder's home near Ann Arbor
By Kyle Feldscher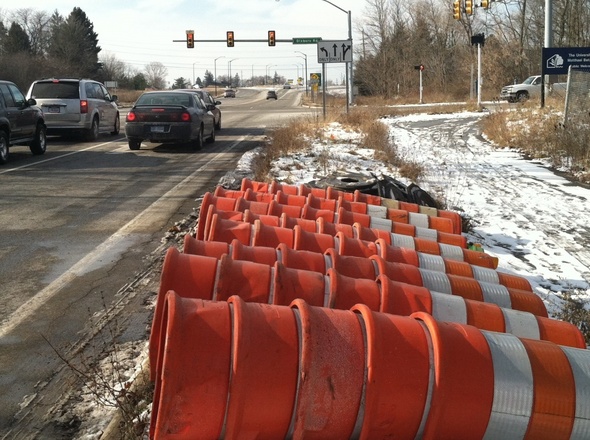 Danny Shaw | AnnArbor.com
Previous story: MLK Day march to Rick Snyder's Ann Arbor area home planned in protest of emergency manager law
Geddes Road near Parker Mill County Park will be closed this afternoon during a rally protesting Michigan's emergency manager law to allow participants to march to the gates of Gov. Rick Snyder's neighborhood outside Ann Arbor.
Washtenaw County Sheriff's Office spokesman Derrick Jackson said Geddes Road would be closed between Dixboro Road and Superior Road at about 4 p.m. today, when the Occupy for Democracy rally is scheduled to begin. The rally is taking place from 4 to 7 p.m. at Parker Mill County Park and will end with protesters marching a little more than a half-mile to the gates of Snyder's neighborhood, Jackson said.
Jackson said protesters are parking at nearby Washtenaw Community College and then are being bused to the park. There will be a number of speakers at the park itself before the march takes place, Jackson said.
Sheriff's deputies will be in the area to direct traffic away from Geddes Road.
Jackson said the protesters will not be marching to Snyder's front door, but will give a letter to a Snyder representative at the gates of the neighborhood.
The protest in Superior Township is one of several Occupy for Democracy rallies going on around the state today to speak out against Public Act 4, Michigan's new emergency manager law Snyder signed last year. The law allows state-appointed emergency managers to remove elected officials from local office. Critics say the law is a threat to democracy.
The rally is being led by the Rev. Charles E. Williams, pastor of the King Solomon Baptist Church in Detroit.
The rallies around Michigan are being held today to honor Martin Luther King Jr.'s legacy, organizers say.
Kyle Feldscher covers cops and courts for AnnArbor.com. He can be reached at kylefeldscher@annarbor.com or you can follow him on Twitter.