Posted on
Wed, Mar 20, 2013 : 2:59 p.m.
Georgetown Mall demolition: Washtenaw County signs contract to move forward with work
By Ryan J. Stanton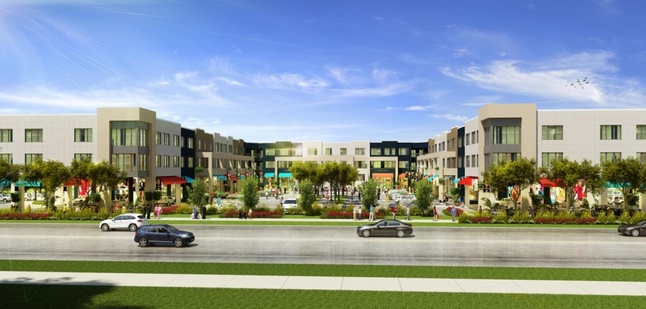 Harbor Georgetown LLC
To the chagrin of city officials and many residents,
Ann Arbor's
vacant and blighted
Georgetown Mall
still stands on Packard Road, but its days appear to be numbered.
Nathan Voght, economic development specialist for Washtenaw County, said on Wednesday afternoon the county is ready to proceed soon with demolition and environmental cleanup work being partially paid for by a $1 million state grant administered by the county.
Voght said the county has finalized a contract with the Wayne-based Environmental Quality Co. for both the demolition and soil remediation work.
"The major work will proceed once a contract between our selected contractor and the developer has been executed for non-grant related work," he said.
Angela J. Cesere | AnnArbor.com
Voght said there's not much standing in the way of the demolition at this point, except the fact that grant-funded and non-grant work must move forward concurrently.
The non-grant work totals about $250,000 and involves demolition of a dry-cleaning building, remediation of the worst of the contaminated soil on the site, and about half the site demolition, including parking areas, light poles, curbing and other items.
"We have to make sure our contractor is locked in for the non-grant-funded work before we give them notice to proceed on the grant work," Voght said.
The county has been working with Bloomfield Hills-based developer Craig Schubiner of Harbor Georgetown LLC to clear some of the hurdles in the way of a major redevelopment.
Schubiner won approval from the City Council in January for revisions to his plans for a roughly $48 million mixed-use development called Packard Square, which includes retail and apartments.
He was optimistic in January that the former mall building could come down by February, noting preparation work, including asbestos and universal waste removal, already had started. His goal has been to have residents and retailers moving in by summer 2014.
Schubiner said on Wednesday there's nothing standing in the way of the demolition going forward now. As for financing his development, he said he'll likely have news to announce in April.
"We are also close to executing our contract for our portion of the demo and soil remediation," Schubiner said on Wednesday. "The city has informed us that our construction drawings have been approved and building permits can be issued."
Schubiner said interior asbestos and universal waste removal is now complete and DTE Energy power lines are in the process of being relocated to get them out of the way of construction.
"Tree removal for power line relocation has been completed," he said. "Construction fencing and demo work should be visible in the next few weeks. We'll have other announcements likely in April."
Schubiner wasn't able to demonstrate project financing to the satisfaction of the Michigan Department of Environmental Quality last year to unlock the $1 million state grant. He received a six-month extension in October, giving him until April to show he had the money lined up.
City officials said in January that after some lobbying at the state level, the demolition grant was unlocked without Schubiner having to show proof of financing for the project.
Voght said he doesn't know the current status of project financing, but since the DEQ removed the financing condition from the grant, that's not holding up the demolition anymore.
Schubiner has told AnnArbor.com financing for the project is coming along well, though city officials have said they're hesitant to believe anything the developer says at this point. They're frustrated it's taken years to get to a point where demolition of the blighted mall is finally in sight.
Schubiner originally won approval from the City Council in May 2011 to redevelop the 2502 Packard Road site and build a mixed-use project called Packard Square that includes a four-story building containing 230 apartment units and 23,790 square feet of retail space.
The project also is expected to include a 144-space parking garage under the apartment building, as well as 310 surface parking spaces.
Schubiner originally hoped to break ground on the project in August 2011 and have it completed by the end of 2012 or early 2013, but the target dates have been pushed back multiple times.
Ryan J. Stanton covers government and politics for AnnArbor.com. Reach him at ryanstanton@annarbor.com or 734-623-2529. You also can follow him on Twitter or subscribe to AnnArbor.com's email newsletters.