Posted on
Thu, Jan 12, 2012 : 12:29 p.m.
Girl who had Ann Arbor shopping spree after online taunts dies
By Julie Baker
Kathleen Edward, the 9-year-old Wyandotte girl whose battle with Huntington's Disease drew national attention, including from a local toy store, will be remembered for her smile and her hugs.
She died Wednesday at home, her father Robert Edward told The Detroit News.
Her story drew national attention in 2010 after neighbors taunted her online.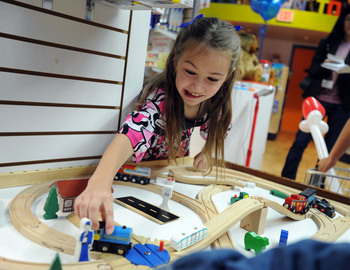 AnnArbor.com file photo
Hans Masing, owner of Ann Arbor toy store Tree Town Toys, told AnnArbor.com Thursday that he'll remember Kathleen's smile and her hugs the most. Tree Town, which closed its physical store last month, organized a shopping spree with the contributers of the website Reddit for the girl in 2010.
"If we're going to make her a princess for a day, let's make her a real princess," Masing said at the time. "I want hundreds of people cheering her on. Let's throw rose petals. Let's make her understand this is all about her — her day of a lifetime."
One of the memories of Kathleen he'll cherish most happened after the shopping spree and visits to Domino's Petting Farm and the C.S. Mott Children's Hospital. They were saying goodbye, and Kathleen gave him one of her "amazing" hugs.
"I asked her what the best part of the day was, and she whispered in my ear, 'Ponies,' " he said.
The families kept in touch after their Ann Arbor visit, even having dinner about a month ago. Kathleen had lost weight, but she was smiling and giggling as usual, Masing said. "She was still very playful with her father," he said.
Kathleen fell and cut her head about a week ago, which required staples. An infection took hold, and antibiotics weren't able to help.
Arrangements with Michigan Memorial Funeral Home in Flat Rock were pending Thursday. The News reported Kathleen is expected to be buried at Mount Hope Memorial Gardens in Livonia next to her mother, Laura Edward, who died of Huntington's disease in 2009.
In 2010, a former neighbor in the Detroit suburb of Trenton taunted Kathleen. One Facebook posting was of her photo placed above a set of crossbones and another included a photo of her mother in the arms of the grim reaper.
Masing said Kathleen's struggle with Huntington's drew national attention to the disease. He encouraged those who want to help others with Huntington's to check out the Michigan Chapter of the Huntington's Disease Society of America.
"It's a very cruel disease," he said. "We're going to miss her."
See photos and a video from Kathleen's Tree Town Toys shopping spree.
The Associated Press contributed to this report.
Contact Julie Baker at juliebaker@annarbor.com or 734-623-2576. Follow her on Twitter @juliebakera2.