Posted on
Thu, Feb 9, 2012 : 11:55 a.m.
Girl Scout cookie battle: UN honors girls for effort to save orangutan habitat
By Cindy Heflin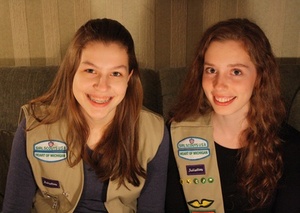 The United Nations has recognized the efforts of
two Ann Arbor-area Girl Scouts
campaigning to get rain forest-destroying palm oil out of
Girl Scout cookies
.
Madison Vorva and Rhiannon Tomtishen, who are students at Greenhills School in Ann Arbor, received the first Forest Heroes Award for North America on Thursday.
The Union of Concerned Scientists nominated the girls for the award for their effort to bring attention to the threat to orangutans and tropical forests posed by palm oil production in Indonesia and Malaysia. Palm oil is used in thousands of products, including Girl Scout cookies.
"Even though we're only 16, we know change is possible and remain committed to protect the existing orangutan population and their habitat," Tomtishen, who lives in Ann Arbor, said in a news release from Climate Advisers. "We shouldn't have to choose between enjoying Girl Scout cookies and saving orangutans. We hope the Girl Scouts of the USA, and other food companies will make a commitment to making deforestation-free cookies."
Vorva, who lives in Plymouth, said she and Tomtishen were honored and humbled to have their work recognized on the world stage. "It's amazing to see how many people support our campaign, including our role model, Dr. Jane Goodall, and the Union of Concerned Scientists."
Vorva and Tomtishen learned of the connection between palm oil and orangutan extinction five years ago when they began working on earning a Girl Scout Bronze Award, which requires scouts to raise public awareness about an issue.
Inspired by anthropologist Jane Goodall's work with chimpanzees, the girls focused on orangutan protection. They discovered that forests in Indonesia and Malaysia, the ape's primary habitat, were being cleared at alarming rates to plant palm oil plantations — and that palm oil is commonly used in baked goods, including all 16 varieties of Girl Scout cookies.
"I burst into to tears when we realized that Girl Scouts of the USA was part of the problem," Vorva said in the news release. "Right then, Rhiannon and I decided that if no one else was going to stand up for the orangutans, we had to."
Last year, Girl Scouts of the USA and Kellogg's, which produces Girl Scout cookies, developed a plan to transition to "sustainable" palm oil by 2015.
Kellogg's also pledged to reduce palm oil use across its entire product line. The girls and UCS see this as a good first step, but they say the organization that certifies sustainable palm oil does not have adequate safeguards in place to ensure that the palm oil is not contributing to tropical deforestation.
Numerous media outlets from around the country have covered the girls' efforts, including CBS, MSNBC and Time magazine.
They have launched a new online petition at Change.org asking the Girl Scouts to ensure that palm oil used in the organization's cookies is not being grown by a company that is clearing rainforest to produce palm oil. It already has more than 57,000 online signatures. An earlier petition the girls started got more than 70,000 signatures.
See a video about the girls' efforts below or visit their website.