Posted on
Mon, Sep 17, 2012 : 1:06 p.m.
Group forms in opposition to $65M bond proposal for new downtown Ann Arbor library
By Ryan J. Stanton
A grass-roots group calling itself Protect Our Libraries has formed in opposition to the bond proposal for a new downtown Ann Arbor library.
The group plans to campaign leading up to the Nov. 6 election to defeat the proposal, said Kathy Griswold, a former Ann Arbor school board member and the group's treasurer.
The Protect Our Libraries group filed paperwork with the Washtenaw County Clerk's Office late last week to form an official campaign committee. Another group called Our New Downtown Library filed paperwork back in July to form a committee supporting the library's proposal.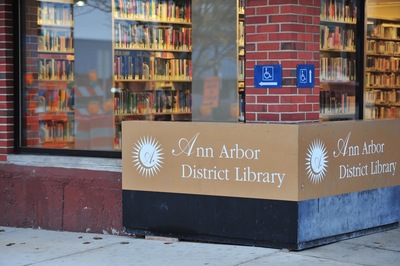 Ryan J. Stanton | AnnArbor.com
The
Ann Arbor District Library
is asking voters to approve $65 million in bonds for construction of a new downtown library, demolishing and replacing the current one at Fifth and William.
The estimated millage to be levied to pay off the bond is 0.56 mills. That would cost the owner of a home with a $200,000 market value and a $100,000 taxable value about $56 per year.
"It's very expensive to the average taxpayer with only a marginal benefit," argued Griswold, who was one of the leaders behind the Citizens for Responsible School Spending group, which worked to defeat a Washtenaw Intermediate School District millage in 2009.
Griswold said more information about the Protect Our Libraries campaign will come out later this week, and the group will have a website at ProtectOurLibraries.org.
Griswold served as campaign manager this year for Sumi Kailasapathy, who is set to join the Ann Arbor City Council in November. Kailasapathy told AnnArbor.com on Monday she's not a member of the Protect Our Libraries group and didn't feel comfortable commenting on the issue.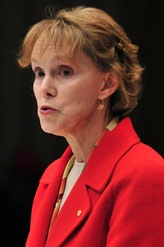 David Cahill
, who served on the library board from 2000 to 2008 and is the husband of City Council Member
Sabra Briere
, said he'll be actively working with the group to defeat the library bond proposal.
"The proposed new downtown library would cost about $130 million after the financing cost is included," he said, factoring in interest on the debt. "The new library would provide only marginal benefits to the public. It is not worth the expense in these financially difficult times."
Library officials argue the current building has insufficient meeting space for community events and large presentations, and no space for children's programming and services that reflect the needs of contemporary families and students.
Among the 10 items library officials note are possible with a new building is a 400-seat auditorium to comfortably accommodate the crowds that the library's lectures, movies, discussions and performances bring to downtown.
Other features that library officials argue would be possible in a new building, but not possible in the current building:
A destination, multi-age, youth area that can simultaneously accommodate open play, story times, and other youth programming
A grand, quiet reading room
An accessible downtown location for AADL's Local History collections, specifically the collection from The Ann Arbor News
Individual and group study and work spaces throughout the building with adequate comfort, power, and acoustic privacy
An array of meeting spaces that can simultaneously accommodate events that range from messy, hands-on programs to formal public assemblies
A cafe that is open before and after the library hours
A Friends of the AADL shop in the lobby
A Media Production Lab that provides high-end computer production bays adjacent to larger, comfortable, public computing areas
An environmentally sound, comfortable, efficient structure accessible to all
Local voters approved the establishment of the district library in 1994, at the same time approving a 2-mill levy in perpetuity to fund library operations. Due to Headlee limitations, the library is allowed to levy up to 1.92 mills right now, and it's levying only 1.55 mills at the moment.
Library officials theoretically could increase the levy up to 1.92 mills without a vote of the people, but they say the 0.37-mill increase — about $1.6 million in annual revenue — would not be enough to fund the kind of library they want to build.
Members of the Our New Downtown Library group include Ellie Serras, Mike Allemang, Sally Allen, Janis Bobrin, Leah Gunn, Debbie Herbert, Norman Herbert, Pat McDonald, Paul Morel, Omari Rush, Paul Saginaw, Ingrid Sheldon, Robin Wax, Peter Baker and Donald Harrison.
Gunn, a former librarian who is both a county commissioner and chair of the Ann Arbor Downtown Development Authority, spoke about her support for a new downtown library in a recent interview with AnnArbor.com in which she called the current building a disgrace.
"That building is a disgrace and people say, 'Oh, it's fine. We love it. We use it.' Well, it was poorly designed to start with, it just doesn't work anymore," she said. "And a library is more than a place to store books. It's programs. It's computers. It needs electrical upgrades. It needs everything."
Gunn noted library officials have done a thorough analysis and came to the conclusion that it was not worth it to try and renovate the current building.
"It would just be too messy. Too expensive," she said. "It's cheaper and much better to build a new modern library, so that's why I'm active on that campaign committee."
Ryan J. Stanton covers government and politics for AnnArbor.com. Reach him at ryanstanton@annarbor.com or 734-623-2529. You also can follow him on Twitter or subscribe to AnnArbor.com's email newsletters.