Posted on
Tue, Jul 27, 2010 : 12:29 p.m.
Group questions why right-wing Republican group is behind ads supporting Democrat Pam Byrnes
By Ryan J. Stanton
(This story has been updated with additional comments from GLEP's executive director as well as the Byrnes campaign.)
Progress Michigan today issued a warning to Washtenaw County voters, saying a right-wing group funded by leading Michigan Republicans is behind a series of misleading ads supporting Democrat Pam Byrnes.
The postcards, which laud Byrnes for her "progressive values" and attack opponent Rebekah Warren, were mailed to voters by the Great Lakes Education Project PAC.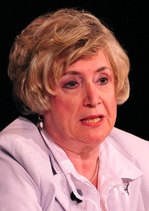 Byrnes and Warren, both state representatives who represent different parts of Washtenaw County, are facing off for the 18th District state Senate seat in next Tuesday's Democratic primary, along with Thomas Partridge.
Progress Michigan issued a statement today warning that the Great Lakes Education Project promotes privatizing schools and opposes public education funding. The group is financed by leading Republicans, including Betsy and Dick DeVos and Michigan Republican Party Chairman Ron Weiser.
Campaign finance reports show Betsy and Dick DeVos each contributed $37,500 to the PAC this year. In 2008, Wieser contributed $50,000. The vast majority of political contributions from the group go to conservative Republican candidates, according to state campaign finance reports.
"Progressive voters in Ann Arbor and Ypsilanti — who comprise a vast majority of likely voters in this Senate Democratic primary race — are being hit with misleading mailings by one of the most far-right political action committees in Michigan," David Holtz, executive director of Progress Michigan, said in a statement.
"Most people reading these postcards would think they came from supporters of progressive values and public education when, in fact, just the opposite is true," Holtz said. "What would Democratic primary voters targeted by these mailings think if they knew that they were funded by the political right and financially supported by leading Republicans?"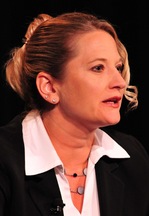 Kent Sparks, campaign manager for Byrnes, said the campaign was caught by surprise when the ads came out.
"We had no idea," Sparks said. "This was an independent expenditure. We found out when the pieces hit."
GLEP has mailed out three ads supporting Byrnes, D-Lyndon Township. One of them gives Byrnes credit for "improving our schools for all children and supporting progressive values." Another ad says Byrnes is "fighting for jobs by fighting for schools."
The latest ad goes on the attack against Warren with the headline "Missed 54 votes: What does it mean?" It then argues Warren has failed to do "her most basic responsibility, leaving our community unrepresented on important issues."
According to MichiganVotes.org, a website run by the conservative Mackinac Center for Public Policy, Warren has missed three out of 1,209 votes in the current legislative session, while Byrnes missed 20 out of 1,029 votes.
During their entire legislative careers, Byrnes, who joined the House in 2005, missed 24 votes while Warren, who joined the House in 2007, missed 54. Warren said 47 of the 54 votes she missed were during her honeymoon after she was first elected, and she actually ended her honeymoon a week early so she wouldn't miss more.
"Given the number of days that the Legislature is actually in session, that's a pretty weak and insulting response," said Greg McNeilly, GLEP's executive director. "It just shows she didn't take the job seriously."
McNeilly said his group is supporting about 34 candidates in state House and Senate races in the primary, including about 12 Democrats. He said GLEP supports public education reform and increasing charter schools in Michigan and will back any candidate who believes in those causes, regardless of political party affiliation.
"We've had a long track record of engagement with Democrats," he said of GLEP, which emerged during the 2002 election cycle. "There are too many old school labels and battle lines when it comes to this issue. Education reform is truly a bipartisan issue."
McNeilly said Progress Michigan's description of GLEP as an anti-education organization is not true. He said GLEP actually has called for increased funding for public schools and wants to see schools with higher standards, including charter schools.
The differences between Warren and Byrnes started to become clearer in May when the two state representatives voted differently on a plan to revamp the teacher retirement system. Byrnes was one of a handful of Democrats who joined the House Republicans to pass the legislation, which increases teacher retirement premiums and removes any guarantee of retirement health benefits.
The bill was opposed by the Michigan Education Association, Michigan Association of School Boards, the Michigan Association of School Administrators and other labor unions.
"We think there is a difference in the educational philosophy behind the two candidates and made a judgment to provide information to the voters," McNeilly said, calling Byrnes the stronger candidate on education reform. "She's willing to stand up and find creative out-of-the box solutions that will help all children, because when you return more education tax dollars to the classroom, you're going to help kids."
Warren, D-Ann Arbor, called it "very unusual" for a conservative-leaning group to get behind a candidate in a Democratic primary in Washtenaw County.
"We've seen the mail pieces. They started about a week ago," she said. "The first two were just very positive pieces on Pam, which is not uncommon for allied organizations. What was odd about this one to us is that the Great Lakes Education Project is Dick and Betsy DeVos. They are the ones who formed it, so it's largely their personal money and other family members' money and conservative folks."
Warren said she can only conclude the DeVos family and other Republicans are opposing her because she is more liberal, pro-choice, pro-LGBT rights and supports strong public schools. She said they "hate" those things and must find more support for their causes within Byrnes.
Holtz said he believes voters have a right to know who's really behind the mailings and "why a right-wing group aggressively opposed to public education and funded by prominent Republicans" is pushing a progressive education message in a Democratic primary.
"Obviously they are trying to influence this race, and it raises lots of questions," Holtz said. "If Dick and Betsy DeVos and the chair of the Republican Party are so keen on promoting 'progressive values,' perhaps they should be donating money to Progress Michigan instead of the Great Lakes Education Project PAC. This is the kind of shadowy, dirty politics that disgusts voters and turns people off and it should stop."
Sparks called today's public warning by Progress Michigan merely a "smokescreen" for Warren's recent campaign finance violation.
Warren was late in submitting her campaign finance reports to the state by Friday's deadline due to what Warren's campaign characterized as "technical difficulties" uploading the files on Friday. The reports should have been filed Friday afternoon but were not posted to the state's website until Monday when the Secretary of State's Office reopened.
"This is silly season," Sparks said of the mailings. "This kind of thing happens all the time in a hotly contested race. We had no knowledge of it, and we have no control over what people say. What we do have control over is what we are doing and that is solving problems and getting things done for Washtenaw County."
Sparks said the campaign's focus continues to be solving problems and bringing jobs to Washtenaw County. He said about 40 operating engineers and carpenters are going door-to-door today for Byrnes because they know she is focused on creating jobs for working people.
Ryan J. Stanton covers government and politics for AnnArbor.com. Reach him at ryanstanton@annarbor.com or 734-623-2529.