Posted on
Thu, Feb 16, 2012 : 1:24 p.m.
Herman Cain to campaign with Pete Hoekstra at Big Sky Diner in Ypsilanti
By Cindy Heflin
Editor's note: This article has been updated to clarify that Dennis Moore has endorsed Pete Hoekstra. The Willow Run Tea Party Caucus has suspended endorsement of candidates.
GOP Senate candidate Pete Hoekstra and former presidential contender Herman Cain will visit the Big Sky Diner in Ypsilanti Feb. 23 as part of what Hoekstra's campaign calls his "Patriots for Pete Tour."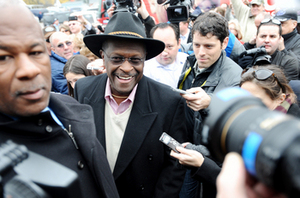 The two will appear at an event beginning at 4 p.m. The campaign stop is open to the public on a first-come, first served basis, said Dennis Moore, founder of the Willow Run Tea Party Caucus, which meets weekly at the diner. Moore has endorsed Hoekstra. Cain campaigned at the diner in November, before dropping out of the race amid accusations of sexual harassment and infidelity. Moore urged those who hope to get a seat inside the diner to come early.
Hoekstra, who co-founded the Tea Party Caucus while a member of the U.S. House of Representatives, and Cain will discuss budget issues in Washington as well as a conservative plan for reform, Hoekstra's campaign said in a news release.
"During his time representing Michigan, Pete stood by his conservative principles, he fought for a balanced budget, and he worked to cut spending. That's the kind of leadership we need in Washington."
Hoekstra and Cain will start the day in Grand Rapids and make stops in Kalamazoo and Ypsilanti before ending the day in Troy.
Hoekstra is campaigning to defeat Democratic U.S. Sen. Debbie Stabenow.
Contact Cindy Heflin at cindyheflin@annarbor.com or call her at 734-0623-2572 or follow @CindyHeflin on Twitter.