Posted on
Sun, Oct 7, 2012 : 12:03 p.m.
2012 Impact policy forum in Ann Arbor to put spotlight on statewide ballot proposals
By Ryan J. Stanton
The lineup for this year's annual Impact forum in Ann Arbor includes some of the biggest names supporting and opposing two statewide ballot proposals.
With a focus on Proposals 2 and 3, the Ann Arbor/Ypsilanti Regional Chamber will hold its annual public policy forum at the Kensington Court hotel from 11:30 a.m. to 4 p.m. Friday, Oct. 12.
Proposal 3 on the Nov. 6 ballot would require electric utilities to get at least 25 percent of their energy from renewable sources — including wind, solar, biomass and hydropower — by 2025.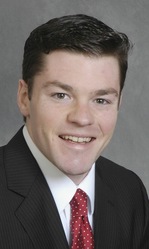 Proposal 2 would grant public and private employees the constitutional right to organize and bargain collectively through labor unions, and invalidate laws that limit the ability to join unions.
Journalist Tim Skubick will moderate during two panel discussions on the so-called "25 by 25" and "Protect Working Families" ballot initiatives.
"I'm really looking forward to what questions Tim Skubick asks the panelists, because I think he won't let them stick to talking points," said Andy LaBarre, the chamber's vice president of government relations.
Doug Jester, principal of 5 Lakes Energy, will be speaking in support of Proposal 3 on behalf of Michigan Energy Michigan Jobs.
Speaking in opposition will be Ken Sikkema, former Michigan Senate majority leader and policy fellow at Public Sector Consultants. He's representing the Clean Affordable Renewable Energy for Michigan Coalition, a group opposing Proposal 3.
Ken Brock, campaign manager for Protect Working Families, will be speaking in support of Proposal 2, while Stu Sandler, CEO of Decider Strategies, will be speaking in opposition on behalf of Citizens Protecting Michigan's Constitution.
Washtenaw County resident Phil Power, founder and chairman of the Center for Michigan, is expected to deliver the keynote address.
This year's Impact forum will be an interactive event. Attendees will have an opportunity to not only ask questions, but also weigh in during instant polls immediately following each panel.
"We welcome folks to come with open minds and hear the arguments for and against both proposals, and they'll have a chance to weigh in directly," LaBarre said. "These are fluid issues that are yet to be determined, that people are still making their minds up on."
The chamber has taken a stance against Proposal 3, arguing such a renewable energy standard should be put in place through legislative action and not a constitutional amendment.
The Ann Arbor City Council just passed a resolution in support of Proposal 3, arguing Michigan's current renewable energy standard of 10 percent by 2015 has been shown to be achievable with little impact on customer prices and a positive impact on jobs, the economy and pollution levels.
State Sen. Rebekah Warren, D-Ann Arbor, also joined Zingerman's co-founder Paul Saginaw and officials from the American Wind Energy Association this past week in endorsing Proposal 3, arguing it will create 94,000 Michigan jobs. The Ann Arbor Democratic Party also endorsed it.
A candidate mixer with federal, state and local candidates for public office will immediately follow the panel discussions from 4 to 6 p.m. and is free for attendees.
For more information on this year's Impact forum or to register online, visit www.a2ychamber.org. Admission is $60 for chamber members and $75 for the general public.
The League of Women Voters in Ann Arbor also announced on Friday it will examine this year's crop of ballot proposals on a special program televised on CTN.
The program, which presents both the pros and cons of all six state ballot proposals as well as local ballot questions in Ann Arbor and Ypsilanti, will begin airing next Wednesday. In addition, the league invites voters to prepare for the upcoming election by visiting VOTE411.org.
Ryan J. Stanton covers government and politics for AnnArbor.com. Reach him at ryanstanton@annarbor.com or 734-623-2529. You also can follow him on Twitter or subscribe to AnnArbor.com's email newsletters.