Posted on
Fri, Mar 9, 2012 : 5:58 a.m.
Jailed Ypsilanti landlord David Kircher files for bankruptcy
By Tom Perkins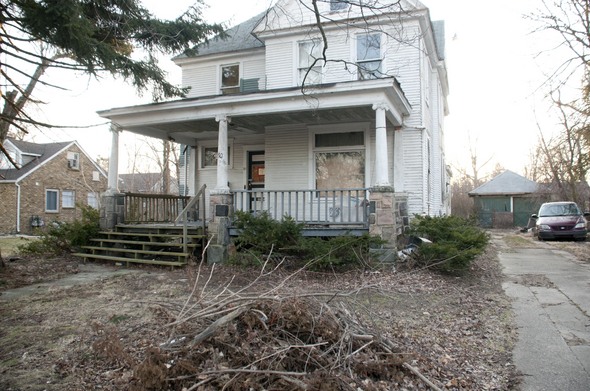 Tom Perkins | For AnnArbor.com
Jailed landlord David Kircher, who is among the largest landowners in Ypsilanti and Ypsilanti Township, has filed for bankruptcy.
Kircher filed for chapter 11 in U.S. Bankruptcy Court in Detroit last month, and on March 7 a judge approved a motion to appoint a chapter 11 trustee to oversee Kircher's assets.
According to court documents, Kircher owns 36 properties in Ypsilanti and Ypsilanti Township, which are valued at approximately $5.6 million. Of those, 10 are owned by Kircher's Acme Building Company, and around 10 Ypsilanti Township properties are headed to tax foreclosure this month.
His only income at present is listed as $2,100 monthly from rental revenue, but he listed a net income of negative $2,608.
Notably, a debt repayment plan is not included in the court papers, and Kircher's attorney, Dick Fellrath, said that the request for the court to appoint a trustee is an unusual move.
But he said it's necessary because his client is in jail and someone needs to decide which properties to sell and which properties to renovate, as well as make business decisions since Kircher is in serving a five-year prison term.
"Hopefully this will cut down on the litigation," Fellrath said.
Kircher is serving his term in state prison in Jackson for illegally diverting raw sewage into the Huron River via a public sewer from the Eastern Highlands apartment complex he owned. Ypsilanti Township officials discovered Kircher was dumping sewage there in 2004.
According to court documents, Kircher holds $2.7 million in debt. The largest debt is to the State of Michigan, to which he owes $1.1 million, mostly stemming from a fine for dumping the raw sewage. He also owes $112,448 to DTE Energy and $80,000 to Ypsilanti Township for legal fees. His former attorney, George Ward, is owed $25,000 for his services.
Documents show Kircher is involved in numerous lawsuits, one of which involves a dispute over the $3.5 million Eastern Highlands complex on LeForge Road in Ypsilanti Township.
Ypsilanti developers Barnes and Barnes was appointed receiver of the complex several years ago and was awarded a judgment against Kircher for more than $2 million in Washtenaw County Circuit Court for expenses incurred in bringing the complex up to code.
Kircher appealed that decision, and the Michigan State Appeals Court sent it back to Circuit Court. The parties are now waiting a new decision from Judge Donald Shelton.
Many of Kircher's properties are in disrepair, and Ypsilanti Township convinced a U.S. Bankruptcy Court judge to lift the automatic stay on several decaying properties Kircher owns. One has already been demolished and the township is working to find funds to demolish the other.
Another notable problematic Kircher home is on South Summit Street in Ypsilanti. It provided a haven for prostitutes and criminals over the summer, and a shooting outside a neighboring party store prompted a crackdown on crime in the vicinity.
Developer Stewart Beal owns a rental property nearby on Summit. He said he isn't interested in trying to purchase any of Kircher's properties because they are so dilapidated and mostly single-family homes.
He said those would be a better buy for an investor looking to flip a house or a family "willing to roll up their sleeves and take on a big project."