Posted on
Wed, Mar 24, 2010 : 7:30 a.m.
Jack Eaton announces candidacy for Ann Arbor City Council
By Ryan J. Stanton
Jack Eaton has announced his candidacy for a 4th Ward seat on the Ann Arbor City Council, his first run for political office.
Eaton intends to challenge incumbent Council Member Margie Teall, a fellow Democrat, in the Aug. 3 primary.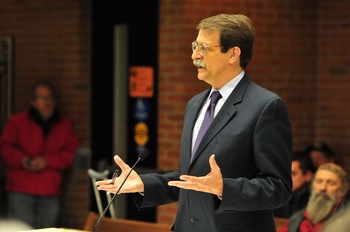 Ryan J. Stanton | AnnArbor.com
Eaton, a local political activist and critic of the current council majority, is an attorney who practices law with a Southfield firm that represents public sector labor unions in education and transit.
"My practice involves seeking resolution of disputes within the context of ongoing union-employer relationships," Eaton said in a written statement announcing his campaign. "I bring to that discussion the ability to disagree, without being disagreeable. I believe those same skills will be beneficial in working with the diverse group that makes up our council."
Eaton, who pulled nominating petitions on Tuesday, has been active in his neighborhood on the west side of town and in issues related to neighborhoods throughout the city. He says good neighborhoods are fundamental to a healthy city. And if city officials act in disregard of the wishes of the neighborhoods, then they undermine the strength of the community, he said.
He claims better police staffing would have allowed quicker resolution to a crime wave in the city's northwest neighborhoods last summer. He also fears further reductions to firefighting staffing levels will lead to loss of property or loss of life.
Acknowledging the budget challenges facing the city, Eaton said he wants to change the council's priorities to better serve residents. He argues Ann Arbor taxpayers pay "relatively high taxes" and should be able to expect excellent public services.
He also said he believes the city can balance its budget without raising taxes, reducing police and fire staff, or selling parks.
Eaton claims city leaders have embarked on "a series of poorly considered building projects" that have "dramatically increased our debt load while ignoring the basic infrastructure we all rely upon." 
As examples, he cites the police-courts building and the Library Lot underground parking structure, which may or may not be topped by a city-financed downtown conference center.
"The city of Ann Arbor has the third worst roads in the state of Michigan, a state that has poor roads," Eaton added. "Over the last few years, we have cut our police and fire staffing while we let the city expenses grow dramatically. It is time to restore services and control spending."
Eaton points out he's been involved in the city's efforts to rewrite zoning regulations. He describes the current push to allow increased building height and density throughout the city as "misdirected."
"Ann Arbor has not experienced significant population growth in the last 30 years. In the last 10 years, we actually have lost population," he said. "Our unemployment rate lingers at around 10 percent. It is naive to believe that building more commercial, retail and residential projects will do anything but increase our already too high vacancy rates."
A resident of the Ann Arbor area for 25 years, Eaton has lived on the west side of town for the last 12 years. He was born in Saginaw and lived in Alma and Kalamazoo before moving to Ann Arbor to attend the University of Michigan. After graduating from U-M, he attended and graduated from the Wayne State University Law School.
He has been married to his wife Cecile for 22 years and they have two adult children, a son and a daughter.
To find out more about Eaton's campaign, contact him at eaton4council@gmail.com.
Ryan J. Stanton covers government for AnnArbor.com. Reach him at ryanstanton@annarbor.com or 734-623-2529.