Posted on
Sun, Feb 14, 2010 : 6:04 a.m.
Ann Arbor's new police-courts building taking shape, under budget
By Ryan J. Stanton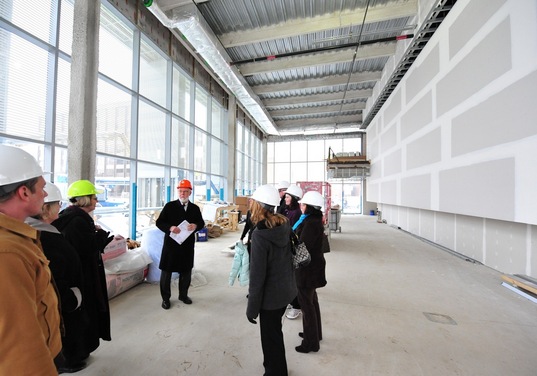 Ryan J. Stanton | AnnArbor.com
After nearly a year of construction, the city of Ann Arbor's new police-courts building at the corner of Fifth Avenue and Huron Street is starting to take shape.
The $47.4 million, five-story addition next to city hall is about halfway complete - and it's on schedule and under budget, say city officials.
Motorists passing by may notice a series of metal panels forming around the exterior of the upper stories, while a brick facade is making its way around the lower levels. The 1963-era city hall next door is starting to pale in comparison.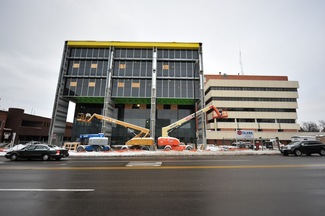 Ryan J. Stanton | AnnArbor.com
"The building is starting to look like it's really going to look," said Bill Wheeler, the city engineer overseeing the project. "We expect it to be done at the end of November. We'll start occupying in December. That's probably a one or two-month process."
The top two stories of the new building will be home to the city's 15th District Court, which is being forced to move when its lease ends at the Washtenaw County Courthouse. The second and third floors will be occupied by the Ann Arbor Police Department, which is vacating its cramped quarters inside city hall. And the city's information technology staff is taking over the first floor of the new building.
After the building is finished, renovations inside city hall - which are included as part of the project - will last through May 2011, Wheeler said.
City Administrator Roger Fraser acknowledges the city is working hard to stay within budget.
"We've done a lot of what's known as value engineering," he said. "And as we got into the project, there have been a number of things that have been sort of slipped away as we discovered we couldn't do it within the budget."
The project, paid for with a combination of cash and bond proceeds, has been in the works for years. It has sparked controversy - including a failed petition drive to force a citywide vote on borrowing for the project.
Some residents continue to question the city's decision to undertake a $47.4 million capital project at a time when city services and staffing levels are being reduced because of decreasing operating revenue.
City officials respond the building was needed - and they're making adjustments when possible to keep costs down.
Even before construction began, the city made more than $1.7 million in cuts. Examples include using standard hinged doors on the new entrance instead of stainless steel revolving doors, reducing the west and south facade sunshades, eliminating an entrance canopy and reducing the amount of terrazzo flooring.
Wheeler said mechanical and electrical system changes saved another $400,000. The city also decided not to spend money on building foundations for a meeting room expansion, which still could eventually happen in the future.
A recent tour of the building reveals crews have been hard at work transforming the steel skeleton into a habitable work space. Drywall is freshly hung, door frames are being installed, courtrooms are taking shape, and floor tiles that still need polishing have welcomed their first sets of footprints.
"As far as efficiency and effectiveness, this is a quantum leap for us, so it's important to us that it be done - and done right - and it looks like that's exactly what's happening," said Keith Zeisloft, administrator of Ann Arbor's 15th District Court.
Zeisloft said the new spacious environment offers features a modern-day courthouse should have.
Ryan J. Stanton | AnnArbor.com
"In the county courthouse, often you see prisoners being moved through public areas, and that's certainly not a good thing from a security point of view," he said. "What's also important to us is that, for the first time, our judges and magistrate will have assigned courtrooms. There's no more wandering from courtroom to courtroom day-to-day."
Fraser acknowledges the city still hasn't budgeted for furniture, fixtures and equipment, which are typically part of the budget plan for any building project.
"We assumed going into this - given the frugal nature of our operations - that we would just ramp up as we went along, and we'd have to live with a lot of used stuff when we moved into the new building," he said, adding the city still is negotiating with the departments - particularly the court - about how that will work. "Some of it is being addressed in their budget, some of it's being addressed over the course of time in operating budgets, some of it will just not be met."
Tom Crawford, the city's chief financial officer, said the city will see increased operating costs because of the new building. That will be a hit to the general fund, which already is struggling with a $5.2 million deficit heading into next year. Crawford said utilities alone for the new building are estimated to cost about $130,000 next year, a figure that jumps to $275,000 the first full year of operation.
"The premise of this thing was we needed to build this within the resources we had," Crawford said. "Now we've got less resources coming to the city than we had then, but we didn't know that."
Still, he said, the project makes sense.
"You have to remember this is a long-term decision, and if we were continuing to pay leases over time, 30 years from now you're still paying leases," Crawford said. "This will be done. And so, as a long-term investment, this is a lower cost to the citizens."
Annual debt payments are set at $1.86 million for 30 years, about $735,496 of which is being covered by discontinued leases. The Downtown Development Authority agreed to take on $520,000 of the remaining cost, while $374,180 is coming from revenue from antennae sites and $225,000 from court tickets.
Fraser acknowledged the project budget is dependent on $3 million from the sale of city property at First and Washington - a deal that has stalled because the developer, Village Green, has had trouble coming up with financing. Fraser said the city continues to operate under the assumption that the sale eventually will happen.
Fraser said it's always a risk taking on a capital project this large, and some degree of criticism always follows.
"Having done this in more than one place, I can tell you that the community discomfort with the idea of spending a bunch of money on a building - particularly for bureaucrats - is not one that's easily sold," Fraser said. "But getting this done will set up the citizens and councils of the future in a much better place than they were."
City officials note the police department is located in a part of city hall originally designed for storage space and is badly deteriorating. Oftentimes after it rains, the ceiling leaks, and employees have reported air quality issues and black mold.
"We needed to do it," Fraser said of the new building. "And it's one of those investments that - it doesn't matter when you ultimately decide to do it - there's going to be good and bad. But ultimately, 10 years or 15 years from now, the community is going to look back at this and say, 'Thank God we got this done.'"
Ryan J. Stanton covers government for AnnArbor.com. Reach him at ryanstanton@annarbor.com or 734-623-2529.