Posted on
Mon, Mar 29, 2010 : 7:30 a.m.
Patricia Lesko officially files to enter Ann Arbor mayoral race today
By Ryan J. Stanton
Patricia Lesko, a Democratic candidate for mayor of Ann Arbor, officially filed paperwork with the city clerk's office today to appear on the August primary ballot.
Lesko pulled nominating petitions and announced last month she planned to challenge Mayor John Hieftje for his seat. If elected, she would be the third woman to serve as mayor of Ann Arbor since its incorporation as a city in 1851.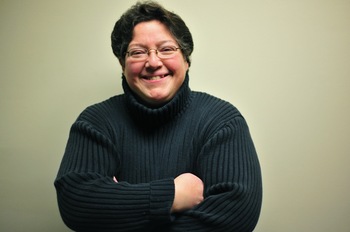 Ryan J. Stanton | AnnArbor.com
Lesko, who runs a home-based publishing business, said she brings more than two decades of experience in marketing, management and finance to her bid for the office.
She said in a written statement released Sunday night that she is running because she wants to change the direction public policy has taken over the course of the current administration's tenure.
"My campaign is about moving the focus of city government back to the basics: responsible spending, services, infrastructure, and neighborhoods," Lesko said. "I'm ready to sharpen my pencil, roll up my sleeves and tighten the focus of city government in on its core mission."
Lesko said she believes Ann Arbor needs a mayor prepared to work with other members of the Ann Arbor City Council to tackle the serious challenges facing the city. She included the following five bullet points in a press release:
• "Ann Arbor has adopted single-stream recycling. Recycling industry studies clearly show that the switch is a $6.5 million mistake. Environmental Science 101 students know recycling is not about tons collected or tons diverted from a landfill. Recycling happens when the recycled materials are made into a new product. Single-stream increases total tons of recycled materials that end up in landfills. Ann Arbor just took a giant leap backward, environmentally."

• "In 2005, a Mayor's Blue Ribbon panel recommended that the city employee's pension and health care plans be restructured. It's time to implement the panel's findings and reinvest savings in the city."

• "In 2006, it became clear that the Stadium Boulevard bridges were failing. Ann Arbor has the third worst roads in the state. I will refocus spending on essential infrastructure and maintenance."

• "Ann Arbor is facing a growing budget shortfall despite steadily increasing revenues. Spending on government overhead has increased 35 percent since 2006, by $34 million per year. I have a plan to rein in that spending."

• "Lowering overhead means more money to fund the basics: services and infrastructure. Economic development is fostered by superior services, excellent schools, a solid infrastructure and top-notch recreational facilities. It's high time we focused on tried and true strategies that encourage growth, but that don't rely on tax giveaways and subsidies."
Lesko will appear on the Aug. 3 Democratic primary ballot in Ann Arbor. She will challenge Hieftje, who was the subject of criticisms on Lesko's blog, A2Politico.com, which she ran anonymously until announcing her candidacy last month.
A second challenger entered the picture earlier this month. Steve Bean, chairman of the city's Environmental Commission, is circulating nominating petitions to run for mayor as an independent candidate. He would face off against the winner of the Democratic primary in November's general election.
Lesko plans to officially kick off her campaign with a meet-and-greet fundraiser at Vinology from 5-7 p.m. April 18. The public is invited to attend.
For more information on Lesko's campaign, visit her campaign website or find her on Twitter and Facebook.
To find out more about Hieftje, visit his website here.
Ryan J. Stanton covers government for AnnArbor.com. Reach him at ryanstanton@annarbor.com or 734-623-2529.