Posted on
Wed, Aug 4, 2010 : 2:48 p.m.
Lincoln Schools transportation employees to take 7% pay cuts, other concessions
By Tom Perkins
Lincoln school district transportation employees made significant concessions to keep the transportation department in the district instead of outsourcing it as part of a countywide busing plan, officials said.
Lincoln administrators explored joining the Washtenaw Intermediate School District's countywide busing system, but gave the transportation union an option - match the savings the countywide busing plan could provide.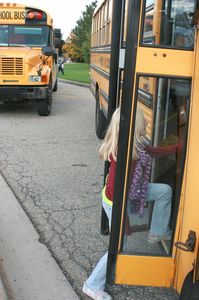 School board President Kim Samuelson said the employees came back with a comparable bid and "some pretty huge concessions." The school board recently approved a new three-year contract with the transportation union.
Among the concessions are a 7-percent pay cut across the board for the roughly 50 employees. Employees will also see reduced sick days, reduced vacation days and make greater contributions to their health care.
Samuelson said the district will now become the transportation department's health insurance policy holder, allowing it to save even more money by shopping for competitive rates.
But bus drivers will begin using WISD-recommended routes that eliminate "deadhead miles," which are miles driven when students aren't on the bus. The district expects an estimated savings of approximately $200,000 with the new routes. The transportation department will also consolidate fuel and parts purchases with the WISD, and mechanics will no longer receive a tool allowance.
Although no total on savings was immediately available, the district expects to have a better idea once it figures in health care savings, Samuelson said. She added it's not the first time the transportation department has agreed to concessions and commended the workers for putting their community and the kids first.
She said their willingness to bargain prompted the district and board to seriously consider any proposal brought to the table.
"Our transportation department has supported us, and they are willing to work with us … and we think that's a benefit to the district to the community," she said. "I think its fair to say we never expected the level of concessions that we got from them. What they're willing to do is put the best interest of the district first."
Samuelson said 90 percent of the district's students take the bus. Samuelson said officials are pleased they were able to keep their employees in the Lincoln community.
"I don't think we looked at it as a better solution, we looked at it as being the right solution for us," Samuelson said.
Out of the 10 traditional school districts initially interested in the WISD's plan, only three - Ypsilanti, Willow Run and Ann Arbor - opted to take part.
Tom Perkins is a freelance writer for AnnArbor.com. Reach the news desk at news@annarbor.com or 734-623-2530.