Posted on
Wed, Dec 7, 2011 : 11:34 a.m.
Immigration rights supporters asking Ann Arbor officials to help stop deportation of mother of three
By Ryan J. Stanton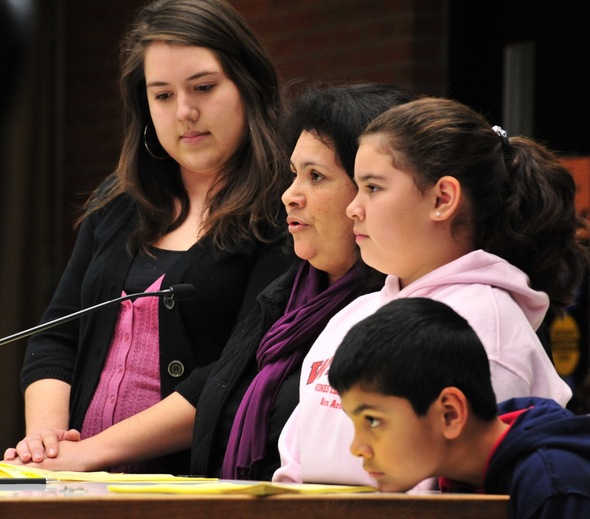 Ryan J. Stanton | AnnArbor.com
The campaign to stop the deportation of
Lourdes Salazar Bautista
, a long-term Ann Arbor resident and a mother of three, has made its way to city hall.
"I've come here to ask for your support," Bautista said, making an emotional plea Monday night before the Ann Arbor City Council and speaking through a translator.
Bautista, who came to the U.S. from Mexico in 1997, is facing deportation Dec. 27 after being detained by U.S. Immigration and Customs Enforcement for nearly a month in July 2010.
"Everything was fine until last year," she said. "Immigration came and picked me up and I was detained for 23 days. And in exchange for me to stay, my husband was deported. So now I'm here, I was here for a year, and now they want to deport me, too."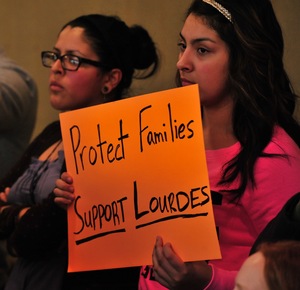 Ryan J. Stanton | AnnArbor.com
A large coalition of community organizers and activist groups are rallying behind Bautista, and they're now calling on the City Council and Washtenaw County Board of Commissioners to voice their support before she's deported two days after Christmas.
Specifically, supporters are hoping to have the city and county sign on to a letter addressed to ICE Director John Morton that demands a halt to Bautista's deportation.
"Rather than the destruction of her family for Christmas, help Lourdes give her children the gift of stability," Laura Sanders, one of the co-founders of the Washtenaw Interfaith Coalition for Immigrant Rights, told council members Monday night.
About three dozen supporters attended the council meeting, carrying signs with messages like "We are with Lourdes!" and "Protect families, support Lourdes."
Sanders said Bautista moved here 14 years ago and has three children — ages 7, 9 and 13 — who are U.S. citizens, attend Ann Arbor schools, and "very much need their mother."
"We may not be able to solve this huge problem on the local level, but we can open the conversation, take a stand against injustice, and make a difference for this family," she said.
Council Member Mike Anglin, D-5th Ward, said there's probably not much the City Council can do about federal immigration matters.
"It's well beyond our means," he said. "But the dialogue that needs to happen nationally is very important and we're members of that dialogue."
Anglin called Ann Arbor a progressive city that cares about all people, and he said he thinks it's a worthy cause to fight to keep Bautista from being deported.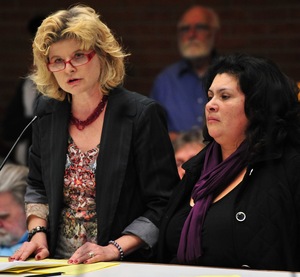 Ryan J. Stanton | AnnArbor.com
"There are plenty of reasons to deport people for criminal activities," he said. "I would be the first one to sign that letter. But in cases in which someone's been living here, paying taxes, having a job, and raising a family, I find it extremely difficult not to take a stand on this."
Sanders said Bautista has no criminal record, and her case is not an isolated incident. While President Barack Obama has made it a policy to target criminals for deportation, more than half of the 400,000 immigrants deported in 2010 had no criminal records, Sanders said.
"Our community is a special target for this discriminatory and trumped-up enforcement because of our close proximity to the Canadian border," she said, adding Detroit-based immigration teams come into Washtenaw County neighborhoods targeting Latino immigrants.
As a result, Sanders said, hundreds of children in Washtenaw County alone have lost their parents.
But through entities like the city's Human Rights Commission, Sanders said, Ann Arbor stands out as a beacon of equality for all people.
"Let's get really smart about how our precious immigrant community is under attack in the name of national security," she said.
Ryan J. Stanton covers government and politics for AnnArbor.com. Reach him at ryanstanton@annarbor.com or 734-623-2529. You also can follow him on Twitter or subscribe to AnnArbor.com's e-mail newsletters.