Posted on
Thu, Oct 6, 2011 : 5:06 p.m.
Police arrest, jail man who allegedly broke into Pittsfield Township homes while owners slept
By Kyle Feldscher
A man who was wanted by Pittsfield Township police as a suspect in multiple home invasions all occurring when the victims were asleep has been arrested and will return to court next week.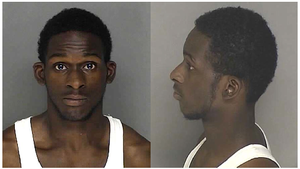 Patrick Wiggy Taylor, 20, was wanted by the Pittsfield Township Public Safety Department for failing to appear at an exam on a charge of first-degree home invasion. Pittsfield Township police had been searching for Taylor at least since the beginning of September, when they distributed a "Wanted" flier for him.
Police say Taylor broke into multiple homes in the area of Ellsworth and Golfside roads between 1 and 5 a.m. All of the crimes occurred while the owners of the homes were asleep.
Pittsfield Township Deputy Chief of Police Gordy Schick said Taylor was arrested by the Washtenaw County Sheriff's Office after a home invasion on Sept. 27 on the 2000 block of George Avenue in Ypsilanti Township. Schick said the types of crimes Taylor was allegedly committing, breaking into homes while the occupants were inside, are dangerous.
"He was very bold, and breaking into peoples' houses while they're asleep is a very scary situation," Schick said.
Taylor is charged attempted breaking and entering an occupied building with intent to commit a crime, first-degree home invasion and littering on public or private property, according to Washtenaw County Jail records. He is being held on a $1,000 or 10 percent bond on the first charge, a $10,000 bond on the home invasion charge and a $500 cash or surety bond charge on the littering charge.
Taylor was in court for a preliminary exam Thursday, which was adjourned until 1 p.m. Oct. 12 at 14A District Court. Prosecutors said Taylor may be charged with another count of home invasion in the same area, and more information will be available at the Oct. 12 hearing.
Kyle Feldscher covers cops and courts for AnnArbor.com. He can be reached at kylefeldscher@annarbor.com or you can follow him on Twitter.