Posted on
Thu, Apr 22, 2010 : 6:02 a.m.
This convicted Ann Arbor arsonist didn't fit the profile
By Rich Kinsey
Twenty-four candles were lit in the living room in her small west side Ann Arbor condominium before she went out to start what would be her last arson fire in Washtenaw County. 
Twenty-four candles may not sound like many, but they were everywhere in the room when we served a search warrant on her home. I can't understand why they didn't set off any smoke detectors.
When we began following her, we believed Norah Callan was responsible for as many as 73 fires throughout Washtenaw County. The Ann Arbor Police, the Washtenaw County Sheriff's Office and the Bureau of Alcohol Tobacco, Firearms and Explosives were all working together to get this firebug in the net. In all, she was surveilled for three weeks before she was finally caught in 1997.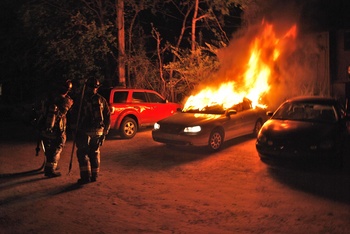 She was a short, round, bespectacled, redheaded, 49-year-old British woman. She looked like she came from central casting as a kindly crocheting instructor or nanny, but Mary Poppins she was not. Callan was recently divorced, had a drinking problem and an even bigger problem with fire.  
If she was mad at you, she would burn something of yours unless you locked up your property. If she found your car locked, she would vent her life's frustrations on your neighbor's unlocked car. 
Finding papers or other combustibles inside, she'd light them on fire and sit in the car as the flames and heat built until it got too smoky, then she'd leave the car to burn. We were never sure how long she watched or stayed in the area. When she was finally observed setting a fire in a car, she had to be arrested quickly to extinguish the fire in the victim's car.
Callan fit none of the ATF's arsonist profiles, except that she was an alcoholic. She was caught because someone who knew her recognized her problems, read the newspaper, connected the dots and called the police. That citizen no doubt saved countless homes, cars and perhaps lives by calling the police with a well-grounded hunch. Â 
A recent comment on an article about the rash of car fires last weekend referenced Callan. A year or two ago, Ann Arbor police also tracked her down after there were other suspicious fires. Â 
We first discovered she was listed as a parole absconder. It took some doing, but with some help from the Ann Arbor Parole Office, the Michigan State Police Criminal Intelligence Unit, INTERPOL and the London Metropolitan Police Department, Callan was located back in England, where she is now 63 years old. English authorities told us they don't suspect her in any arsons there.
Unfortunately, Ann Arbor is being plagued by another arsonist who is setting fire to cars and perhaps couches in the off-campus student housing areas south of Central Campus. The key to catching this person is another citizen connecting the dots and calling the police. 
If being a good neighbor and citizen isn't reason enough to call the police, there is also up to $5,000 in reward money being offered by the Michigan Arson Prevention Committee.
Anyone with information is asked to contact:
• Police: at 734-794-6939 or Tips@A2gov.org
• Fire: A2FP@A2gov.org
• Arson reward hot line: 1-800-44ARSON
Lock it up, don't leave it unattended, be aware, and watch out for your neighbors.
Rich Kinsey is a retired Ann Arbor police detective sergeant who now blogs about crime and safety for AnnArbor.com.