Posted on
Mon, Apr 19, 2010 : 12:12 p.m.
Authorities say Ann Arbor car fires appear linked and date back several months
By Amalie Nash
Authorities have determined numerous car fires in Ann Arbor since the beginning of the year are linked and were intentionally set. Those fires include several this month.
But investigators don't have evidence at this point tying a fatal house fire on South State Street to the series of car fires, Ann Arbor Fire Marshal Kathleen Chamberlain said.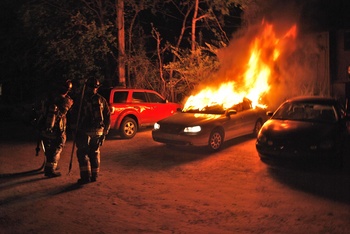 Photo courtesy of Darren Levitt
"We do believe that the vehicle fires are connected, and we're looking into whether there's any connection to any other fires that have been occurring," Chamberlain said.
Chamberlain declined to say how many car fires have occurred, but said they date back to at least the beginning of the year. The cars were mostly parked under or behind multi-family homes, she said.
Among the cases are four vehicle fires early Saturday morning that damaged eight cars, including one that resulted in minor injuries to a man attempting to douse a car fire near a sorority house.
Officials say a fire that consumed three cars in a parking area underneath an apartment building on Church Street two weeks ago appears to be connected to the weekend cases.
That April 3 fire occurred shortly before a home in the 900 block of South State Street was gutted, killing a 22-year-old Eastern Michigan University student and injuring two others.
Chamberlain said authorities are still awaiting the results of samples sent to the state police crime lab for analysis. But she said officials do not have evidence at this point showing that fire was intentionally set or that it's linked to the car fires.
"Over the past several months, the city of Ann Arbor has experienced a series of suspicious fires in the off-campus residential housing district," Chamberlain said in a press release. "Our investigations to date have determined that the vehicle fires have not been accidental, they have been deliberately set, and we are considering them to be arsons."
"We are continuing to investigate whether the vehicle fires may be related to other fires that have occurred in the area," her statement said. "Of particular importance is the recent fire that resulted in the death of a young Eastern Michigan University student."
The investigation includes the Ann Arbor Fire Department, Ann Arbor Police Department and Michigan State Police.
Police officials referred comment to the Fire Department.
Authorities are urging residents to be particularly observant when they park vehicles and to be vigilant of suspicious activity in or around residential parking lots.
The reward of up to $5,000 is being offered by the Michigan Arson Prevention Committee.
Anyone with information is asked to contact: