Posted on
Sat, Apr 30, 2011 : 3:30 p.m.
Mary Sue Coleman, at commencement, praises Chris Armstrong's leadership under fire
By Nathan Bomey
University of Michigan President Mary Sue Coleman praised former student body president Chris Armstrong at the university's spring commencement ceremony, saying the graduating senior set an example of steady leadership in the face of personal attacks over his sexuality.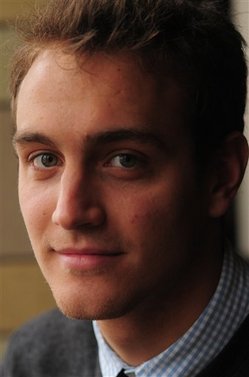 Sam Wolson | The Michigan Daily
Armstrong last year became the target of criticism and allegations from former Assistant State Attorney General
Andrew Shirvell
, who repeatedly accused Armstrong of pressing a "radical homosexual agenda" and was
was later fired
.
The situation turned into a national story, and Armstrong is now suing Shirvell, alleging that he stalked him and caused emotional distress.
Throughout the situation, the university said it supported Armstrong, U-M's first openly gay student body president.
At this morning's commencement ceremony, Coleman said Armstrong is a "proven leader."
"He has represented you on campus and in Lansing. He has argued for changes in student housing and campus dining. He wants tuition to remain affordable," Coleman said. "And yet, what created the biggest headlines for Chris is the fact that he is a gay man, the first to lead the Michigan student assembly."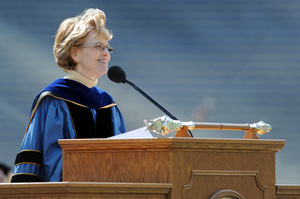 Melanie Maxwell | AnnArbor.com
She added: "When this generated criticism and bullying, he did not blink. He continued to hold his head high as student body president and as a Michigan student and to speak out for a equality, tolerance and compassion. That's what leaders do."
Armstrong, in September, told a student government body that "nothing said about us, or regarding our personal merits, will waive our commitment to serve the student body," according to a Michigan Daily report.
"I will not back down. I will not flinch. I will not falter. I will not succumb to any unwarranted attacks. What I will do is I will carry on with the utmost pride and vindication," Armstrong said, according to the Daily.
Coleman, describing the best form of leadership, said: "This is no time for wavering, but rather for people who are willing to stand up for their beliefs and ideas, people unafraid to challenge the status quo, people unafraid to take risks, because big risks can deliver big rewards."
Contact AnnArbor.com's Nathan Bomey at (734) 623-2587 or nathanbomey@annarbor.com. You can also follow him on Twitter or subscribe to AnnArbor.com's newsletters.