Posted on
Thu, Oct 14, 2010 : 4 p.m.
Michigan Civil Rights Commission condemns Andrew Shirvell's attacks on Chris Armstrong
By Heather Lockwood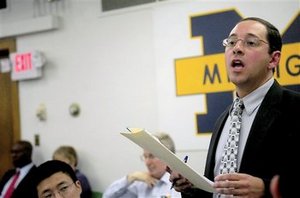 Michigan Daily photo
The Michigan Civil Rights Commission has condemned the actions of Assistant Attorney General Andrew Shirvell, who has maintained a blog ridiculing and denouncing openly gay University of Michigan Student Assembly President Chris Armstrong.
The resolution adopted Tuesday, states, "the Commission condemns the conduct of Assistant Attorney General Andrew Shirvell targeting Christopher Armstrong, a University of Michigan student. ... Such conduct should never be tolerated from anyone, let alone a public official responsible for representing all people equally."
It also states, "the Michigan Civil Rights Commission is committed to building one Michigan; a state that embraces the value of diversity and honors the identity of all people. The Commission condemns all acts of hatred and intolerance that threaten this ideal to which we are committed."
The resolution also calls for "removal of (Shirvell) from an important public position."
Shirvell has been in the national media spotlight in recent weeks for his hate-filled blog attacking University of Michigan student body president Christopher Armstrong — the university's first openly gay student body president — and what Shirvell has called Armstrong's "radical homosexual agenda." He has also shown up at various Michigan Student Assembly events to protest Armstrong and held signs with a rainbow with a swastika drawn on it. Armstrong is seeking a personal protection order against Shirvell.
Michigan Department of Civil Rights spokesman Harold Core said the resolution was not just another criticism of Shirvell but was meant to address concerns surrounding his biases and whether they have influenced policy.
"It was less about the general sense of 'Shame on him,' and more about, 'Wait a minute, what kind of policy has this individual been influencing?" Core said.
Core said it is the commission's position that "someone with obvious biases against a certain percent of the state" should not hold an important public position.
The Civil Rights Commission is not the first to call for Shirvell to be removed from his position. Gov. Jennifer Granholm tweeted in September, "If I was still Attorney General and Andrew Shirvell worked for me, he would have already been fired." Spokeswoman Liz Boyd had no further comment on the tweet. And U-M students have also expressed disdain for Shirvell's actions.
U-M spokeswoman Kelly Cunningham said the university had no comment on the commission's action.
"It is not appropriate for the university to comment on this," she said.
However, the University of Michigan Board of Regents once again used its monthly board meeting to issue a statement on the controversy.
"When we first became aware of the targeting of one of our students, we sent a swift and powerful message: This must stop," the statement which was read by board chairwoman Julia Darlow, said. "As we said at our Sept. 16 meeting, when one member of our community is targeted, we are all attacked. ...
"Looking ahead, we will remain ever vigilant to unacceptable displays of intolerance.
The Civil Rights Commission has also called for the passage of proposed comprehensive hate crime and school anti-bullying legislation, Core said.
And, Core said, the commission has asked for an investigation into whether any taxpayer resources were used to create Shirvell's blog, and whether his biases may have influenced any of Attorney General Mike Cox's policy making decisions.
Heather Lockwood is a reporter for AnnArbor.com. Reach her at heatherlockwood@annarbor.com or follow her on Twitter.