Posted on
Wed, Feb 1, 2012 : 6:47 p.m.
Michigan House approves bill that would allow Washtenaw Avenue improvements across jurisdictions
By Paula Gardner
Michigan's House of Representatives on Wednesday approved the bill that would allow creation of a Corridor Improvement Authority for Washtenaw Avenue.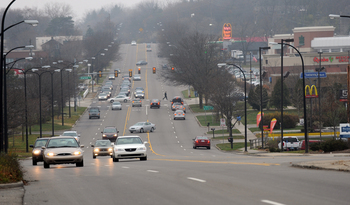 HB 5142 would allow four jurisdictions - Ann Arbor, Ypsilanti and the townships of Pittsfield and Ypsilanti - to create the authority.
It now moves to the state Senate for approval.
If finalized, the CIA would be allowed to divert property taxes in the district to specific improvements on the corridor, which stretches from the Water Tower in Ypsilanti west to Stadium Boulevard in Ann Arbor. It also could levy a special assessment or issue revenue bonds.
A governing board would be established with up to three members from each municipality.
The bill was sponsored by Republican Rep. Mark Ouimet and supported by Democrat Jeff Irwin.
The effort started in 2008 as Reimagining Washtenaw Avenue. By September 2010, local leaders started to focus on the option of pursuing the tax-capture authority.