Posted on
Tue, Feb 21, 2012 : 2:59 p.m.
Michigan Islamic Academy moving forward with lawsuit against Pittsfield Township
By Danielle Arndt
Previous coverage:
Michigan Islamic Academy vows litigation after Pittsfield Township rejects rezoning for school
Michigan Islamic Academy weighs options as Justice Department reviews religious discrimination complaint
A lawsuit on behalf of the Michigan Islamic Academy against Pittsfield Township over its refusal of a rezoning request will be filed in federal district court Wednesday, officials with the Council on American-Islamic Relations said.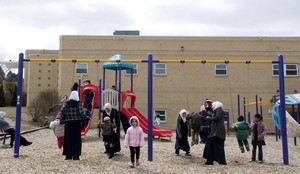 Tom Perkins | For Ann Arbor.com
The Michigan chapter of CAIR has accused Pittsfield of violating the school's rights under the
Religious Institutions Land Use Protection Act
.
The township has denied rezoning requests to build a 360-student school at the intersection of Golfside and Ellsworth roads.
A news conference will be conducted at 2 p.m. Wednesday at the CAIR-MI office in Southfield after the lawsuit is filed. CAIR Executive Director Dawud Walid said details of the suit and why it was filed will be discussed at this time. The news conference will be live-streamed at www.ustream.tv/channel/cair-michigan for people who would like to watch.
A representative from the Michigan Islamic Academy will speak about how school administrators feel about "the entire situation" and how they "just want to open a school for children," Walid said.
He said school administrators have gone round-and-round with the Pittsfield Board of Trustees, Planning Commission and other township officials to try to get a land variance in a residential area for an Islamic school.
"(Administrators) have shown a willingness to comply … conducted two traffic surveys … but there has been no relief they've been able to get through the city of Pittsfield Township," Walid said.
Mandy Grewal, supervisor of Pittsfield Township, could not be reached for comment Tuesday afternoon.
Staff reporter Danielle Arndt covers K-12 education for AnnArbor.com. Follow her on Twitter @DanielleArndt or email her at daniellearndt@annarbor.com.