Posted on
Tue, Apr 6, 2010 : 5:49 a.m.
Moravian project denied approval by Ann Arbor City Council
By Ryan J. Stanton
The proposed Moravian apartment project failed to win the Ann Arbor City Council's approval on Monday, leaving the developer contemplating his next move.
Jeff Helminski, managing partner of The Moravian Co., said suing the city is a possibility after the project five years in the making was shot down.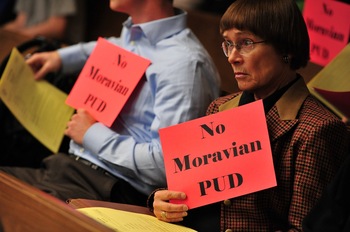 Ryan J. Stanton | AnnArbor.com
"Legal action would be one of the avenues available to us, and we'll take a look at all of the options," Helminski said. "There are other avenues for us to pursue approval of development on this project, and we'll be looking at what those might include and moving in one direction or another based on what we think the best way is to achieve the goals that are important to us with this, which is affordable housing, green sustainable development, and more residents to support the downtown businesses that make this town great."
It was a battle of opposing viewpoints inside city hall Monday night as dozens of Ann Arbor residents — one by one —Â approached the podium and told the City Council what they thought of the proposed development.
Many were for it, and many were against it.
During a public comment period that stretched for more than three hours, council members heard from young professionals, business owners, University of Michigan students and community leaders who voiced strong support for the 62-unit complex proposed at 201 E. Madison St. There was a consensus that downtown Ann Arbor lacks affordable living opportunities for people in their 20s outside of the "student ghetto" and badly maintained apartment houses.
Opponents of the project — many of them residents of the Germantown neighborhood immediately to the north — cited concerns that the five-story project wouldn't fit the scale and character of its mostly two-story surroundings. Members of the Germantown Neighborhood Association brought in a scale model showing the conceptual 74,370-square-foot structure in relation to surrounding homes.
"I don't want my historic Greek Revival home next to the Great Wall of China," said Bob Giles, who has owned a home at 541 S. Fourth Ave. since the 1980s that he makes income from as a rental property. "I can imagine the potential for problems with an open-air roof deck 60 feet up in the air, looming over my property."
Nearly six hours into the meeting, just before 1 a.m., the council voted 6-4 in support of the rezoning for the Planned Unit Development. But even with a majority of the council in favor of the project, it still fell short of the eight votes that were required due to an opposition petition filed by residents. If not for the petition, the project would have been approved with six votes.
Those who came out in opposition included Mayor John Hieftje and Council Members Mike Anglin, Sabra Briere and Stephen Kunselman. Council Member Carsten Hohnke, who was absent from the meeting, relayed his opposition to the project in a written memo read aloud by Anglin.
Hieftje said he appreciated the speakers Monday who pointed out the Moravian was proposed for development in a very transitional area of Ann Arbor. Immediately to the north, it would have abutted much smaller residential properties. But across the street lies an industrial district and a lumber yard.
Hieftje said he thought the developer could have done a better job making the transition smoother between the two areas and could have offered more public benefits to help sway the council. The fact that the project came with favorable recommendations by the Planning Commission and the city's planning staff, who spoke in support of the project Monday night, didn't matter in the end.
"In my review, I've come to the conclusion that I do not agree with the findings stated in supplemental regulations. I don't believe that this project is offering enough in terms of a beneficial effect to the city."
Hieftje said the most significant benefit the developer included was 12 units of affordable housing, but he said that didn't make up for the project's downsides.
"The developer is proposing a relatively massive development that challenges the scale of the established neighborhood. I don't see this offering significant innovation in land use or other typical benefits," Hieftje said, adding the area inevitably will change in the next 10 to 20 years, and he didn't want the Moravian to "set the new standard" for what's to come.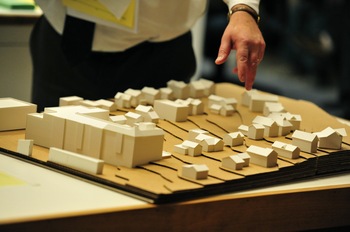 Ryan J. Stanton | AnnArbor.com
"Our master plan for the area has provisions that specifically call for the city to protect the scale of residential development in the area and to make sure that the scale of new buildings is appropriate to the surrounding properties," he said. "I don't believe that this particular PUD provides adequate justification to depart from these master plan provisions."
Hieftje said the developer has many options to bring forward a by-right proposal that conforms with the city's plans and current zoning designated for the area. He said that could include a strip of town homes or a series of one- and two-bedroom apartments.
One of the criticisms of the Moravian was the assertion that it would be housing for young professionals. But because it was mostly apartment units with three or more bedrooms, some said it would be just another student dorm in disguise.
"I'm saddened to hear that the petitioner has deluded several young professionals into thinking this is going to be a great place for them to live," said Beverly Strassmann, president of the Germantown Neighborhood Association. "The truth is there's only going to be nine one-bedroom apartments, three efficiencies, eight two-bedroom apartments. Most of the units in the Moravian are three- and four-bedroom apartments. These apartments will be too expensive to rent."
Council Member Margie Teall, D-4th Ward, spoke in support of the project Monday night. She said the Moravian would provide a cheaper alternative to current downtown apartment options.
"I think that's significant," she said. "As far as I can tell, the rooms that would be rented here, which I had understood would be between $900 and $3,000 — $3,000 being for a three-bedroom plus a flex room — are far cheaper than any other downtown apartment you're going to find. Those run from $1,400 a month for a one-bedroom at Zaragon to $2,700 a month for two-bedrooms. I think what they're trying to achieve here is significant for the city."
Ann Arbor Realtor Newcombe Clark, a partner in the development project, had choice words for council members prior to the vote. He asked them to set aside politics and make the right decision.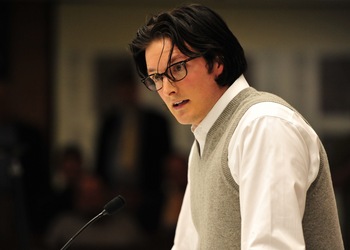 Ryan J. Stanton | AnnArbor.com
"We ask of you the courage of leadership," Clark said. "We ask that you not act in fear of the relative small percentage of citizens that currently show up at the polls in August. We ask that you trust in the vast majority of citizens that you represent.
"We have been forthright and honest about our goals and intentions with this project from day one," he said. "Before we spent a dime, before we spent a minute of your valuable time, we met with you and asked what you want. Two years ago, we asked what you'd like to see on this site. Remember? And through all of it, nothing has really been presented in a way that was infeasible."
Council Member Christopher Taylor, D-3rd Ward, addressed the tension surrounding the project in his comments before voting.
"I don't think opponents of the project are reactionary NIMBYs ... nor do I believe properly that its proponents are philistines intent on gutting Ann Arbor, and I regret that the discourse has sunk to that level," he said.
Taylor ultimately supported the project.
"I understand that this conclusion is at odds with many of the residents who have spoken here today, and so it is not a position that I take lightly," he said. "But in the end I believe that the petitioner has made its case that the project will offer substantial public benefits in a manner consistent with the master plan and to the ultimate betterment of the city."
Ann Arbor resident Rebecca Lopez Kriss, one of many young professionals who spoke in support of the project Monday night, addressed the opposition's viewpoint that the Moravian was out of character with the surrounding neighborhood.
"Frankly, it's next door to a very tall three-story building, it's also down the block from multi-story Perry School, it is across the street from a light industrial zone, and if anything this development — the Moravian — is a buffer between the neighborhood north of there and the very busy retail area on Main Street, and the zoning that's south of there," she said.
Peter Schork, president of Ann Arbor State Bank, said he thought the project was feasible and represented a good use of land.
"Very clever people put together these parcels of land at the bottom of a hill across from a lumber yard, across from a University of Michigan building, and have done a nice job of creating an environment that's very suitable for housing for 20- to 30-year-olds, some of which might be students," he said.
Stewart Beal, president of Beal Properties, said he employs up to 130 construction professionals in the area at any given time and they could use the kind of work that comes from projects like the Moravian. He said his job includes scheduling people to work and the jobs aren't in Ann Arbor.
"Today I scheduled 62 people to work in Flint, Owosso, Detroit, Ypsilanti, Whitmore Lake, East Lansing and Toledo, Ohio. We even drove two and a half hours away to Grand Haven, Mich.," he said. "Today I scheduled only one person to work in Ann Arbor and that was at Pioneer High School. I urge council to support development, support an opportunity for construction jobs in our community, and to support this project in particular."
Helminski said the Moravian would represent an investment of $10 million to $12 million in Ann Arbor. He said people from other communities have called asking him to bring that investment to their city instead if Ann Arbor doesn't want it.
Ryan J. Stanton covers government for AnnArbor.com. Reach him at ryanstanton@annarbor.com or 734-623-2529.