Posted on
Sat, Feb 26, 2011 : 1:12 p.m.
Neighbors recall waking up to sound of gunfire after early morning Ypsilanti Township fatal shooting
By Heather Lockwood
Lon Horwedel | AnnArbor.com
Editor's note: This story has been updated to include comments from Monica Ross-Williams, recording secretary for the West Willow Neighborhood Association.
Ashlei McDonald said she awoke to the sound of gunshots near her home in Ypsilanti Township's West Willow neighborhood early Saturday morning.
She said she got up, went outside and saw a man lying in the street. She said the man, who she realized was her cousin, had apparently been shot.
"He wasn't moving, he was just bleeding out," said McDonald, 17. "Right now, nobody really knows why it came about."
The Washtenaw County Sheriff's Department received reports of gunfire about 2:30 a.m. near the intersection of Mary Catherine and Nash streets, said department spokesman Derrick Jackson.
When deputies arrived they found a mortally wounded 33-year-old Ypsilanti man. He was pronounced dead at the hospital. Police have not released his name.
Two other men were wounded in the overnight shooting, but both were gone when deputies arrived and had transported themselves to a local hospital, Jackson said. He said the two men, one who was born in 1979 and the other in 1981, are expected to survive their injuries.
No arrests had been made, Jackson said.
Officials with the sheriff's department remained on the scene, which was still taped off, as of about 10 a.m. Saturday. Lt. Michael Trester said the investigation was ongoing, as officials continued to search a house in the 1300 block of Nash Street.
Trester said the shooting occurred outside.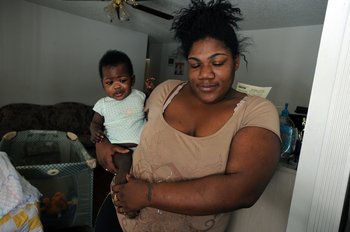 Lon Horwedel | AnnArbor.com
McDonald said her cousin had been celebrating his birthday this weekend — a night out at a club followed by a house party.
McDonald said she saw her cousin for the last time about three months ago.
"He's going to be missed," she said.
Monica Ross-Williams, recording secretary for the West Willow Neighborhood Association, who lives a couple of blocks away from where the shooting took place, said she was awakened by the sound of about 12 to 15 gunshots.
"I could hear the shots clearly, which makes me think there were multiple shooters or a semi-automatic weapon was used," said Ross-Williams, "It felt like it was so close."
She said the news of the shooting is depressing, considering the neighborhood association's efforts to improve the community's image and safety.
"Some rental properties and some owners are not helping our neighborhood at all with the people they're letting in," Ross-Williams said. "We're doing everything that we can at the neighborhood association, including have a citizen's patrol."
She added, "We have a number of good renters in our community and a number of good, strong homeowners in our community."
Ross-Williams said the neighborhood needs to work closely with law enforcement to ensure the community is a safe place.
"We definitely need more help from law enforcement," she said. "We want to make sure this community is safe for our children and for our residents."
A neighbor, who spoke on the condition that his name not be used, said the sound of nearby gunfire awoke him up about 2:30 a.m.
"They had a party there last night," he said. "Before the police showed up there were about 20 of them that piled out the back door."
The neighbor said he wasn't completely surprised by the incident.
"This is a situation here where this house has been vacant for about 15, 20 years, and then all of a sudden the ladies who own the house decided to rent," he explained. "It was just a matter of time before something happened."
He added, "You move out of here and go somewhere else and you could have the same problems. It's a shame, but that's the way it is."
No further details were immediately available.
Heather Lockwood is a reporter for AnnArbor.com. Reach her at heatherlockwood@annarbor.com or folllow her on Twitter.