Posted on
Fri, Mar 8, 2013 : 5:58 a.m.
New analysis makes case that Ann Arbor has enough density to support high-capacity transit
By Ryan J. Stanton
Roger Hewitt says he's heard the argument that Ann Arbor is too small to be talking about bigger-city transit options like light rail, streetcars and bus rapid transit.
Hewitt, a downtown business owner and treasurer for the Downtown Development Authority, says a new analysis of population and employment density says something different, though.
While the city's population remains at roughly 114,000, there are tens of thousands of additional people who make the daily commute to work in Ann Arbor.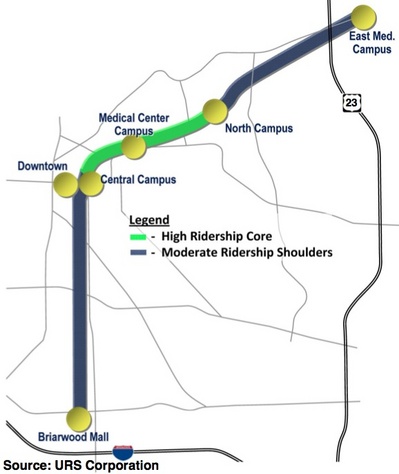 Image courtesy of URS Corp.
As part of the
Ann Arbor Connector
study that's looking at options for a new high-capacity transit network, one of the Ann Arbor Transportation Authority's consultants,
URS Corp.
, compared Ann Arbor with 12 other communities, nine of which have some form of a mass transit system.
Those include Cleveland, Eugene, Ore., Jacksonville, Fla., Little Rock, New Orleans, Norfolk, Va., Portland, Salt Lake City and Tacoma.
The other communities examined are Lansing, Grand Rapids and Fort Collins, Co., which have advanced transit systems in the planning stages right now, Hewitt said.
"With the exception of Lansing, all of these cities are larger or quite a bit larger population-wise," he said. "But they dug a little deeper and looked at the population per square mile — the population density. And if you look at all of those, Ann Arbor ranks fourth on that list for population density."
Going a little farther, Hewitt said, looking at employment density — how many people are employed per square mile — Ann Arbor is first among all those cities.
"We have 3,800 people working per square mile in this city," he said. "The next closest one is Cleveland at about 3,300, and then it drops down to about 2,500 and lower."
Hewitt's conclusion: Ann Arbor, although it is small geographically in size, is pretty dense in population and extremely dense in jobs.
"Which is the answer to why you need a transit system like this," he said of the Ann Arbor Connector. "We have a lot of activity, both in population and jobs, and moving people around and finding places for people to park is going to become increasingly difficult."
The Ann Arbor Connector initiative is focused on a boomerang-shaped area extending from northeast to south Ann Arbor, connecting major destinations, including downtown, University of Michigan's north and central campuses, the university medical center and commercial areas.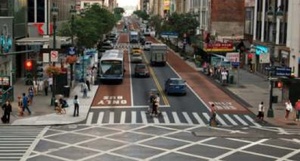 URS Corp.
A series of drop-in events were held in December as part of a $1.5 million study that's taking place through early 2014. About 275 people participated, and 40 percent of those surveyed chose light rail/streetcars as their preferred method of travel for the Connector, while 22 percent chose automated guideway (monorail), 21 percent chose bus rapid transit, and 17 percent chose normal buses.
AATA board member Jesse Bernstein, former chairman of the Ann Arbor Area Chamber of Commerce, said he's personally excited about the possibility of bus rapid transit.
"The buses you use in bus rapid transit are large, and they're articulated so they bend in the middle, so they can get around corners," he said. "But what that means is we could run them on dedicated lanes that are at grade or above, and they could run on regular roads when it's less dense, so there's just a lot of options. Plus it's going to be cheaper than putting in fixed rail."
Bernstein said the type of vehicles used for bus rapid transit are essentially "rubber-tired trains," and Brazil is a good example of where they work well.
"They have the buses lined up, and as they fill up going into town, they just shoot another bus down the line," he said. "So I think there's a lot that corridor can do. I think we could do something really exciting, and it's years away. We're not going to have this tomorrow."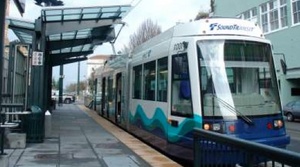 URS Corp.
The city of Ann Arbor, AATA, DDA and U-M collaborated on a study that previously concluded a high-capacity transit service is feasible, demand along the corridor is sufficient, and technologies such as streetcars, bus rapid transit, light rail or even a monorail could be used.
The project is now in the alternatives analysis stage, where community input is needed to determine a locally preferred alternative. That includes specifying the type of transit technology to be used, service levels, route alignments, station locations and cost estimates.
The next set of public meetings as part of the alternative analysis phase will be in April, though dates haven't been announced yet.
Ann Arbor resident Rita Mitchell, who has been following the process and attended one of the drop-in sessions in December, said it's good to reduce the number of cars on the road in Ann Arbor. She'd prefer to see bus rapid transit service the city by connecting to park-and-ride lots.
"Even potentially considering parking structures being built at those locations and to serve those with really excellent bus service or really excellent transit service," she said. "I would not want any system to move in and plop a station in a park, and I believe one of the stations is along Fuller Road and potentially in Fuller Park, so I would resist that, as I have resisted a train station being built there."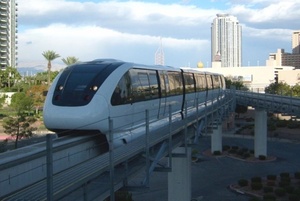 URS Corp.
Mitchell said she's not sold on some of the higher-intensity solutions such as streetcars, light rail or a monorail, which she believes could overwhelm the city and would be too costly.
While Ann Arbor might have a high employment density, Mitchell said she doesn't think the city has a large enough tax base.
"I certainly prefer something that is least cost, possibly something that could be tested, and that's why at this point I would probably lean toward bus rapid transit," she said.
Bernstein said he agrees with the analysis that Ann Arbor has the population and employment density along the corridor to justify investment in advanced transit technologies.
"When you look at the corridor that's outlined, you can start with Domino's Farms — a million square feet of office space," he said. "The East Medical Campus — thousands of square feet of office space and growing. You come down through the Plymouth Road/Green Road collection of hotels and shops into North Campus and the North Campus Research Complex — that is very dense.
"And then you come to the hospital, you come down through main campus, so I could see where the density is there," he continued. "The transit corridor makes a great deal of sense, and the way we're going about talking to people, having open discussions, looking at options, is the way to go."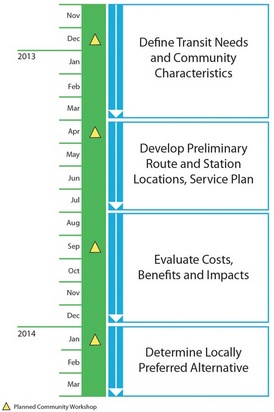 URS Corp.
City Council Member
Sumi Kailasapathy
, D-1st Ward, said it would be premature for her to form an opinion before the study has been completed, but she's among those concerned the city and its partners are taking on too many transit-related projects simultaneously.
"The Connector study is just one of the many transit issues currently being discussed," she said. "We have just emerged from a failed effort to create a countywide transit authority. The AATA seems intent on expanding service beyond Ann Arbor to the adjoining urban areas."
Additional, a new four-county Southeast Michigan Regional Transit Authority is just being formed, and Kailasapathy believes that eventually will have an impact on transit in Ann Arbor.
And there are plans for two commuter rail lines from Ann Arbor to Detroit and from Howell to Ann Arbor.
"I think my view on the Connector plans will be affected by the developments of all of these proposals," she said. "I am mostly concerned about how we will pay for any of the proposed services, and cannot understand how all of them can be afforded at the same time."
Ryan J. Stanton covers government and politics for AnnArbor.com. Reach him at ryanstanton@annarbor.com or 734-623-2529. You also can follow him on Twitter or subscribe to AnnArbor.com's email newsletters.