Posted on
Wed, Mar 14, 2012 : 11:30 a.m.
New flashing crosswalk beacon installed at Seventh and Washington in Ann Arbor
By Ryan J. Stanton
Ryan J. Stanton | AnnArbor.com
The first of Ann Arbor's new
pedestrian-activated crosswalk beacons
is helping
Slauson Middle School
students and neighbors more safely cross Seventh Street at Washington.
Additional crosswalk beacons are expected to become operational later this month at four locations along Plymouth Road, city officials said.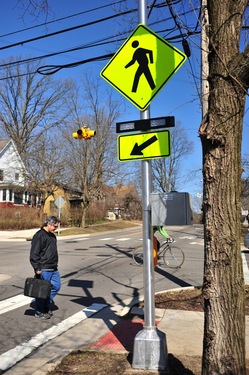 Ryan J. Stanton | AnnArbor.com
The
Ann Arbor City Council
approved the
purchase of the Rectangular Rapid Flashing Beacons
at a meeting back in December following controversy over the city's pedestrian safety ordinance and
several rear-end accidents
at crosswalks along Plymouth Road.
Ann Arbor resident Roger Shambaugh was one of the first to test out the new beacons during an afternoon jog on Wednesday with his dog Riley. Even with the lights flashing, he still stopped and waved a car or two through before proceeding carefully across Seventh Street.
"People should yield to pedestrians," he said. "But you still have to remember it's the laws of physics, so whether they're going to follow it or not, you have to assume they won't."
AnnArbor.com observed during a half-hour period many pedestrians aren't yet aware they can push a button to activate the beacons. Most crossed without activating the signal.
The four crosswalks expected to get RRFBs along Plymouth Road are located near Beal Avenue, Bishop Avenue, Traver Village and Georgetown Boulevard.
When activated by a pedestrian, the crossing sign displays a flashing beacon, indicating that someone is waiting to cross or is currently walking across the street.
This signal alerts drivers to stop behind the painted stop bar in the road until the pedestrian has safely crossed the street or reached a refuge island.
Pedestrians must confirm oncoming vehicles have stopped before stepping into the road. According to state law, motorists can't pass vehicles stopped at a crosswalk.
Shambaugh said even with signs warning motorists to stop for pedestrians, Seventh Street has been difficult to cross during peak traffic hours.
He hopes the new lights help, and he thinks they'll be especially useful at night because they'll give motorists a visual warning to stop beyond "just some guy on the side of the road."
He said he'd like to see the flashing beacons installed in more parts of the city, including at Liberty Street and Virginia Avenue.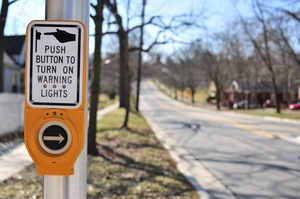 Ryan J. Stanton | AnnArbor.com
"The one on Liberty and Virginia, they need flashers there," he said. "Especially in the morning walking to school, crossing Liberty from the Eberwhite neighborhood."
The new beacons include a rectangular light bar attached to a standard pedestrian crossing sign, providing enhanced communication between pedestrians and drivers at busier crosswalks where there is not already a traffic signal.
City officials say ensuring pedestrian safety is especially important in Ann Arbor, where 17.7 percent of residents walk to work, nearly six times the national average. Ann Arbor has been named a gold-level walk friendly community by the Pedestrian and Bicycle Information Center.
The city also was recognized by Prevention magazine and the American Podiatric Medical Association as the third most walkable city in the country.
City officials are reminding residents of these city codes on crosswalks:
10:148.Pedestrians crossing streets (a) When traffic-control signals are not in place or are not in operation, the driver of a vehicle shall stop before entering a crosswalk and yield the right-of-way to any pedestrian stopped at the curb, curb line or ramp leading to a crosswalk and to every pedestrian within a crosswalk when the pedestrian is on the half of the roadway on which the vehicle is traveling or when the pedestrian is approaching so closely from the opposite half of the roadway as to be in danger. (b) A pedestrian shall not suddenly leave a curb or other place of safety and walk or run into a path of a vehicle that is so close that it is impossible or unsafe for the driver to yield. (c) Every pedestrian crossing a roadway at any point other than within a marked crosswalk or within an unmarked crosswalk at an intersection shall yield the right-of-way to all vehicles upon the roadway.
Uniform Traffic Code for Cities, Townships and Villages R 28.1703 Rule 703 (1) When any vehicle is stopped at a marked crosswalk or at any unmarked crosswalk at an intersection to permit a pedestrian to cross the roadway, the driver of any other vehicle approaching from the rear shall not overtake and pass the stopped vehicle.
Additional information on the city's new crosswalk beacons is posted online at www.a2gov.org/WalkBikeDrive.
Ryan J. Stanton covers government and politics for AnnArbor.com. Reach him at ryanstanton@annarbor.com or 734-623-2529. You also can follow him on Twitter or subscribe to AnnArbor.com's email newsletters.