Posted on
Tue, Sep 28, 2010 : 1:09 p.m.
Newcombe Clark claims property owners are potentially defrauding city of Ann Arbor out of millions
By Ryan J. Stanton
Newcombe Clark dropped a bombshell during an Ann Arbor City Council candidate debate Monday night, publicly alleging certain property owners in town are defrauding the city of large sums of money by exploiting legal loopholes.
"This is where I'm not going to make any friends in my profession," said Clark, a commercial real estate broker and 5th Ward candidate, in response to a question about the city's budget.
A few weeks ago, Clark said, he and a colleague ran some numbers on the back of a bar napkin and identified about $4.5 million in taxable value unaccounted for — and he believes that's just the tip of the iceberg. He said there could be 10 times that amount, and the additional taxes owed on the properties could number in the seven-figure range.
"These are people that have exploited some loopholes that unfortunately still exist in our system to move some properties around without paying the true taxes due," he said, not naming any names. "Now, if myself and another colleague in the commercial real estate industry can identify $4 million on just the back of a napkin, who knows what's out there."
The passage of Proposal A in 1994 placed limits on yearly property tax increases in Michigan, but the taxes are supposed to be uncapped when a transfer of ownership occurs.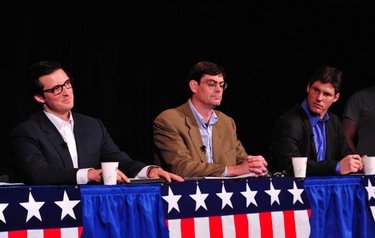 Ryan J. Stanton | AnnArbor.com
Clark said some of the larger property owners in town are buying up limited liability companies, or LLCs, whose assets include real property. But because closing on an LLC doesn't require recording a transfer of deed with the county, the city assessor's office doesn't find out about the transfers through typical mechanisms — and the taxes, in many cases, end up not being uncapped.
"There is a provision that was closed by the state Supreme Court a few years ago that prohibited the transfer of commercial assets in LLCs, basically not uncapping them when the LLCs sell," Clark said. "Our assessors do a great job, but often only hear about these LLC transfers when it hits the paper, or just by dumb luck sometimes."
City Assessor David Petrak said Clark is right.
"We pretty much know it's happening," Petrak said, referencing two cases in recent years involving Signature Villas Apartments LLC and Burlington Property LLC, where the city found out about a transfer of upper-level LLCs, uncapped the taxes, and then was sued by the companies. In both cases, the decision to uncap the taxes was upheld in court.
Around the time of the lawsuit, Clark worked for Oxford Commercial, whose owner was a managing partner for Burlington Property LLC.
"The problem is, we have no way of knowing about it," Petrak said of other LLC transfers that may be flying under the radar. "Newcombe has been in the commercial end of the business, so he may know for a fact that some of these happen. We don't."
Clark suggested Monday night that, with some special hired help and his expertise on council, the city could go after some of those property owners and return a large sum of money to the city. Petrak said for now, the city has adopted a practice of asking to see documentation of who owns the property when hearing about property transfers into an LLC.
Petrak said if a focused effort led to a mass uncapping of taxes, it could end up triggering a Headlee rollback and lower the millage rates for other taxpayers. But in that situation, the city may not see a large increase in tax revenue.
He noted that the problem is happening all across Michigan, not just in Ann Arbor.
Clark, who is running as an independent, is challenging incumbent Carsten Hohnke, D-5th Ward, for his council seat, along with Republican John Floyd, an accountant.
The other contested council race — other than the mayoral race — in the Nov. 2 general election is the 2nd Ward matchup between Democratic incumbent Tony Derezinski and Libertarian challenger Emily Salvette.
All five candidates appeared side-by-side during Monday's debate, hosted by the League of Women Voters of the Ann Arbor Area. It was aired live on CTN and taped for rebroadcast.
"I'm running because I think it's bad we have only one party ruling our city," said Salvette, state chairwoman of the Libertarian Party of Michigan. "All 11 members of City Council are Democrats, and that's how it's been for a while. That's not good for democracy."
Salvette, a part-time administrative employee for the University of Michigan School of Public Health, said she believes in limited government and low taxes.
"Government should focus on basics: protecting people from violent crime and providing public infrastructure like roads and water," she said. "Then government should step back and let people go about their business."
Salvette said the city needs to do something about "rich benefit packages" and bring city employee costs in line with the private sector.
"There are plenty of voters in Ward 2 who think city government is too big, spends too much money, and is pursuing very ill-advised projects," she said.
Derezinski, a former state senator and retired municipal attorney with a master of laws degree from Harvard, said the last two years have been tough for the city, but he's optimistic.
"Ann Arbor is just ripe with possibilities," he said. "I refuse to attack city government. I think we can make it better by good planning, by thinking of where we want to be in 25 years from now, and then together with a common vision working toward that goal."
Floyd agreed that one-party rule in Ann Arbor isn't working.
"Asking probing questions with good will is our part-time council's job," he said. "Our current council's culture seems to discourage probing questions, period."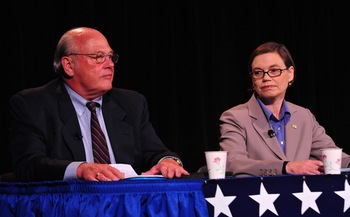 Ryan J. Stanton | AnnArbor.com
Floyd criticized the city for considering privatizing a portion of the Huron Hills Golf Course without a vote of the people. Hohnke responded there are no plans to lease any land at Huron Hills to developers or build anything new.
"There have been some discussions by city staff who understand the operations of golf at Huron Hills very well to say, 'Hey, there might be some utility in making the front nine a driving range instead of making it a full 18-hole golf course,'" he said.
Derezinski also addressed the Huron Hills issue.
"What the city has done so far is just to put out a request for proposals to see how we can manage it better," he said. "In fact, the RFP is very specific. That is aimed at management of the golf course as a golf facility, and I think we have to make that inquiry, particularly in tough times, to see if there's a way that we can do it better."
Clark, who has made a commitment to run for one term only and donate his council pay to charity, said he has concerns about the parking structure the city is partnering with the University of Michigan to build on Fuller Road. He said the city doesn't have the best track record in running parking decks. He also said he has concerns about its location, and it's not clear how it will connect to downtown and become an asset for more than just U-M.
Floyd also criticized the Fuller Road project — billed as an "intermodal transit station" — questioning the city's hopes of seeing a train station there anytime soon.
"Well, I think that someday we may have rockets flying to other planets from that center, so I think we should call it the 'interplanetary transit center,'" he said.
Floyd and Salvette both said the project should go to a vote of the people.
"If we have a rule that parkland can't be sold without a vote of the people, and we go into a long-term lease — which is essentially a sale for all intents and purposes for us who are here today — I think that's not playing by our rules," Salvette said.
Hohnke defended the project.
"I think a multimodal transit station replacing a rather large, cracked, asphalt parking lot that's been there for 20 years would be a significant improvement," he said. "And to have the university spend about 75 to 80 percent of the money to build it, and then use funds that we leverage from the federal government through grants to pay for the rest to provide the city of Ann Arbor with an asset ... I think it's exciting."
The incumbents agreed a major challenge facing the city is delivering quality services. Both said economic times have forced the council to make painful cuts.
"Like all other municipalities across the country, we're facing continued increases in employee benefit costs that are putting extraordinary strains on our ability to continue delivering the services that we all want to see delivered as a community," Hohnke said, mentioning regional collaboration and leveraging technology as ways to make city government more efficient.
Hohnke also said the city needs to address its pension liabilities.
"As we go forward — and the cost to our pension system of the downturn in the market in late 2008 gets amortized over the next five years — we have some serious ground to make up," he said. "As of the end of the last fiscal year, we were about 90-94 percent fully funded in our pension system, but that's going to go down over the next five to 10 years."
Clark said he would bring his professional expertise to council.
"What I think I can bring in the short-term is an understanding of our main source of revenue, which is our tax revenue from our real estate," he said. "What I've seen working in real estate for the past 10 years has been a city that has spent as the bubble has grown, and now we're going to have to figure out how to get that back in line."
Floyd said providing basic services in the current economic climate is a top priority, but the city's debt impedes its ability to provide services.
"What I can bring to the table to help resolve this is partly from my experience as an economist, an accountant and a public policy analyst," he said.
"We've already closed one fire station and we've already sent about half our police force home," Floyd said. "As much as I hate to say this, because we use the parks all the time, we might need to let the grass grow a little longer before we cut it, rather than further cut public safety."
Hohnke said Floyd's statements about reductions in the police force and closing of a fire station need to be put into proper context, because those cuts didn't happen recently.
"I wasn't around for it, but a lot of the police thing was driven by the fact that the U of M implemented its own police force in the mid '90s and brought 50 to 60 cops with them," he said. "So there was less of a need to police the U of M campus, and there was also a lot of funding from Clinton's 100,000 COPS (initiative) that went away."
Salvette said the city is living beyond its means and taking on too much debt.
"I don't always want to use government to solve every problem, so it's not going to grow under my watch. And that's my biggest asset that I bring to the table," she said.
"We're spending at an unsustainable level," she added. "We have to get our city costs under control and the biggest area where we need to control it is probably in our employee costs, and we have to look hard at those union contracts."
Ryan J. Stanton covers government and politics for AnnArbor.com. Reach him at ryanstanton@annarbor.com or 734-623-2529.