Posted on
Tue, Jan 24, 2012 : 10:41 p.m.
President Obama: 'Higher education can't be a luxury - it is an economic imperative'
By Ryan J. Stanton
Barack Obama offered a sneak preview tonight of what many are expecting will be a major topic of discussion when he visits Ann Arbor on Friday: college affordability.
"Higher education can't be a luxury — it is an economic imperative that every family in America should be able to afford," the president said in his State of the Union address.
At a time when Americans owe more in tuition debt than credit card debt, Obama said Congress needs to stop the interest rates on student loans from doubling in July.
"Extend the tuition tax credit we started that saves millions of middle-class families thousands of dollars," he told lawmakers. "And give more young people the chance to earn their way through college by doubling the number of work-study jobs in the next five years."
Lon Horwedel | AnnArbor.com
Speaking on the verge of his re-election campaign, Obama said it's not enough to just increase student aid. He said states also need to do their part by making higher education a higher priority in their budgets, and colleges and universities have to do their part by working to keep tuition costs down.
"Let me put colleges and universities on notice: If you can't stop tuition from going up, the funding you get from taxpayers will go down," he said.
Obama appealed to Michigan — a sure battleground state in 2012 if he goes up against Michigan native Mitt Romney — when he proudly proclaimed "the American auto industry is back" and said "what's happening in Detroit can happen in other industries."
He recalled the steps he took when the auto industry was on the verge of collapse and some argued the federal government should let it die.
"With a million jobs at stake, I refused to let that happen," Obama said, adding the federal government helped the industry to retool and restructure.
"Today, General Motors is back on top as the world's No. 1 automaker," he said. "Chrysler has grown faster in the U.S. than any major car company. Ford is investing billions in U.S. plants and factories. And together, the entire industry added nearly 160,000 jobs."
U.S. Rep. John Dingell, D-Dearborn, spoke with AnnArbor.com by phone from Washington following Obama's speech.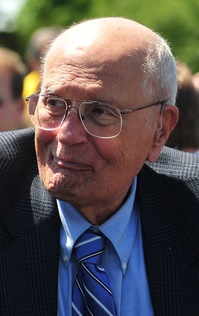 "It was, I thought, a superb speech in which he laid out a real solid plan for America which is going to last," Dingell said. "He talked about restoring manufacturing and increasing exports and making jobs and educating our people and seeing to it that opportunities exist."
Dingell said he had to agree the cost of a college education is "terrifyingly expensive" these days, so he appreciated the president's remarks on that.
Obama said the country has a huge opportunity to bring manufacturing back, and it should start with reforming the tax code. He said it's time to stop rewarding businesses that ship jobs overseas, and start rewarding companies that create jobs in America.
Nowhere is the promise of innovation greater than in American-made energy, Obama said later in his speech, saying the country needs a strategy that develops every available source of American energy — a strategy he called "cleaner, cheaper and full of new jobs."
"We have a supply of natural gas that can last America nearly one hundred years, and my administration will take every possible action to safely develop this energy," he said. "Experts believe this will support more than 600,000 jobs by the end of the decade."
Obama acknowledged the partisan divide in Congress may be too deep to pass a comprehensive plan to fight climate change.
"But there's no reason why Congress shouldn't at least set a clean energy standard that creates a market for innovation," he said. "So far, you haven't acted."
Obama pledged to help manufacturers eliminate energy waste in their factories and give businesses incentives to upgrade their buildings.
"Their energy bills will be $100 billion lower over the next decade, and America will have less pollution, more manufacturing, more jobs for construction workers who need them," he told lawmakers. "Send me a bill that creates these jobs."
U.S. Senator Debbie Stabenow, D-Mich., issued a statement after Obama's address in which she said members of Congress must rise above election-year politics for the good of the country and come together to revitalize the economy.
She said she was especially pleased that the president embraced the idea of a trade enforcement unit to help crack down on countries that continue to violate trade laws to gain an "anti-competitive advantage" over American businesses and workers.
"I wrote the bill to create a trade enforcement unit years ago and I hope this gives the idea the momentum to become a reality this year," she said.
Sen. Carl Levin, D-Mich., issued a statement saying Obama's focus on American manufacturing is already paying off in Michigan where manufacturing is on the rebound. He also said he welcomed the president's emphasis on economic fairness.
"We need to end an era in which middle-class families shoulder the cost of tax loopholes that favor the most powerful and privileged among us," he said.
Dingell expressed doubt Obama's agenda will gain much traction given the partisan divide in Congress and the fact that lawmakers are pre-occupied with re-election campaigns.
"I would hope all of it (would win bipartisan support) but you and I know better," Dingell said. "Getting things done around here in this kind of year is enormously hard."
Obama said Washington's most immediate priority should be stopping a tax hike on 160 million working Americans while the economy is still fragile. He also called for tax reforms, saying "Washington should stop subsidizing millionaires."
"Now, you can call this class warfare all you want," he said. "But asking a billionaire to pay at least as much as his secretary in taxes? Most Americans would call that common sense."
He also touched on immigration, arguing hundreds of thousands of talented, hardworking students in the country face a challenge: They aren't yet American citizens.
"Many were brought here as small children, are American through and through, yet they live every day with the threat of deportation," he said. "Others came more recently, to study business and science and engineering, but as soon as they get their degree, we send them home to invent new products and create new jobs somewhere else."
He said Congress should be working on immigration reform. But if election-year politics keep Congress from acting on a comprehensive plan, he said, "let's at least agree to stop expelling responsible young people who want to staff our labs, start new businesses, and defend this country. Send me a law that gives them the chance to earn their citizenship."
Obama touted his record on creating jobs, saying that in the six months before he took office, the nation lost nearly 4 million jobs.
"And we lost another 4 million before our policies were in full effect," he acknowledged. "Those are the facts. But so are these: In the last 22 months, businesses have created more than 3 million jobs. Last year, they created the most jobs since 2005. American manufacturers are hiring again, creating jobs for the first time since the late 1990s."
Ryan J. Stanton covers government and politics for AnnArbor.com. Reach him at ryanstanton@annarbor.com or 734-623-2529. You also can follow him on Twitter or subscribe to AnnArbor.com's email newsletters.