Posted on
Mon, Jan 23, 2012 : 12:47 p.m.
Obama scheduled to speak at University of Michigan on Friday
By Kellie Woodhouse
President Barack Obama is giving the State of the Union speech on Tuesday - but a speech he plans to give at the University of Michigan's Ann Arbor campus on Friday might be of more interest to Michiganders.
Obama will speak at the U-M Al Glick Field House on Friday, according to a White House official who spoke this afternoon to AnnArbor.com.
According to a source familiar with the plan, the speech is expected to take place at around 9:30 a.m.
The event will be Obama's second speech at the university since assuming office. Obama gave a May 2010 commencement speech at the Big House.
Like the commencement speech, Obama's upcoming trip is an official White House visit and not a campaign event, sources told AnnArbor.com.
That's two more visits than Obama's predecessor, George W. Bush, who never visited Ann Arbor. Aside from Obama, the most recent sitting president to visit U-M was George H. W. Bush in May 1991.
"We look forward to again welcoming President Obama to the University of Michigan," U-M President Mary Sue Coleman said in a statement. "As a public research university, we share his commitment to a strong future for our state and our nation. We are particularly honored that he will visit following his State of the Union address."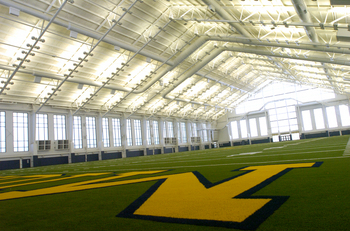 Melanie Maxwell | AnnArbor.com
The speech is a part of a trip to various swing states this week.
According to
The Detroit News
, Obama will be staying overnight in Detroit on Thursday.
Obama's office appointed Coleman as co-chair of the National Advisory Council on Innovation and Entrepreneurship in July. That council is intended to spark economic development through technology and early-stage business ideas, AnnArbor.com reported earlier this year.
Recently, Coleman sent a letter to Obama asking him to prioritize funding for public universities.
During Obama's commencement speech at Michigan Stadium in 2010, he urged graduates to actively participate in government and respectfully disagree with opposing viewpoints.
The scheduled speech comes a week after U-M Vice President for Research Stephen Forrest warned the school's Board of Regents that federal funding for research is likely to decline next year.
Andy LaBarre, vice president of government relations for the Ann Arbor/Ypsilanti Regional Chamber of Commerce, released a statement from the chamber on Obama's visit.
"We're excited the president is coming to Washtenaw County," he said. "While we don't know what he's going to talk about yet, we hope he follows up the State of The Union speech with more depth on transportation infrastructure development, educational investments and of course anything related to economic growth."
Mayor John Hieftje said the president's security team was in town over the weekend and has been working with the Ann Arbor Police Department on a security plan for Friday.
"Obviously it's always an honor to have the president of the United States visit your city and it's a big event," Hieftje said.
From a political standpoint, Hieftje said Obama's support for the auto industry bailouts should help his chances of carrying Michigan this year.
"It turned out to be a great thing for our state … and that money is being paid back," he said, noting the progress GM and Chrysler have made because of those loans.
"The auto industry is still incredibly significant to our state and had Chrysler and GM failed we would really be in a deep, deep hole," Hieftje said.
A representative of U.S. Rep. John Dingell's office said a plan is still being worked out for how tickets are going to be distributed, including how many will be given to the College Democrats to distribute and how many will be made available for the community at large.
Cleveland Chandler, chairman of the Washtenaw County Democratic Party, commented on the significance of the president's visit.
"I feel personally, and the Washtenaw County Democrat Party feels, that this is one of the most important elections to come around in a long time given that a lot is a stake," he said. "In our view, with the things that are happening in Michigan, the government is shifting toward rich people and not looking out for the middle class."
In addition to federal races, Chandler said the party is hoping Obama's presence in Michigan helps the Democrats as they seek to take back the state House this year.
"It's obviously very exiting to have him coming, the leader of the free world and all that, being responsible for saving the domestic auto industry and helping to get Michigan's economy back on track," said state Rep. Jeff Irwin, D-Ann Arbor. "It's an exciting opportunity for Ann Arbor and I hope to be attendance to hear what he has to say."
AnnArbor.com will be updating this report.
See coverage of Obama's 2010 visit to Ann Arbor.
AnnArbor.com political reporter Ryan J. Stanton contributed to this story. Kellie Woodhouse covers higher education for AnnArbor.com. Reach her at kelliewoodhouse@annarbor.com or 734-623-4602 and follow her on twitter.