Posted on
Thu, Feb 14, 2013 : 8 a.m.
Ann Arbor airport needs to remain 'sleepy hollow' airport it was meant to be
By Guest Column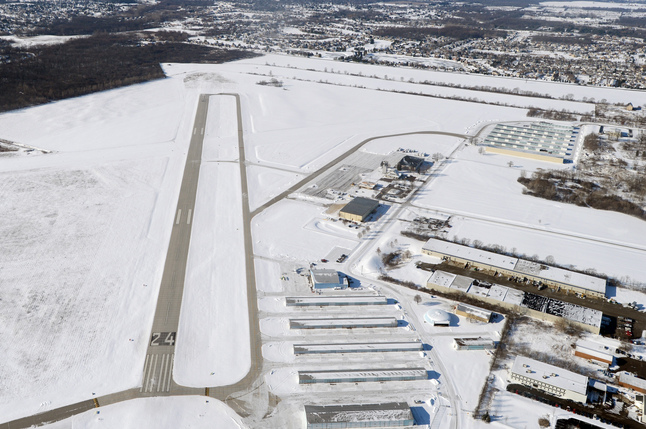 Melanie Maxwell | AnnArbor.com
As a pilot and a Pittsfield Township resident I have followed closely since 2009 the debate about the
Ann Arbor Municipal Airport
(ARB)
runway expansion
. Although I have almost 30,000 flight hours throughout four decades of military and civilian flying, I write this as a concerned citizen troubled by both the questionable process that brought us to this point and the negative impact the expansion will have on the surrounding communities.
The arguments against expansion are led by a grass roots community organization of more than 400 people, which has done an excellent job exposing falsehoods and dubious claims by expansion proponents. The leaders advocating for expansion appear to be a shadowy group of local aviation advocates and behind the scenes business interests with strong connections and influence in the city administration.
The proponents want the expansion in order to bring traffic to an underutilized facility; and to bring in more and bigger planes that will buy more fuel and rent more parking. Suspiciously they kept their formal expansion plans hidden from the public and the Pittsfield Township Board of Trustees until it legally was too late to file an objection. Then the proponents used a bogus "safety reasons" argument to con the Ann Arbor City Council into providing $400,000 for an environmental assessment (EA).
The safety argument has since completely been discredited as research through Federal Aviation Administration reports proved that every incident/accident (11 in all) at ARB during the past 20 years were not caused by the 3,500-foot runway but rather pilot error, weather issues, or mechanical events. When pilots land long and "hot" they can either go around or go off the end. Runway length is not a safety issue at ARB.
As for the EA, that too has been discredited as shoddy and not at all impartial. It did not analyze the runway expansion's effects on the large aquifer beneath the airport from which Ann Arbor gets much of its drinking water and it failed to take into account increased noise caused by more night operations or noise pollution caused by an increase in larger jet traffic year round. Its poor quality and prejudice may be one of factors causing the FAA to delay approval of the EA.
Another issue to remedy by expansion as advocated by proponents is a blind spot from the tower of the northeast 150 feet of runway 06/24. That "problem" can be inexpensively fixed with a camera feed to the tower or merely a decommissioning the northeast 150 feet while adding another 150 feet on the southwest end of runway 24. A good compromise.
There is no doubt that the longer runway will bring in larger and noisier planes of all types. Build it and they always will come. Expansion will shift the glide slope lower on runway 06 so that those bigger jets will be flying over the Lohr Road homes as low as 93 feet. There is a huge difference in an accident fireball between a small Cessna and a 20,000-pound jet!! Willow Run Airport is near enough that we surely can keep ARB the "Sleepy Hollow" airport it always was meant to be.
Yes people bought or built their homes knowing they were near a 3500 foot runway. That was the deal. But now they have every right to object to an expansion project that appears solely to be in the best interests of a few moneyed businessmen while harming a surrounding community's quality of life.
Very powerful individuals are obviously behind the expansion project for this city subsidized and financially struggling airport because someone at City Hall was still able to place runway expansion funds back onto the AA Capital Improvement Plan.
Justifications for the runway expansion do not hold up to honest scrutiny. I hope Ann Arbor respects the wishes of the Pittsfield Township community.
Michael Petraszko
Saline